Top Reasons to Invest in a Non-Medical Home Care Franchise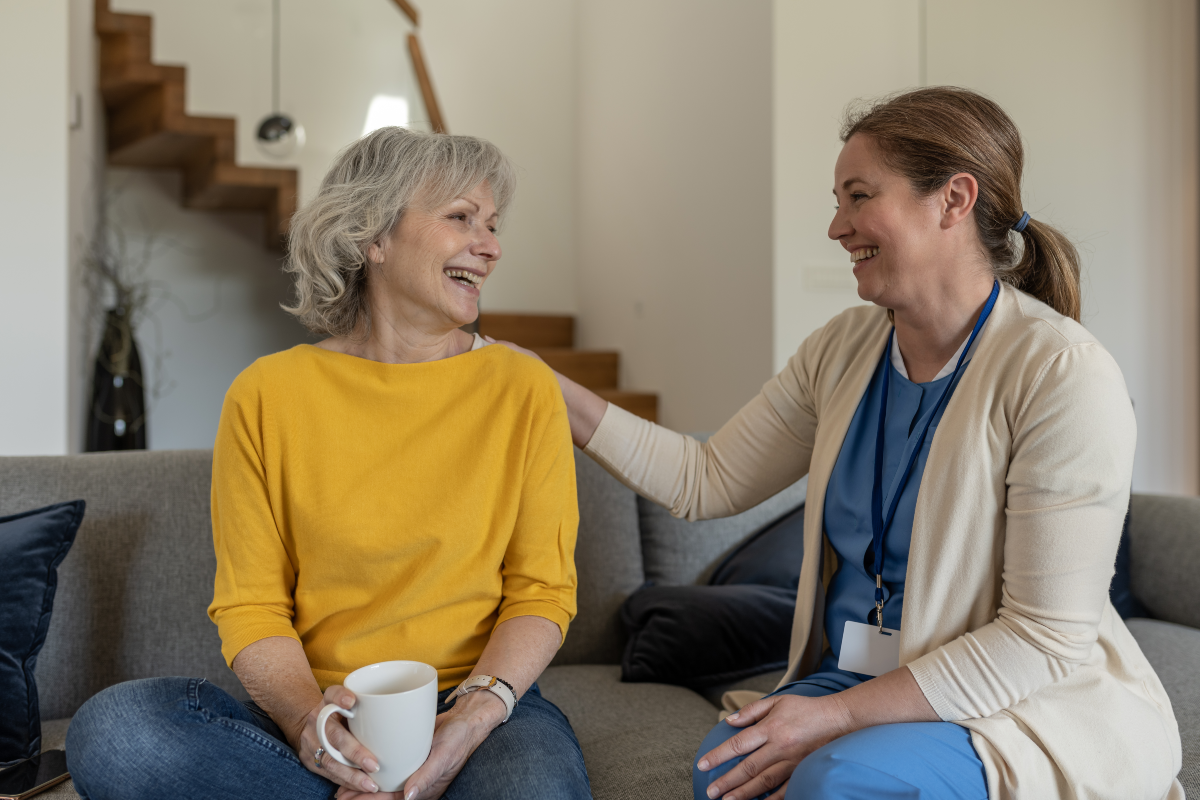 In 2020, roughly 1 in 6 Americans were 65 or older, representing some 55.7 million people. In just 20 years, that number is expected to climb to 80.8 million, or 1 out of every 5 Americans. As people grow older and their needs change, the already rising demand for senior care will continue to soar. That's why so many aspiring entrepreneurs are looking to home healthcare and home care franchise opportunities—but what's the difference, and which is better?
Home healthcare and home care businesses both serve the needs of our growing senior population, but they do it in different ways. From a business owner's perspective, there are several considerations to make when deciding which path to take. This guide will help you understand these considerations and choose the right path for your goals.
What is a Home Care Franchise?
Home care businesses offer non-medical senior care services to help older adults safely live at home. Of course, what the term "non-medical" lacks is an emphasis on all the many critical services that home care businesses do provide.
Home caregivers can provide personal care and assistance with a client's daily activities, monitor any changes in their condition, and proactively intervene when care needs change. They also support proper nutrition with meal preparation, help seniors stay active and socially engaged with companion care and transportation services, and can provide memory care support for people living with dementia.
Home care franchisees coordinate these important interactions, building a team of passionate caregivers and connecting families in need with their services. They stay at the forefront of new developments and trends in the home care market, develop local outreach efforts, and serve as a vital resource for seniors in their communities and their families.
How Do I Know Which Type of Senior Care Franchise is Right for Me?
If you are passionate about helping seniors and their families, owning a senior care business can be financially and personally rewarding. The right choice for you comes down to the level of care you want to provide, the amount of work you are willing to put into your success, and the quality of the franchisor you align yourself with.
Home Healthcare vs. Non-Medical Home Care Businesses
Let's take a quick look at some of the major differences between these types of businesses.
| | |
| --- | --- |
| Home Healthcare | Non-Medical Home Care |
| Staff provides on-site medical care and can provide emergency interventions and light personal care if necessary | Staff provides personal care services and can help manage and monitor chronic conditions, coordinating emergency care if necessary |
| Typically provide services a few hours per week per client | Typically develop relationships with clients, providing flexible, long- or short-term services |
| Clients may pay for services with Medicare or VA Benefits | Clients typically pay for services out of pocket |
| Require specialized staff, such as Registered Nurses, skilled therapists, or social workers | Staff includes trained caregivers; specialists such as certified home health aides are optional as a business grows |
| Highly regulated licensing and accreditation process | Lower licensing barrier, with robust caregiver training support in place |
| Higher professional liability insurance premiums & overhead costs | Business can start with low overhead and scale with you |
A Closer Look at Non-Medical Home Care
If you are more interested in the idea of offering a higher-touch service where caregivers build lasting relationships with clients and their families, home care may be the better option. Many seniors need assistance with bathing, grooming, or preparing meals even if their medical needs are met. For these clients to remain at home, they may need frequent, personalized care.
That's why the demand for home care services is booming. Many older adults are seeking in-home companionship and personal care assistance as an alternative to assisted living or retirement communities. These services can also provide respite for family caregivers, who are increasingly experiencing burnout and seeking help.
Plus, non-medical does not mean that services don't provide improved health outcomes—they absolutely do. With available programs like ComForCare's DementiaWise® training and Connected Care Remote Patient Monitoring, franchisees can significantly improve their clients' overall health and well-being, helping them stay healthier and capable of remaining independent for longer.
The Benefits of Choosing Non-Medical Home Care
Choosing to start a home care business with a franchisor like ComForCare comes with a number of benefits, including:
A wider breadth of clients: As the population ages, more and more older adults will require long-term care, even if they don't need skilled medical assistance. You'll be able to attend to many crucial client needs, including personal care, mental health, and optimized well-being, filling a critical care gap in your community.
Low barrier to entry: Non-medical home care businesses are easier to start up, as there are fewer obstacles related to licensing, accreditation, training, and overhead costs. This is especially true with ComForCare, where franchisees receive the most robust and in-depth training in the industry!
A stronger recruiting strategy: ComForCare is a certified Great Place to Work®, which helps greatly with your recruiting and retention strategies. You can focus on choosing the right hires for your company knowing that you will be supported with our first-class onboarding and training programs, like DementiaWise®.
Start Your Journey with the Best Home Care Franchise
When you choose to start a home care franchise, you're investing in both your future and your community's future. Home care is one of the most profitable and most personally rewarding franchise opportunities in today's market, and at ComForCare, we're ready to help you achieve success. To learn more about what it takes to start a ComForCare franchise and what your earning potential could be, request your free Franchise Information Report today!
Choose ComForCare for Growth, Stability, & Success in In-Home Senior Care
Whether it's due to injury, illness, or aging, sometimes older adults need a little extra help, especially at home. That's where ComForCare Home Care comes in. Our franchisees help seniors live their best lives possible. Begin your entrepreneurial journey with our proven business model, robust training programs, and unlimited earning potential today!