We Don't Like to Brag, So We'll Let Our Caregivers Do It For Us!
Caregivers coast-to-coast can agree on 2 things; they love working in Senior care and they appreciate the valuable experience gained working for ComForCare.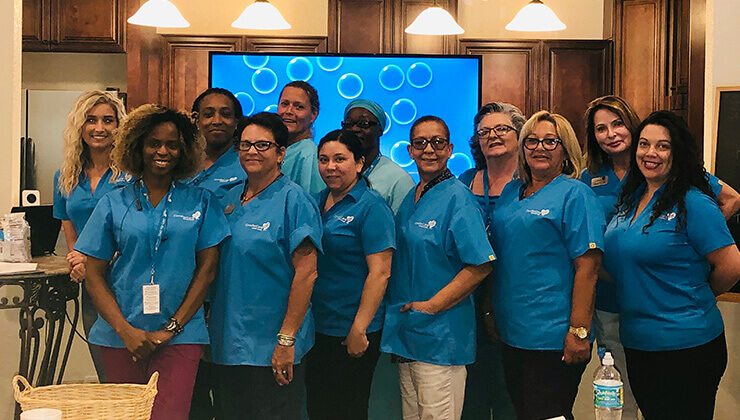 Nice Place to Work
"I enjoyed working for this company as it allowed me to have flexible hours and it had competitive pay. I was able to use my caregiving skills to assist senior citizens in their private homes."
---
I Like the Hours and Flexibility
"I like the way they work around your schedule and will give you the patients that are best for you to work with. I also like the idea of them respecting your time. They are a awesome team to work for."
---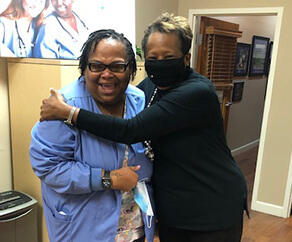 Wonderful Company
"Best employment opportunity that I have been offered. They have wonderful management and easy hiring process. Would highly recommend to anyone who has experience."
---
Enjoy Working There
"If you enjoy helping people this is a good company to work for. The company cares about the employees and the clients that hire them to come into their homes."
---
Owners Are Understanding
"The owners have compassion for their workers as well as the clients we serve. They provide training opportunities for staff. When it's a holiday, they host luncheons for staff."
---
Family Oriented Team
"Enjoyed working with company appreciated all the teams hard work and dedications to keeping employees and clients happy. Continued support and encouragement to do well."
---
Great Place to Work
"Comforcare is a great place to work & I love every last one of my clients but I think it's time that I move on & give another company a try & weigh my options."
---
Great Job
"I enjoyed my time with the company. Management will do what it takes to help you succeed. The pay is decent with OT available and bonus incentives. They take care of their team"
---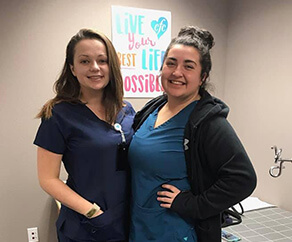 Flexible with Schedule
"Great job when you are family oriented. Comforcare will work with you when you have family issues, attend classes or planned vacations. They reward employees when they go above and beyond normal duties."
---
A Good Place to Work for Healthcare Experience
"This company is a good place to work to gain healthcare experience. There are different length shifts and types of tasks available. The staff are friendly and work with your availability."
---
I Liked This Company
"I enjoyed working there and the management was very helpful during problem times with clients but they need more training with individual clients so that you are better prepared."
---
Family Oriented
"This is one of the best home care company's I have worked for, they care about their clients and do what they can to make both the client and caregivers comfort a top priority."
---
I Work Independently in a Private Residence
"I enjoy my job because I can interact with my client. My client has memory issues but can communicate. There are times the talking makes sense. The family relies on me for interactions with other professionals who assess my client. They feel that I am an important part to my clients daily activities, and can give pertinent information to any on going care that may be needed."
---
ComForCare
"Comforcare over all is a good company to work for. I prepare food light housekeeping assist with meds. I liked working with clients very sweet and the company is very understanding."
---
Fun Place to Work
"I love my job here it is a great place to work. It has great staff and residents. I have been employed for 6 years now and I absolutely enjoy it."
---
Good
"I enjoy working for Comforcare. The assignments when available offer flexible hours and a source of extra income. I would not rely on Comforcare as my sole source of income due fluctuating assignments. If you get a good assignment STICK with it. Best part of all is that my client is a pleasure to take care of. Management is pretty good and do whatever they can to assist with your needs."
---
Caring Loving Family Owned Company
"I would work for this company again it is a small family company .. flexible hours pay is ok and negotiable to change. Owner is a sweet couple.."
---
Great Company to Work For
"Awesome company to work for!! Can't say enough about them..... Really wonderful management and friendly schedulers!!! Very flexible and considerate!!!"
---
Up and Coming Healthcare with Great Potential
"Good place to work where the focus is on home care. More freedom than hospital settings with less politics. Maintaining excellent relationships with clients and caregivers is a must. This place really enhances one's customer service skills"
---
Great Place to Work. Enjoyable Atmosphere. Treated to Lunch
"Reviewed client billing, accounts receivables, financial statements and bank accounts. Made sure accounts are paid on time. The most enjoyable part of the day is the office staff and great care givers."
---
Love My Manager and My Environment
"Best job ever very flexible with your schedule.. Managers are amazing.. Hours could be better but over all a very good work environment.. Clients are amazing and so are my coworkers"
---
Good Job
"Enjoyed all aspects of the employment. Busy days always, never a dull moment. Management was wonderful and helpful, Coworkers were excellent, Hardest part of job not being able to help someone; Best part is when you could help someone, all working as a team!"
---
Independent Self Directed Work Environment
"Independent work, no "micro management" respect for Nursing Assessments and judgements, Enjoy the clients and their families. Most of the caregivers are very good workers. Office staff are very helpful, very good team effort."
---
Excellent Company to Work For
"I loved my job here as a case manager for elderly and mentally disabled. They taught ne so much and over all were just an excellent company."
---
Productive and Very Professional
"Co-workers are management is always on their game. Working with a variety of patients is great."
---
Great Flexibility, Better Pay
"Home health care is a great service to provide, you pick and choose when and where you work which is awesome, you can create your own schedule with clients you love and care about."
---
ComForCare
"I think the work place is great. Great people in the office they all care about their caregivers. Everyone that works for them get good care."
---
I Am Very Satisfied With My Work
"My boss is terrific every way. I really enjoy my position. I love the flexibility that is offered. My clients are so fun to work with and it is so rewarding to help them."
---
Good Place To Work
"They care about everyone that works for them. they look out for everyone. If something is wrong with someone they try to fix it as best as they can. They make sure you get 40 hours a week if you want it."
---
ComForCare
"Visiting patients at the comfort of their own home to provide ADL'S to them and assist them with their own personal care. Interacted with family members."
---
Easy Communication
"Great place. Always have cases, and the managers are always available in case of an emergency. after hours hotline and clients are nice. Very flexible schedule."
---
Great Job
"Never enough hours work doesn't last long. Love that you can make your own hours and choose if you work weekend. Works well if you have kids you can be home by dinner."
---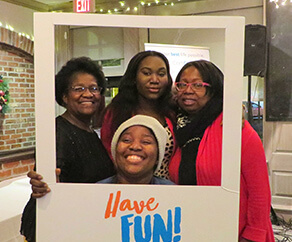 I Love It
"I enjoy working with this company! They have their flaws just like any other company but it's a great place to work at. I am around good people and the clients I have are great to work with."
---
Progressive Company With Great Education of Staff
"Loved the Dementia Wise training and the emphasis on getting the best outcome for all clients. They really cared about both the clients and the caregivers. Great place to work."
---
Love Working for Them
"Great managers. The company is very flexible with caregivers schedule. The only down thing is that you have to travel to people's houses, and sometimes that can lead to places that are far away."
---
Best Home Care
"Your family are in great hands with the outstanding staff at ComForCare. Everyone from the employees to the owners are hands on with each and every client."
---
Awesome Management
"Management is great. They are caring and compassionate. Most shifts are 8-12 hours and an in home environment. Hardest part of this job is figuring out what a dementia patient is talking about when they are upset and you just seem to be making it worse."
---
Great Bosses, Nurses- They Really Try to Give You Good Cases
"Nice company to work for. All the clients I have worked for were very pleasant. They are always trying to have work for you. Most cases are 5-8 hours or more cases."
---
Enjoyment
"Pleasure working with the elderly. Very humble and Christian based company. Worked around my schooling and gave great support in advancing myself personally."
---
Good People to Work For
"Love working for Comforcare. I work all over and do different tasks all the time. And when you need to take time off that is not a problem usually."
---
Good Place to Grow
"Tons of hours, opportunity for different positions if you work hard. Flexibility, rewarding opportunity to build relationships with clients. Would definitely recommend."
---
Wonderful Place
"My experience with this company was excellent. The owner really cares about the employees. They gave me flexibility with my schedule. They were kind and compassionate."
---
Great Company to Work For
"They have pleasant office staff. You always feeling respected and appreciated. The management will stand up for you and there is job flexibility. You never feel pressured to take a case."
---
Allows Employees to Coordinate Their Schedules to Accommodate Their Personal Life Responsibilities
"I really enjoyed being able to care for people one-on-one in their home environment. A typical day at work involved traveling to two to three different client locations and provide care for two to five hours depending on their need."
---
Fun, Collaborative, Caring
"Comforcare Henderson is an awesome and fair place to work. It is very collaborative and the training is excellent. I feel like a real part of the team and that they really care."
---
Job Offers Flexibility and Opportunities to Work with Various Types of Clients
"My overall experience with clients and their families was wonderful!"
---
Enjoyable Job and Good Management
"Depending on the client's care as to if you are very busy, steady or slow paced the entire shift. What I learned about the job is every client is different and their needs are different. Management is great and understands if you need a day off for doctor appointments. Check on a family member, pick up a sick child, etc. The hardest part of the job is when you loose a client due the client moves into assist living or the client passes away, when you have established a relationship due to long term care. The most enjoyable part of the job is helping care for the client and the client truly appreciates your care."
---
I Had a Great Experience
"It was great working for this company! I really enjoyed the time with clients and enjoyed the part of helping other that can't do much & need a helping hand."
---
Our Days
"A typical day at work is getting are client up giving them a bath and getting them ready for the day. We make breakfast, lunch and dinner in some places cleaning the house and doing the wash is a must. What we lean on the job is so many thing from each other on how to do cares and what that client likes and doesn't like. I think the hardest part of our job is when our client past or we have to move on to another job and we don't get to go back to that client after being there with them for a while. The most enjoyable part of this job is getting to know our clients and their families and seeing them smile. I have really enjoyed working with my company and the people I have learn so much from them."
---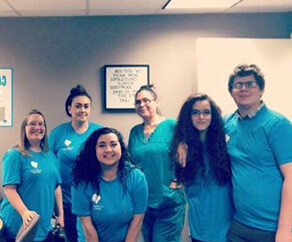 Great Job
"Amazing job great hours and good pay, it's hard at first but if you enjoy it will come easy to you. But don't force yourself to do a job that you are not gonna enjoy"
---
Flexible Hours
"I loved this position because they would place you where they needed you and the hours were always extremely flexible. Great job to do while in school because of the home like work setting."
---
Good Folks
"My Owners/Management walk the walk. They are wonderful folks who are kind and fair to patients and staff alike. My co-workers in the office are wonderful. We are a team! And I can bring my dog to work!!!"
---
Flexible and Understanding
"The company has always been flexible with emergencies, especially dealing with family health and childcare. They support caregivers that wish to advance and are very understanding of situations."
---
Great Company, They Care About Your Wellbeing
"I love this company, They cared about you, when birthdays come or you have great performance they reward you, loving staff and they cared for the client's as well"
---
It's a Fun, Stress Free Environment. The Staff is Awesome
"I love working for Comforcare. I would refer someone there..the staff is awesome. They work with you if you ever in a situation. They are a very well respectful company."