What Is a ComForCare Franchise?
Our industry-leading home care franchise is meeting the rising demand for in-home care solutions.
10,000 people are turning 65 on a daily basis, a trend that is poised to continue until 2030. This means that millions of families are going to face the difficult and emotional decision of finding the right care solution for their aging loved ones. And while the segment is crowded, there is one brand that stands out by providing the care solutions to empower everyone in the family to live their best life possible.
Enter ComForCare. We specialize in helping loved ones get the care they need at home. ComForCare delivers peace of mind to thousands of families in the process. ComForCare also helps dozens of entrepreneurs own a thriving business that makes a lasting difference in the lives of their clients. Entrepreneur magazine's Franchise 500® ranked ComForCare a Top Franchise for 2020. With innovative programs that set us apart from the rest of the industry, an intensive program that helps to hire and retain trusted caregivers, and exceptional ongoing support, ComForCare is poised for rapid growth as we continue to meet the rising demand for in-home care solutions.
Tamara Franks knew when she was ready to go back to work after taking time off to raise her children; she knew she wanted to be in a business that made a difference. She chose ComForCare because of our ability to make a lasting impact on the lives of seniors and their families, and because our brand understands that everyone is unique, with different needs, and our personalized approach to in-home care cannot be matched.
"This business makes you realize that everyone is special," she says. "It's a chance to be of service, and even though there are a lot of brands in the industry, the demand for the services we provide to our clients is incredible. It's extremely rewarding to own a business that is capable of meeting such an incredible need and to be a part of a brand that recognizes that everyone is valuable. With ComForCare, you have the full support behind you every step of the way, and while there's a lot to learn, it's achievable if you're passionate, work hard and follow the business model."
A personalized approach to care makes all the difference.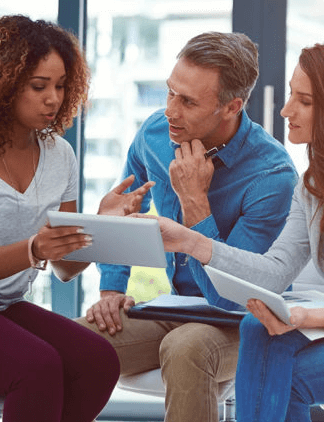 Unlike a lot of the brands in the senior care industry, ComForCare takes a personalized approach to the care we provide for our clients. As a franchise owner, you will manage a team of caregivers who serve as ambassadors to your business and deliver the care your clients desperately need. Because your caregivers go into your clients' homes, ComForCare has developed the CaregiverFirstTM program, one of the most comprehensive methods of hiring and retaining caregivers in the industry. We also use a 10-step hiring process that ensures your caregivers not only have the qualities, skills, and the empathy your clients deserve, but will also go above and beyond for your clients and deliver peace of mind to the families your business will serve.
ComForCare differentiates ourselves from other brands in the industry for the services that we provide. We help clients with medication reminders, safety supervision, bathing & hygiene, meal planning & preparation, light housework, companionship and more. Another key differentiator is our expertise in helping those with dementia. ComForCare has rightly won industry praise for pioneering DementiaWise®, a program that engages and enhances the lives of people with various forms of dementia, helping them to remain independent for as long as possible, while providing support and education for the family.
We provide the tools for caregivers to help clients every day, and because family members become part of the care team, they feel more capable when the caregivers are not there, we provide the families we serve with the tools and resources to be part of the solution.
Zero experience necessary.
While all of our franchise owners were compelled to join our franchise family out of a need to own a business that makes a difference, the majority of our franchise family had zero experience in the home care industry. Because of this, we have one of the most comprehensive training and ongoing support platforms in the industry.
Click here to learn more about how we will support you in your business from the moment you join our franchise family and every day after.