Diabetes Care
---
Caring for Seniors With Diabetes
According to the American Diabetes Association, more than 25% of seniors over age 65 have diabetes, both diagnosed or undiagnosed. If you need assistance in diabetes home care, ComForCare can help. With appropriate care and medication management, complications of diabetes can be prevented. Caregivers can also assist with nutrition and monitoring, which can help keep blood sugar levels consistent and prevent dangerous spikes. If desired, caregivers can help set up daily exercise routines to provide motivation for healthier living.
Are you looking for diabetes care?
---
Medication and Appointment Assistance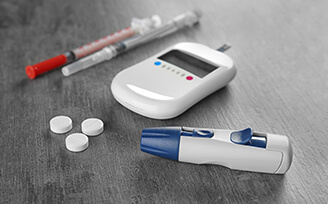 Our caregivers have specialized training in managing chronic conditions such as diabetes. We can help coordinate doctor's appointments, transportation to and from appointments, and help carry out doctor recommended activities. Our diabetes home care program helps coordinate regular schedules regarding eating and insulin administration to keep you healthy and balanced. If blood sugar levels ever reach concerning levels, caregivers understand how to take immediate action and can contact medical services to assist.
---
Diabetes Management Aids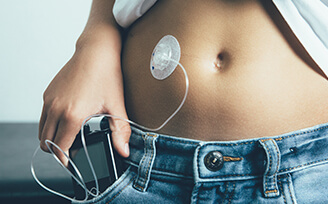 Depending on the type and severity of diabetes, different diabetes management aids may be prescribed by doctors. These may include insulin/glucose pumps, insulin pens or other devices. Our caregivers can help users get familiar with using the devices for blood sugar control and monitoring. As diabetes research moves forward and new technologies are introduced, ComForCare makes it a point to train caregivers on all new innovations so we're always prepared to help with your needs.
---
Meal Planning and Preparation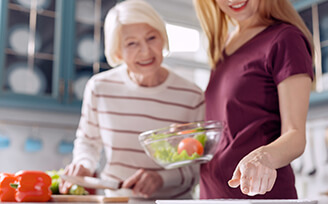 Nutrition is the cornerstone of proper diabetes management. Caregivers can help with meal planning and preparation so meals are both healthy and enjoyable. Caregivers will make sure meals are well balanced and low in sugar and carbohydrates to avoid fluctuations. Meals will also be fulfilling and tasty. If desired, caregivers will help to keep foods and beverages that are unhealthy and tempting out of the home, although this is ultimately up for discussion.
---
Exercise and Physical Activity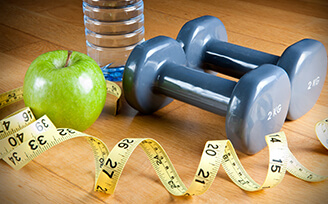 Exercising regularly aids the body's use of both insulin and sugar more effectively. Exercising can also help with weight control, which is very helpful in diabetes management. Caregivers can help you get on a regular schedule of exercise, so workouts are timed to work well with eating and medication regimens. Caregivers can also provide assistance with exercises as needed and can be there for support in case of blood sugar drops. Ask your local ComForCare office for information on a specific care plan tailored to managing diabetes. Some offices may offer more services.
Get the diabetes care help you need:
Services vary by location. Please contact your local ComForCare to see what services are available in your area.