Indianapolis ComForCare Franchise Owners Receive 2018 Franchise of the Year Award
Posted: in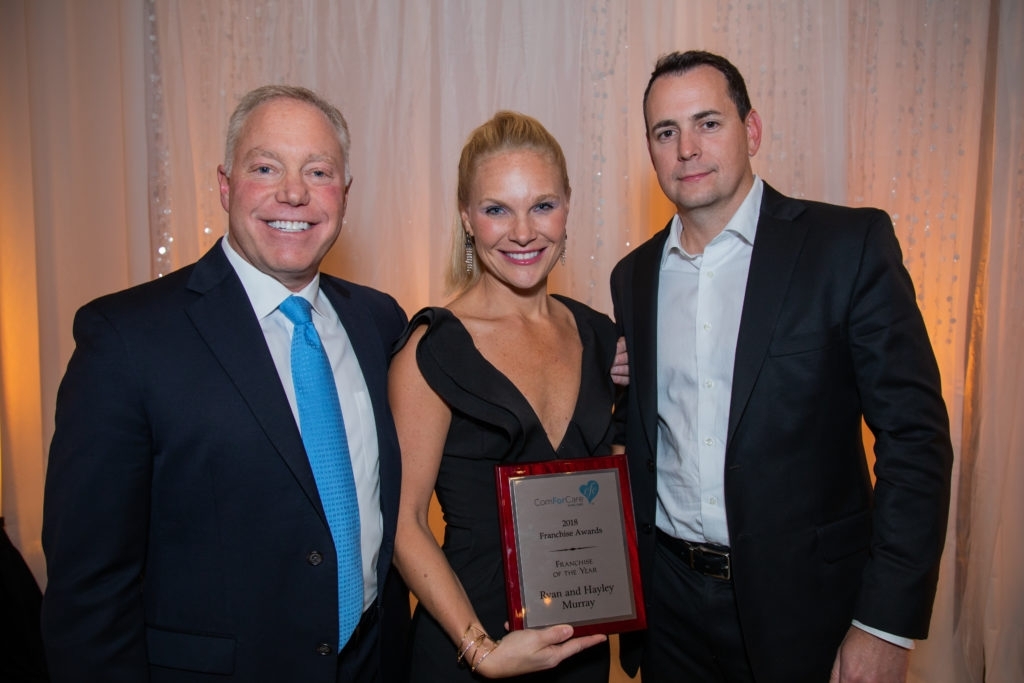 Local Indianapolis ComForCare franchise owners, Hayley and Ryan Murray, were awarded the 2018 Franchise of the Year award at ComForCare's annual franchise conference in Dallas, Texas. Franchise of the Year is the most prestigious award following Caregiver of the Year.
The Murrays were recognized out of almost 200 locations for being high-level producers in the franchise system, showing diversity in their referral sources, and being selfless givers across the entire franchise system.
---
"Hayley and Ryan embody the ComForCare values within their office and to the population they serve," said Steve Greenbaum, CEO of ComForCare and At Your Side Home Care. "They care for their clients as family, serve the community passionately, realize that dignity matters, are present and engaged in managing their internal and external staff, and have fun while doing it."
---
The Murray's bring a lot of dynamic to their small business. Ryan is a teacher by trade, and he brings those skills into the workforce to deliver messages to the community. Hayley's physical therapy background allows her to know what's important for their clients in terms of best practices. Before ComForCare, Hayley had prior experience working with aging adults.
---
"When I worked in rehab with seniors, they would tell me how much they wish they were able to age in their own home," said Hayley Murray. "So when looking for our next venture, entering the home care space made a lot of sense. I knew it's where I could make a difference and really allow those in my community to live their best life possible."
---
ComForCare of Indianapolis has continuously expanded its services to better serve the surrounding community. The office provides private-duty nursing and is DementiaWise®-certified, meeting the corporate office's high standards for dementia education and caregiving excellence.
The Murrays opened their franchise in 2009 and are part of one of the fastest-growing franchise business sectors in the country. According to the U.S. Census Bureau, the number of people 65 and older is expected to increase to 55 million in 2020, and demand for businesses like the ComForCare franchise that the Murrays operate will continue to increase as people hope to age in place.