In-Home Care Provider ComForCare Partners With Kindred At Home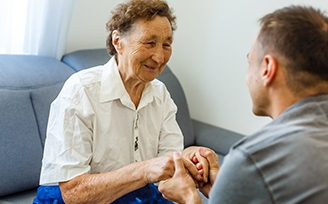 ComForCare Health Care Holdings, LLC, a premier provider of home care, signed a preferred partnership agreement with Kindred At Home – the nation's largest provider of home health and hospice services. The collaboration is part of ComForCare's strategic plan to grow relationships with providers across the health care continuum to serve older adults in a more holistic way. This relationship allows for a more continual transition of care without disrupting the client's lifestyle at home.
---
"We look forward to working with ComForCare in collaboration with physicians and health care specialists to care for patients in their homes across the country," said Derek Nordman, Chief Clinical Officer of Kindred at Home. "The lower cost collaborative care model will be a benefit to local health care systems, accountable care organizations and the patient at the center of every care episode."
---
As part of the care collaboration, which will roll out across all shared markets over the next year, ComForCare and Kindred At Home will collect valuable de-identified health information and share those care outcomes with professionals and industry leaders in order to provide insights and learnings that may improve delivery overall.
About ComForCare
ComForCare is a premier provider of home care services with nearly 200 independently owned and operated locations in the U.S. and Canada helping older adults live independently in their own homes. ComForCare is committed to helping people live their best life possible and offers special programs for people with Alzheimer's disease and other forms of dementia. Founded in 1996, ComForCare was acquired by private equity firm The Riverside Company in 2017 and now is part of a multi-brand franchise parent company, which has plans for continued expansion of service brands across the continuum of care for aging adults. ComForCare operates as At Your Side Home Care in Houston. For more information, visit www.comforcare.com.