Best Life Brands Announced as Platform Company Name for ComForCare, At Your Side, CarePatrol, and Future Acquisitions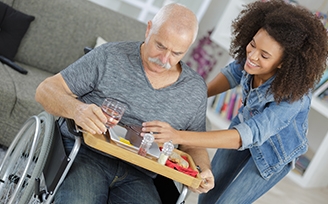 Today, ComForCare Health Care Holdings, LLC CEO Steve Greenbaum announced the creation of Best Life Brands, LLC ("Best Life Brands") for the purpose of uniting ComForCare and At Your Side, premier franchised providers of home care, CarePatrol, the nation's largest franchised senior placement organization, and future acquisitions under one multi-branded service organization. Best Life Brands plans to continue expanding services by adding brands that share the company's goal to serve older adults and people with diverse needs in a more effective and holistic way.
---
"As Best Life Brands continues to expand its services, our focus isn't just on home care and placement services. We're building a family of brands focused on the wellness and well-being of our clients under our 'live your best life' philosophy. This is extremely important for people dealing with the challenges of aging, recovering from an injury, or living with a chronic medical condition," said Greenbaum. "We will continue to invest in people, processes, technology, and profitability across our franchise network while pursuing additional strategic acquisitions to expand and enhance our capabilities and reach."
---
The new name follows a year of impressive growth and momentum. In 2018:
Greenbaum, an experienced franchise founder and former chairman of the IFA, took the helm as CEO of ComForCare and At Your Side.
ComForCare acquired CarePatrol to help people navigate care community solutions on behalf of a loved one, enhancing the company's value-added services.
ComForCare, At Your Side, and CarePatrol announced collaborations with Kindred at Home, the nation's largest provider of home health, hospice and community care services.
Greenbaum was appointed to the board of directors of the Home Care Association of America.
The company launched the CaregiverFirsttTM program to aid in the recruiting, retention and recognition of the people who passionately serve clients.
In addition to those achievements, Best Life Brands is entering the new year by elevating its technology platforms for ComForCare and At Your Side franchisees, including a new office operating system, an industry-leading learning management system, greater connectivity through Google's G Suite platform, and enhanced client and caregiver satisfaction tools to ensure goals are being met. Together, these tools will allow franchisees to easily access and manage caregiver and client data, more effectively connect with payer and referral sources, provide training, certifications and accreditations for each state's unique requirements and create better communication throughout the franchise system.
In 2019, Best Life Brands also plans to add more locations to the roster for ComForCare, At Your Side, and CarePatrol through strong franchise development initiatives. Extensive planning has also been under way to produce significant enhancements for CarePatrol. Now combined under the new platform company, each brand offers a strong investment opportunity positioned as a leader in their respective industries.