8 Ways to Pay for In-Home Care
Posted: in
Caregiving , Home Care Planning , Finances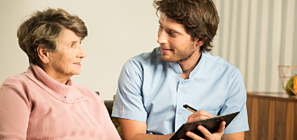 These days, thanks to modern medicine, people are living longer and longer. The majority of people will require long term care at some point in their lifetime. Many of these seniors prefer to age in place and stay in the comfort of their own homes, but they and their families may worry about the associated costs. Below we address how to plan for in-home caregiver cost.
In-home caregivers cost less than you think, especially when compared to nursing homes and other assisted living facilities. Exact in-home care costs vary based on factors like your location and the levels of care needed. There are multiple avenues of financial assistance like life insurance policies, Veterans benefits, or a reverse mortgage. Community-based services can also help families pay for home care and home health services for the older adults in their lives.
As you develop a long-term care plan for yourself or a loved one, several factors must be considered, such as one's current and future medical needs, family support system, and budget. Since 90% of people 65+ want to stay in their homes for as long as possible, in-home care is a popular option. As your loved one's needs change over time, ComForCare works with you to make changes to the schedule and routine.
Do you need help paying for home care? To find out more about the ComForCare pay schedule and costs or meet with some of our compassionate in-home caregivers, reach out to us now.
How much does in-home care cost?
Since 2004, senior care cost (both in-home care and at senior living communities) has steadily increased, averaging 1.5-3.8% per year. In-home elder care costs depend on where you live as prices can vary greatly by market. According to Genworth's 2021 Cost of Care Survey, the median price for a home health aide is $26 an hour in the U.S. (Note: rates vary by location, hours a week, and types of care; please contact us to inquire about home care pricing in your area.)
At that rate, it would cost about $50,000 per year for 40 hours of in-home care a week. To compare, the average cost for a semi-private room in a nursing home is $89,292 a year.
Paying for care at home – what are my options?
In-home care, homemaker services, and other personal care services are typically paid for out-of-pocket. However, that's not always the case. Here are eight other ways you may be able to cover long-term care costs and make in-home care payments:
Long-term care insurance is a supplemental policy purchased through a life insurance company. Long-term care insurance reimburses policyholders a set amount per day for home care services. It's vital to know your insurance coverage options and life insurance benefits inside and out. Contact your private health insurance or life insurance policy provider to see if this is an option for you.

Veterans Pension provides a home care allowance to qualifying veterans and their surviving spouses. Visit http://www.benefits.va.gov/benefits to learn more about the assistance available from the Department of Veterans Affairs.

Catastrophic auto insurance acts as a personal-injury protection or "no fault" insurance, which can cover home care expenses.

Workers' compensation may cover home care costs associated with an illness or accident on the job.

Reverse mortgages are available to people 62+ who own their home. The funds can be received in monthly installments or a lump sum. Check with your or your loved one's bank for eligibility requirements, terms, and conditions.

Medicaid may cover home care services and nursing services through a waiver program, which varies by state. The waiver programs are often coordinated through Area Agencies on Aging. Contact us to see if we participate in a waiver program. It's important to note, Medicare does not pay for long-term home care services. Medicare covers short-term home health care prescribed by a physician. These services include skilled nursing, physical therapy, occupational therapy, and speech therapy. Assistance with bathing, feeding, meal preparation, and other personal care may also be provided while a person is receiving home health care and support with the tasks of daily living.

Area Agencies on Aging provide a variety of services (including in-home care) to adults 60 and older. Services provided through local agencies are determined by performing a community needs assessment and vary by location. To find your local AAA, go to www.eldercare.gov and search by your ZIP code or call 800-677-1116 to speak with a specialist.

Family funds can be set up among siblings and other family members to cover the cost of home care for an aging parent or relative. Be sure to clearly spell out the terms of the agreement and consult an elder law attorney for guidance.
Provide Relief for Family Caregivers with Quality In-Home Care from ComForCare
Paying for in-home care services is just one part of the long-term care process. Check with your or your loved one's insurance about coverage or contact us for a free insurance eligibility verification. At ComForCare, we can connect you with resources and programs that can help ease the financial burden of in-home care.
If you have additional questions or would like to schedule a complimentary in-home consultation, call 800-886-4044 or find a ComForCare Home Care location for affordable home care options near you.
---
Editor's note: This article was originally published July 26, 2016. It has been revamped and updated for accuracy and comprehensiveness.