How to Talk With Your Aging Parents About Their Long-Term Care
Posted: in
Aging , Caregiving , Home Care Planning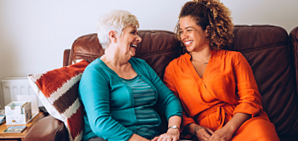 Revised on March 21, 2022.
Maybe you've noticed Mom forgetting to turn off the faucet after washing dishes or Dad having difficulty using stairs. You think it might be time to talk to them about finding some additional help, but you don't know the best communication techniques to use for this sensitive subject.
When family members are no longer able to live independently, a difficult choice is on the horizon. Family caregivers shouldn't have to shoulder all of the responsibility on their own, as caregiver burnout can place unnecessary stress on these relationships.
Luckily, hope is here with professional in-home nursing care and companion care from ComForCare.
We understand it can be tough to bring up the subject of in-home care. If your aging parents are accustomed to living independently or are tenacious (to say it nicely), it can be challenging to convince them to get some help at home. On this page, we offer a few tips for this discussion and outline some of the benefits of homecare services.
If you need more guidance now, we'd love to hear from you. To speak with us during a no-obligation in-home consultation, give us a call at 800-886-4044 or find a ComForCare location near you.
Benefits of In-Home Care
Here's what to expect from the different types of specialized care we offer at ComForCare:
Our experienced personal home caregivers assist with dressing, bathing, grocery shopping, light housekeeping, meal preparation, medication reminders, and many other companion care needs.
Plus, if necessary, our private duty nurses can provide a wide range of home health care services including wound care and ostomy care. Specialized memory care programs for parents showing signs of Alzheimer's and dementia are also available, and we can help you implement safety measures for seniors to prevent injury or falls.
In addition, sticking to a schedule has been shown to improve dementia by adding a logical flow and sense of order to the day. Routine is good — but it can be tough to help your elderly parents stick to one if you're managing kids, work, and the rest of your own life's responsibilities.
From short-term care to 24-hour home care services, we provide the options you need. At ComForCare, whatever care plan we develop will be matched to your loved one's current ability, medical needs, and skill set. For more detail, please visit our services page.
Discussing Personal Care Options
You and your parents have common goals: aging comfortably and maintaining independence. The following tips can make communicating with parents easier and more effective as you review potential home health care options.
Look Through Their Eyes: Remember your parents are learning to accept and work with their changing, and often diminishing, physical and mental conditions. They could be afraid, sad, or trying to assert their authority when all you see is stubbornness.

Be Proactive: If you see concerning behavior from your aging parents, don't wait to say something. If you wait for the "perfect" moment, a serious accident or illness could happen in the meantime. Then, finding long-term care becomes an emergency. This stressful situation can be avoided by exploring the choices available before a crisis occurs. Safety is supreme.

Give Choices: By giving older adults the chance to get involved and make decisions regarding long-term care for themselves, you help them maintain independence and dignity. However, try not to overwhelm them with an abundance of decisions as that can create tension and anxiety.

Be Open: Express your feelings or worries in a clear and calm manner. Remember, by showing concern, you are showing your love and appreciation.

Share in Decision-Making: Ask them how they would like to handle things. Decide together if they want to hire in-home care services, move to an assisted living community, or live with you or other relatives.

Be Considerate: No one likes to be pestered. If your family stalls or pushes back, pause the discussion for the present. You can offer assistance at a later time.

Be Humble: Share your views with kindness. If it seems your parents may be willing to consider extra care or agree with your views, simply offer thanks.
By improving communication skills and learning new communication techniques, you are taking an important first step in caring for your elderly parents. We encourage you to open up the discussion and speak frankly about needs and concerns.
When it comes to caring for your mother, father, or another senior family member, we value the trust you place in us. With our patient-centered approach to care, ComForCare assures you compassionate and responsible caregivers treat your parents with the respect, support, and sensitivity they deserve. It's our honor to make a positive difference in the life of your loved one, and we always give them a voice in the process.
Explore Homecare Services from ComForCare
At ComForCare Home Care, we understand it can be challenging to know what to say and how to approach your loved one about the sensitive topic of their long-term care. We know helping out parents as they make this transitional step is important and close to your heart. That's why we do all we can to help the process go smoothly, including developing a personalized care plan.
Arranging home care doesn't have to be stressful! The team members at ComForCare collaborate with you and work closely with you every step of the way so you can rest assured your parent receives the best possible care. We prioritize compassion, respect, and sensitivity in all we do.
We are here to help you with whatever challenges you may face. Our mission is to improve the quality of life and level of independence for every client and family receiving our services. We provide in-home care for as little as a few hours a week to 24/7, in any setting you call home.
---
Editor's note: This article was originally published July 21, 2016. It has been revamped and updated for accuracy and comprehensiveness.