Area Agencies on Aging — The In-Home Support Option You Might Not Have Heard Of
Posted: in
Aging , Caregiving , Healthy Living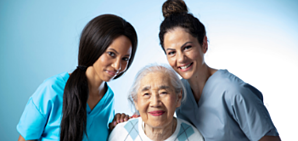 When most of us think of AAA, we think of car insurance and roadside assistance, but another AAA that you may not be aware of is your local Area Agency on Aging (AAA).
Throughout the United States, these agencies help provide support for our aging population. If you are looking for information or additional funding for care, it may be worth contacting your local agency to see what they can do for you.
What is an AAA?
Established in 1973 under the Older Americans Act, Area Agencies on Aging help aging adults live independently at home. To achieve this goal, agencies are funded by the government through the Older Americans Act, Medicaid waivers, and other various state and federal funds.
The average agency has a budget of $10 million with individual agency budgets ranging from $200,000 to $284 million. The size and number of agencies in an area will vary state by state, as it is up to individual states to determine both how many service areas to establish and the number of operating agencies.
What type of services do AAAs provide?
There are currently 622 AAAs throughout the nation that provide support for five core services:
Elder rights — Legal assistance or referrals to help seniors and their family members prevent/respond to crimes, abuse, neglect and exploitation.
Nutrition — Meal assistance that provides nutritious meals at senior centers or programs like Meals on Wheels where seniors can receive meals at home.
Caregivers — Assistance for caregivers in the form of counseling/support groups, training classes, emergency assistance and respite care (allowing the caregiver to take time off while someone else provides care).
Health and wellness — Educational classes for seniors about nutrition, disease management and best practice safety tips
Additional miscellaneous services — Information and referrals, in-home services, homemaker and chore services, transportation, case management, home modification, and legal assistance
Who do AAAs help?
Typically, all of the resources offered by a AAA are restricted to adults aged 60 and up, but they can also be used to help consumers with a disability or chronic illness, clients of all ages, and veterans of all ages.
Services provided through local agencies are determined by performing a community needs assessment. First, input is gathered from both community members and service providers on their community's needs. Next, the data is disseminated and trends are established. Finally, this data is evaluated and used to develop and fund programs to best address the needs of the community. Since community needs vary, there may also be some variability on the services provided across different Area Agencies on Aging.
How do I find my local AAA?
While looking for your local agency, it is important to know that not every location will use the name "Area Agency on Aging." To find your local AAA, go to www.eldercare.gov and search by your ZIP code or call 800-677-1116 to speak with a specialist.
Additionally, feel free to reach out to your local ComForCare Home Care provider who can also put you in touch with your local Area Agency on Aging.