Your Guide to Hiring the Perfect Senior Caregiver for In-Home Help
Posted: in
Aging , Caregiving , Home Care Planning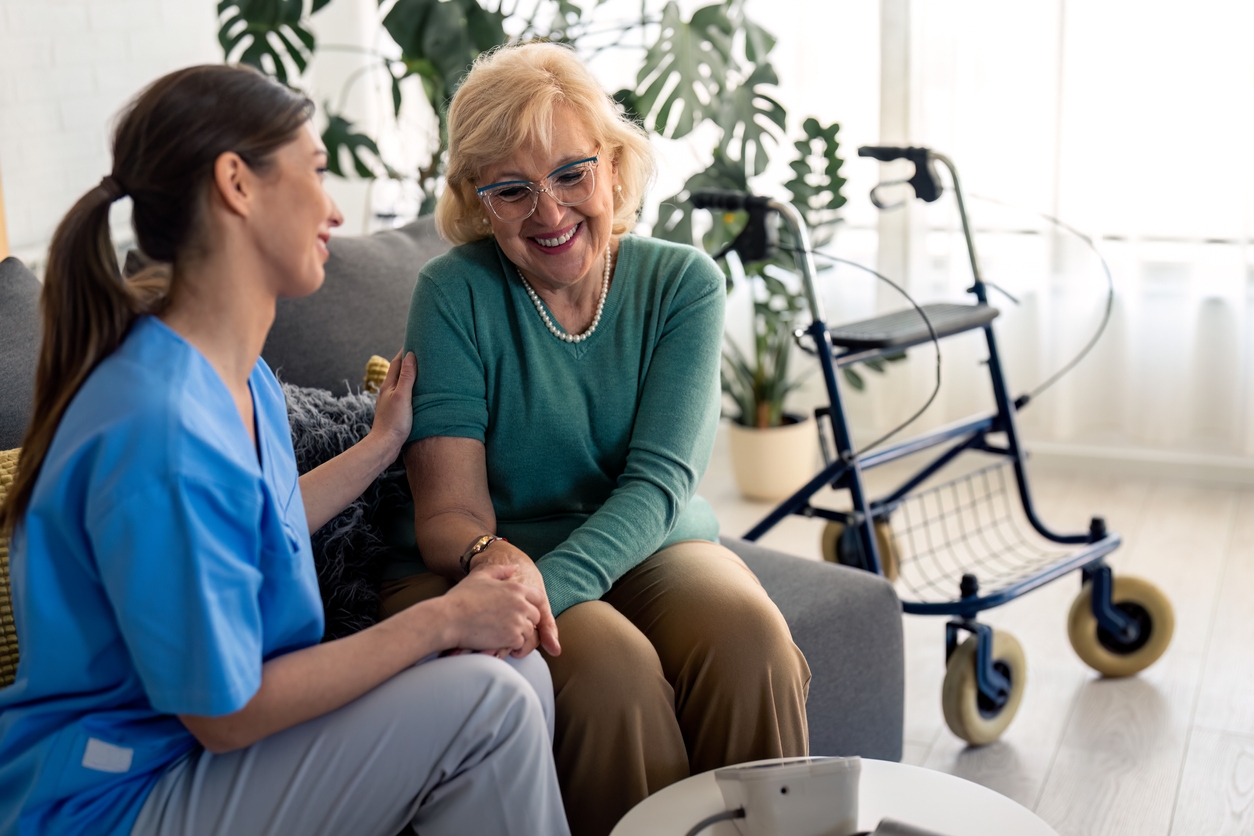 Are you taking care of an aging family member at home? Is an older adult in your life beginning to show signs that it's time for home care to keep living at home safely? Family caregivers do a great deal for the people they care about—but they can't do it all, and sometimes, hiring a caregiver is the best option for everyone involved.
Of course, it's easier for friends and coworkers to suggest getting outside help than it is to make that decision. After all, you may not know what to expect from in-home senior care, or even where to begin. But it's important to recognize when you need help, both for yourself and for your loved one.
Let's talk about how to find a caregiver who will not only take care of basic care needs but also forge meaningful bonds with your family.
3 Steps to Take to Find Caregivers in Your Area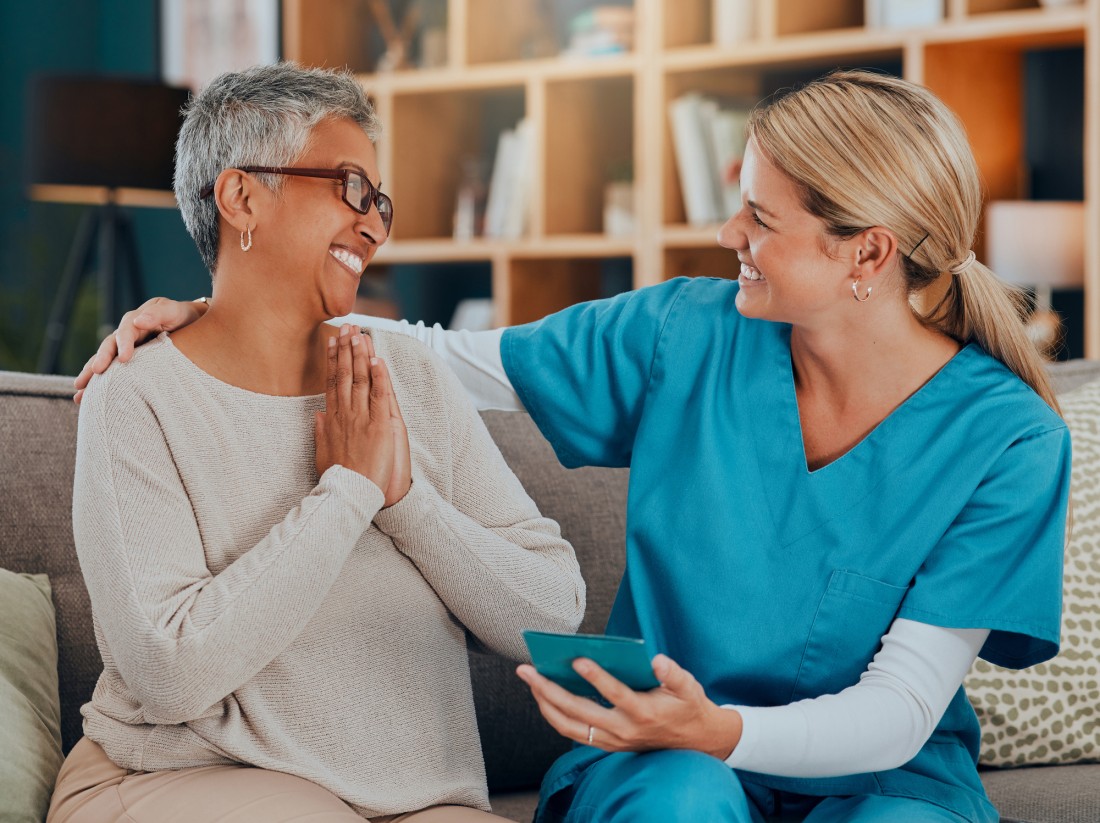 Step 1: Assess Your Loved One's Care Needs
It's important to have a clear vision of what you're looking for before you begin your search. Start by making a list of all the daily needs and tasks your loved one requires help with. That might include managing chronic conditions, like diabetes or COPD, or personal care tasks like dressing and grooming.
This list can also include more personal things like your loved one's strengths and limitations, their favorite hobbies, what they like and don't like, and other preferences. The more detailed the list you can compile, the easier it will be to make a perfect match!
Types of Senior Caregivers
There are several categories of in-home caregivers, and knowing the difference early on will help you focus your search.
Caregivers/Personal Care Aides (PCAs) serve as companions, helpers, and supporters for a wide range of needs. They can help older adults with light housekeeping, activities of daily living, meal preparation, and much more.
Home Health Aides do all of the above, plus they have more specialized skills and certifications that prepare them to provide mobility support, medication reminders, health monitoring, dementia care, and more.
Private Duty Nurses are skilled, licensed registered nurses (RNs) who can perform medical tasks like wound care, IV infusions, tracheostomy management, and more. They are better suited for people who need ongoing health care outside of a hospital setting.
Types of In-Home Care Services
In-home care isn't a one-size-fits-all service. The best caregivers and home care agencies will have flexible, customized care plans that you can use for part-time or full-time assistance with many in-home care services, such as:
Preparing meals
Running errands
Light housekeeping
Grooming, bathing, toileting, & more
Fall prevention and safety adjustments in the home
Monitoring chronic conditions, medication reminders, etc.
Transportation to doctor's offices & social engagements
Step 2: Choose Your Search Method
The ultimate goal of this journey is for you to find a professional, qualified, and personable caregiver that meets all of your loved one's needs—and preferences. Your two main methods of finding a caregiver will be to work through an agency or to look for independent contractors.
If you choose to seek an independent home care worker, be prepared for the search to take a long time. You may need to write your own caregiver job description, sift through registries or staffing services, check references one by one, and set out hourly rates. Then, when you've found someone, you'll also be responsible for contractor protections like workers' compensation and withholding taxes.
Benefits of Working with a Home Care Agency
Home care agencies can connect you with trained, qualified, and compassionate caregivers quickly—in some cases, you can even find next-day care. Working with an agency means you can find a caregiver who is:
Prescreened and background-checked
Trained and experienced in diverse care needs
Able to call in backup if they are sick or have an emergency
Well-equipped to handle and respond immediately to changing care needs
Insured and paid by the agency, limiting your burden of responsibility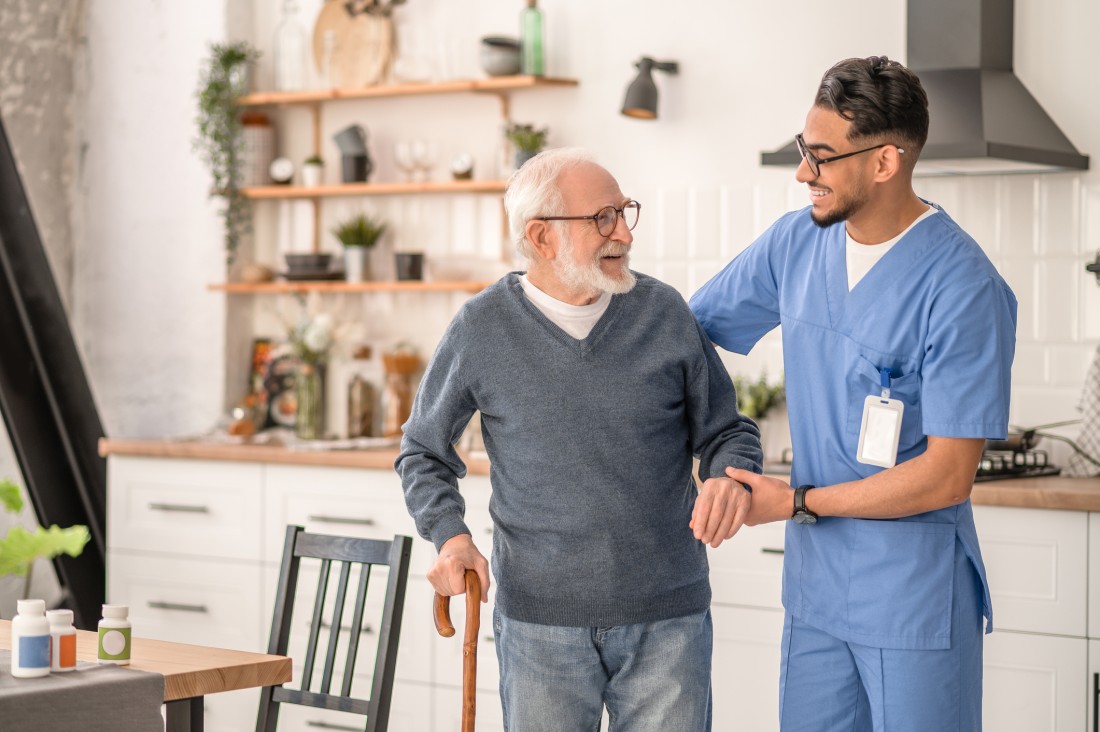 Step 3: Find the Most Reputable Home Care Agency
Many people find and choose caregivers through word of mouth and testimonials. This is a great way to begin your search for a home care agency, too. Look for a company with many great reviews that is open and willing to share client testimonials, certifications, and other details about their hiring, training, and assignment processes.
Awards, certifications, and accreditations are also important. Look for accolades both in terms of care provided to clients and how they take care of their employees. If an agency is a Certified Great Place to Work, you know that the caregivers are well-supported, well-trained, and well-prepared to provide excellent care to your loved one!
Questions to Ask an Agency
Is your agency licensed and accredited?
Are your caregivers insured and background checked?
Can I talk to any of your current clients for a recommendation?
Are care plans flexible and customizable? How are needs assessed?
How are questions, issues, or concerns about my caregiver handled?
Are your caregivers trained to handle my loved one's unique needs, health conditions, and/or behavior challenges?
What to Look for in the Best Home Care Agency
While some guides to finding senior care cite several downsides of working with agencies, you can avoid these pitfalls when you work with a reputable and responsible agency like ComForCare. We go above and beyond to remove the usual pains and restrictions of caregiving agency work and deliver exceptional service every time.
Expense: We're more than happy to identify realistic ways for our clients to afford a caregiver. We have a wealth of senior care cost resources, budgeting tips, and flexible scheduling options to help you get the care you need. In fact, you're likely to find in-home care the more affordable choice compared to assisted living or other options.
Caregiver Choices: Many agencies assign caregivers based on availability alone, meaning you could end up with someone who isn't a good personality fit for your loved one. At ComForCare, we use our in-depth caregiver matching program to align people who share interests and values.
Flexible Hours: While many agencies don't offer part-time scheduling, ComForCare can cover any need. Whether you need a caregiver for a one-time respite period, a few hours a week, or 24/7 care, we're there to meet you where you are.
Looking for a Caregiver? Find Your Match Today
Whether you're urgently searching for a caregiver or just beginning to do your homework, we welcome you to ask us questions 24/7. We understand that finding someone to care for your loved one can be a stressful and confusing process. We're here to take as much off your plate as we can with round-the-clock support and a commitment to outstanding client service.
With over 200 locations in the US and Canada, ComForCare has an ideal qualified and compassionate caregiver near you!
---
ComForCare: Tailored In-Home Personal Care, Dementia Care, & More
At ComForCare, we're committed to helping your loved one live their best life possible in the comfort of their own home. Hiring a caregiver allows your loved one to retain a sense of independence and dignity while receiving high-quality care that prioritizes their safety, happiness, and well-being. Find your nearest ComForCare Location and get matched with a caregiver today!