What to Do After an Older Adult Falls
Posted: in
Fall Risk Management , Safety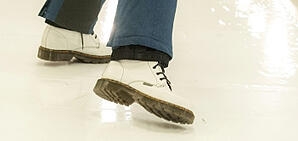 Millions of older adults 65+ fall every year. In fact, more than one out of four older adults falls each year, according to the Centers for Disease Control and Prevention. Falls can be dangerous and can lead to serious injuries – 3 million older adults are treated in emergency departments for fall injuries each year.
However, you or your loved one may have taken steps to lower the risk of a fall, including securing the railings on the stairs, eating a healthy diet high in Vitamin D, practicing Tai Chi and installing nightlights.
Accidents can happen, though. For instance, the cat tripped you or your loved one or maybe one of you rose too quickly from the couch and became dizzy. In any case, it's best to be prepared and know what to do after a fall.
National Institute on Aging has six easy steps to recover after a fall:
Remain still. Give yourself a chance to catch your breath and overcome the shock.
Assess your body. Check if you feel any pain or have injuries. If you have no pain or injuries, you can move to the next step. If you are hurt, ask someone in the home for help, call 911 or activate your alert button if you have one.
Get on your hands and knees. Move into a crawling position and go to a sturdy chair.
Place your hands on the seat and slide one foot forward. Make sure your foot is flat on the floor. Keep your other leg bent so your knee is touching the floor.
Push against the seat of the chair using your hands and push against the floor using your foot. Be sure to rise slowly.
Turn your body. Position your body so your behind is aimed at the chair and sit down.
If you or your loved one feels any pain or discomfort, call emergency services. Even if you or your loved one hasn't broken or hurt anything, always tell the primary care physician about the fall. Quite often, older adults don't tell their doctor because don't want to make it a "big deal." They may feel embarrassed, be worried that they may lose their independence or fear falling again.
If you or your loved one have had a recent fall, we can help. We offer complementary in-home safety checks, where we identify trip hazards and make suggestions to improve safety in your home. Contact your local ComForCare Home Care office to learn more.
---
Editor's note: This article was originally published Feb. 8, 2016. It has been revamped and updated for accuracy and comprehensiveness.