Physical Function, Food and Falls
Posted: in
Aging , Healthy Living , Fall Risk Management , Safety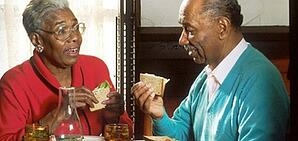 You've likely heard the saying, "You are what you eat." Research from Brigham and Women's Hospital takes that concept further by supporting the notion, "You become what you eat." The study, which compared diet quality and physical function in over 50,000 women, found that those who maintained a healthy diet over the years were less likely to develop problems with physical function as they grew older.
"Physical function is crucial as you age," said Kaitlin Hagan, one of the study's authors. "It includes being able to get yourself dressed, walk around the block and could impact your ability to live independently."
Good physical function aids senior mobility, helps prevent falls and enables older adults to maintain independence in activities of daily living, such as bathing and dressing.
While the study found some foods, such as apples, oranges, pears, romaine lettuce and walnuts were strongly linked with better physical function, overall diet quality is more important than any particular wonder food. Components of a healthy diet included:
Eating lots of fruits and vegetables
Low intake of sugary beverages, trans fats and sodium
Moderate alcohol use
Physical function, especially senior mobility, relies on maintaining strong bone health. The Centers for Disease Control (CDC) reports that one in four adults over age 65 falls each year, while one in five falls results in serious harm, such as broken bones or head injury. Strong bones can't prevent a fall but may help a senior avoid getting a fracture as a result of a fall.
The National Institutes of Health (NIH) recommends calcium and vitamin D as essential components of bone strength. Good sources of calcium include:
Dairy products including low-fat milk, yogurt and cheese
Orange juice or cereals fortified with calcium
Dark leafy vegetables such as broccoli, spinach and collard greens
Sardines or canned salmon
Soybeans and tofu
Almonds and hazelnuts
White beans
Exposure to sunshine stimulates the body to produce vitamin D. For an older adult who is indoors much of the day, getting a sufficient amount may require eating foods that contain vitamin D or taking supplements. The CDC lists vitamin D deficiency, as well as lower body weakness and difficulties with walking and balance, as some potential risk factors for falls.
Vitamin D is found in eggs, fortified milk and cereals, tuna, sardines, salmon, mushrooms and beef liver. According to the NIH, people up to age 70 should get at least 600 international units (IU) daily, while adults over age 70 should have at least 800 IUs daily. It is a good idea to talk to your physician about vitamin D supplements, since taking too much could be harmful.
Even if an older adult's eating habits were less than ideal in the past, it is worth the effort to eat healthy in the future. Doing so can help nourish and strengthen their body and help preserve the physical function that remains.
If you need assistance eating healthy, ComForCare Home Care can help. Caregivers are available to assist with grocery shopping and meal preparation. It's just one of the many ways we can help. Contact your local ComForCare office to learn more.