Looking for In-Home Care? 8 Reasons to Choose ComForCare Home Care
Posted: in
Aging , Activities and Lifestyle , Home Care Planning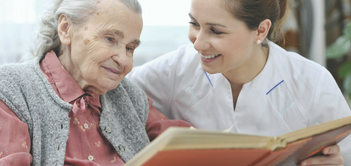 Whether it's due to injury, illness or aging, sometimes older adults need a little extra help, especially at home.
However, family members and friends can't always be there 24/7 to assist aging loved ones. That's where home care comes in. When it comes to choosing an in-home care provider, here are some of the ComForCare Home Care advantages:
We make it easy. At a full-service home care agency, such as ComForCare, caregivers are agency employees, not independent contractors. This means our caregivers are bonded and insured. Plus, we manage responsibilities such as payroll taxes, workers' compensation, caregiver screening and scheduling. If you hire a caregiver through an online registry or a private hire, you become the employer and are responsible for these tasks. At ComForCare, we take care of all the details so families can spend more quality time with their aging loved ones. To learn more about the benefits of hiring a home care agency, check out our blog, Hiring an In-Home Caregiver – What Options Are Available?
We only hire the best. When it comes to in-home care, you want a caregiver who is professional, compassionate and qualified. We conduct comprehensive screenings, assess skills and verify certifications, employment history and references.*
We provide ongoing caregiver training. Each of our caregivers must complete a full skills orientation, which uses a teach-back method. First, we explain how to care properly for a client, then the caregivers demonstrate those necessary skills to us. An example would be how to transfer a person safely in and out of a chair. We also train caregivers to work with client-specific needs and provide ongoing education. To ensure caregivers are following protocols and clients are pleased with their care, we conduct unannounced quality assurance calls and visits to clients' homes.
We customize our care. Our personalized approach to care sets us apart. We understand that every person and situation is unique. Our Care Process begins with a thorough in-home consultation to identify a person's specific needs and preferences. Next, we create a personalized plan. We then continue to communicate with our clients and their family members, conduct reassessments, and adjust the care to reflect a client's changing needs and condition.
We're flexible. Our caregivers are available for a few hours a week up to 24 hours a day, seven days a week, including holidays. We're also available around the clock to answer questions.
We provide more than home care. Activities of daily living such as eating, dressing and bathing are essential for healthy lives. However, it's Meaningful Activities that bring people joy and purpose. We have found when clients are engaged in activities important to them, they are more willing to accept care. That's why we work with clients and their families to identify Meaningful Activities based on a person's interests, hobbies, and remaining skills and abilities.
We embrace safety. Falls can be serious, sometimes fatal, for seniors. The good news is most falls are preventable. Many of our offices offer in-home fall safety evaluations and fall risk evaluations that look at all aspects of a person's living conditions as well as factors known to increase a person's fall risk. If someone is found to be at high risk of falling, we'll make recommendations that can help keep them safer, such as home modifications and lifestyle changes.
We have innovative programs for people with Alzheimer's disease or another form of dementia. We created DementiaWise® to enhance the lives of those living with dementia and their families. DementiaWise teaches caregivers about the changes caused by dementia as well as appropriate care methods and behavioral interventions.
If you or someone you know could benefit from in-home care, contact your local ComForCare Home Care office for a no obligation in-home consultation.
*Where applicable by law.
---
Editor's note: This article was originally published Dec. 29, 2016. It has been revamped and updated for accuracy and comprehensiveness.