Hiring an In-Home Caregiver – What Options Are Available?
Posted: in
Aging , Caregiving , Home Care Planning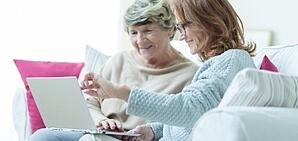 Most seniors want to age in place. According to AARP, 90 percent of those 65 and over want to stay in their home for as long as possible and 80 percent think their current residence is where they will always be.
However, to stay at home, older adults often require assistance with everyday activities from bathing and going to the bathroom, to running errands and preparing meals. Family and friends can often chip in, but sometimes they are not available, they live far away or it is more than they can juggle. That's where home care comes in.
Home care allows people to live independently in their own homes and continue to do all the things they love. When it comes to finding an in-home care provider, several options are available including:
Full-service home care agency
Caregiver registry/referral service
Private hire
At a full-service home care agency such as ComForCare Home Care, caregivers are agency employees, not independent contractors. This means we are responsible for all federal and state taxes, including those related to:
Social Security
Medicare
Unemployment
Payroll
Workers' compensation
All ComForCare Home Care caregivers are also insured. Therefore, if a caregiver is injured on the job, our workers' compensation covers their injury – the client is not responsible. ComForCare caregivers are not only trained on client-specific conditions but also receive ongoing education to stay up-to-date on home care best practices. Additionally, several ComForCare offices offer our DementiaWise® program, which teaches caregivers how to effectively care for those living with Alzheimer's disease and other forms of dementia.
Since home care registries and referral services do not employ caregivers themselves, they cannot provide direct supervision or training due to federal wage and hour regulations. In most cases, registries and referral services are not even allowed to schedule a caregiver's shift; this responsibility would fall on the client or their family members. ComForCare caregivers are thoroughly trained and receive ongoing nurse supervision. In addition, our caregivers are insured and undergo a rigorous hiring process.
To learn more about the benefits of hiring ComForCare for your in-home care needs, find a location near you.