Hiring an In-Home Caregiver – What Options Are Available?
Posted: in
Aging , Caregiving , Home Care Planning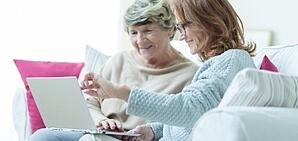 Updated April 17, 2023
Most seniors want to age in place. According to AARP, 90% of people aged 65 and over want to stay in their own home for as long as possible. 80% think their current residence is where they will always be.
However, in order to stay at home, older adults often require assistance with everyday activities and personal care services like bathing, going to the bathroom, running errands, and preparing meals. Family caregivers and friends often chip in, but sometimes they are not available, they live far away, or it becomes too overwhelming. That's where home care comes in.
Below is a handy guide to hiring caregivers for in-home assistance. For more guidance on how to hire the right caregiver for yourself or your loved one, connect with ComForCare. With over 200 locations across the country, we're happy to help you explore your options!
Personal Care Options for Older Adults
Home care allows people to live independently in their own homes and continue to do all the things they love doing. Hiring a caregiver for in-home help is an important decision for your family. When it comes to finding an in-home care provider, several options are available, including:
Full-service home care agency
Caregiver registry/referral service
Private hire
At a full-service home care agency such as ComForCare Home Care, caregivers are agency employees, not independent contractors. This means we are responsible for all federal and state taxes, including those related to:
Social Security
Medicare
Unemployment
Payroll
Liability Insurance
Workers' compensation
In addition to being thoroughly background checked and trained, all ComForCare Home Care caregivers are also insured. Therefore, if a caregiver is injured on the job, our workers' compensation covers their injury, and the client is not responsible.
ComForCare caregivers are not only trained on client-specific conditions but they also receive ongoing education to stay up-to-date on home care best practices. Additionally, several ComForCare offices offer our DementiaWise® memory care program, which teaches caregivers how to effectively care for those living with Alzheimer's disease and other forms of dementia.
Since home care registries and referral services do not employ caregivers themselves, they cannot provide direct supervision or training due to federal wage and hour regulations. In most cases, registries and referral services are not even allowed to schedule a caregiver's shift; this responsibility would fall on the client or their family members.
Determining Level of Care
One of the first steps of hiring a caregiver is determining the level of care—and how many hours of care per day or per week—are needed. If you are currently the primary caregiver for your loved one, think of a typical day and how you help them. Then, write down a job description that covers all daily living duties the caregiver should perform. It is also helpful to write down all medications and note any dietary restrictions, behavioral issues, or mobility problems that apply to your aging loved one.
Daily senior care needs could include:
Meal preparation
Running errands
Helping with bathing/grooming
Administering or managing medication
Transportation to and from appointments
Cleaning, laundry, pet care, or other light housekeeping
In addition, a caregiver will provide companionship and supervision. For more specific health care needs (such as physical therapy, wound care, or the management of chronic conditions), consider a certified nursing assistant.
Different Types of Home Care Workers
The labor force of home health care has more than doubled since 2010, and there are several different types of paid in-home caregivers who provide a range of services. Here's a brief overview of each one.
Personal Care Aides (PCAs)
Not licensed.
Not covered by Medicare or private health insurance.
Inconsistent experience/training.
Serve as helpers and companions, providing assistance with bathing and dressing, light housekeeping, meal prep, etc.
May use their own car for transportation to shopping, appointments, picking up prescriptions, etc.
Good fit for seniors who only need companionship or help with household chores.
Home Health Aides (HHAs)
Federal standard of 75 training hours for certification; additional requirements vary by state.
Monitor the senior's condition, check/record vitals, and assist with the aforementioned activities of daily living.
Good fit for seniors who are chronically ill or disabled.
Licensed Nursing Assistants (LNAs) & Certified Nursing Assistants (CNAs)
Federal standard of 75 training hours for certification; additional requirements vary by state.
Take vital signs, change dressings and catheters, set up medical equipment, and observe and report changes in the patient.
Provide personal care services like feeding, bathing, bathroom assistance, changing sheets, and serving meals.
Skilled Nursing Providers/Licensed Practical Nurses (LPNs)
Meet federal standards for health and safety and are licensed by the state.
Evaluate, manage, supervise, and provide direct medical care like IVs, tube feeding, injections, wound care, diabetes care, and more.
Can specialize in occupational therapy, physical therapy, speech therapy, dementia care, etc.
Covered by Medicare in some cases.
It is important to note that only professional home health care providers can offer medical care services. PCAs cannot dispense medication or provide any type of medical treatment, but they can drive their clients to appointments and remind them to take medication on time.
ComForCare can be used to help hire in-home care providers to handle a wide range of services. For help determining daily duties and needs, contact us now.
Hiring A Caregiver As An Independent Contractor
As an alternative to using a home care agency, you may choose to hire an independent caregiver. With a private hire like this, you're the boss.
First you'll need to conduct an in-person interview with all the professional caregivers to get a feel for their personalities and determine the best fit for your loved one's needs. Once you have a good candidate, a background check is the next step. A law office, online company, or private investigator can run background checks for you. However, you'll need the candidate to sign a release form before you can perform a background check.
Note: According to the IRS, an independent/private caregiver is considered a "household employee" if they are paid more than $2,600 per year (as of 2023.) In these cases, the family hiring the independent caregiver must take on employer responsibilities like employment contracts, payroll, and taxes. To avoid this headache, leave it up to us. To arrange a free consultation at your home, call (800) 886-4044 or check online to find a ComForCare location near you.
Does Workers' Comp Pay Caregiver Benefits?
Yes, caregiving is covered as a qualifying medical expense under workers' comp. If someone gets injured at work and their treating physician deems it medically necessary for accomplishing daily living activities, workers' compensation will pay for a home caregiver. If a family member acts as a caregiver, they are also entitled to receive payment from workers' comp benefits.
For more detail on help paying for in-home care, reach out to ComForCare today.
Benefits of A Home Health Care Agency
Long-term care insurance may cover some or all of the costs. (To better understand your insurance coverage, reach out to ComForCare for a free consultation.)
Backup care is always available! If your usual caregiver takes sick days, is out of town, or is unreachable for any other reason, we send a substitute caregiver.
Never worry about background checks, payroll, or taxes.
Aging in place is a comfort everyone deserves. ComForCare makes it possible.
Home health aides take the stress off of both you and your elderly family member—without the need for a nursing home or other assisted living facility. For help with direct hiring caregivers in Canada and the United States, choose ComForCare. We can connect you with our robust caregiver referral network to find the best fit for your needs. Whether you need around-the-clock elder care or occasional respite care, we work closely with you to help find reliable and trustworthy care providers in your local area.
To learn more about the benefits of hiring ComForCare for your in-home care needs, find a location near you and speak with a friendly agency representative.