Keep a Good Habit
Posted: in
Healthy Living , Holidays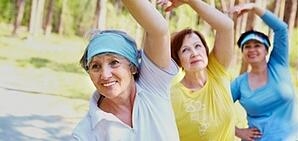 New Year's Day is over, but New Year's resolutions are just getting started. According to Statista, 93 percent of Millennials and 91 percent of Gen Xers they'll keep the resolution they made for 2018. However, only 84 percent of Baby Boomers reported the same. While this number is low comparatively, don't be discouraged. You just need to make it a good habit.
AARP lists six important facets of creating a new, positive habit. Here are the top three:
Find your trigger: When an actor lights a cigarette in a TV show or movie, do you feel compelled to smoke as well? When you are stressed, do you use food to bring comfort? These are questions to ask yourself because when you identify what action or emotion causes a bad reaction, you can then consciously avoid that action or become aware of those feelings.

Exchange bad habits for good habits: It feels amazing when you plop down in the recliner after a long day, but that feeling only lasts a moment. Instead, increase your endorphins and do something good for your body by going for a walk around the block.

Get support: Ask your friends and family to encourage you or help keep you accountable. However, they should keep a positive mindset and be supportive of your efforts. You can seek professional assistance from your physician, therapist or personal trainer, as well.
AARP also recommends being very specific with your goals. For example, instead of making your goal to lose 30 pounds, try making your goal to lose one pound per week. By being specific, it makes the resolution more manageable, so you'll be more likely to stick with it.
The Magic Number
Contrary to popular belief, 21 days is not the magic number to reach when making or breaking a habit. In a study published by the European Journal of Social Psychology, researchers found participants formed new behaviors after 66 days on average; the entire range was 18-254 days, which means each person's journey to create a new behavior is unique. So, it may take you a relatively short time or you may need more time to form a new habit. Either way, it is important to find satisfaction in the little victories on the path to success. While there may be setbacks and relapses when integrating good habits into your daily routine, do not give up or develop excuses.
Taking better care of yourself might be one item on your list of resolutions. If you're a family caregiver, finding the time to do so can seem impossible. That's where ComForCare Home Care can help. We can provide respite care so you have more time to form those new, healthy habits.