Who Are Millennial Caregivers?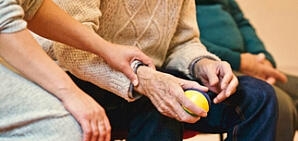 By Haley Kotwicki
Millennials seem to get a lot of negative press. Some may call them selfish, entitled, lazy and even industry killers. But, these are just poor stereotypes. Let's put a face to the 71 million people that make up Gen Y: Mine, for instance.
I am a millennial caregiver. I'm in my 20s and have cared for my father and grandmother. However, I am not a rarity. There are about 40 million family caregivers who help their older loved one with everyday tasks, such as bathing and light housekeeping, and nursing tasks, so they can remain in their homes and communities for as long as possible. Of that 40 million, about one in four is a Millennial. However, many people do not consider themselves family caregivers, but consider caregiving as a part of their duties as a child, grandchild, etc. Caregiving can look different from person to person. You could have a daughter helping her mother shower and eat, or a son providing monetary support to his father. Every caregiving situation is unique, and here is mine.
Before I was born, my father had to have a toe removed and a fasciotomy due to clogged arteries from smoking. As a side note, a fasciotomy is when connective tissue is cut away to lessen the pressure caused by poor circulation. This surgery and diabetes would create a domino effect of infections for the rest of his life. So, as soon as I was old enough, I helped my mom care for him. When he contracted a Methicillin-resistant Staphylococcus aureus (MRSA) infection, which is resistant to antibiotics, my mom and I ripped up his bedroom carpeting in latex gloves and throw out the mattress as the highly contagious bacteria was lurking there. Some of my dad's medication would make him dizzy and fall, so we would help him off the floor and guide him back to bed. My mom and I were very lucky that we could count on each other to help out with my dad so while my mom was helping my dad get bathed and dressed I could clean the house. Sometimes, you just need a little extra help.
If you are a millennial, baby boomer or Gen X caregiver and could use some extra help, contact ComForCare Home Care today. Our trained caregivers can help with everyday tasks such as personal care and meal preparation, while you get the rest you deserve. Our services are available 24/7 or for just a few hours per week.
Additional Resources for Caregivers:​
---
Editor's note: This article was originally published Jan. 11, 2016. It has been revamped and updated for accuracy and comprehensiveness.