Cooking Up a Positive Attitude With Leftovers
Posted: in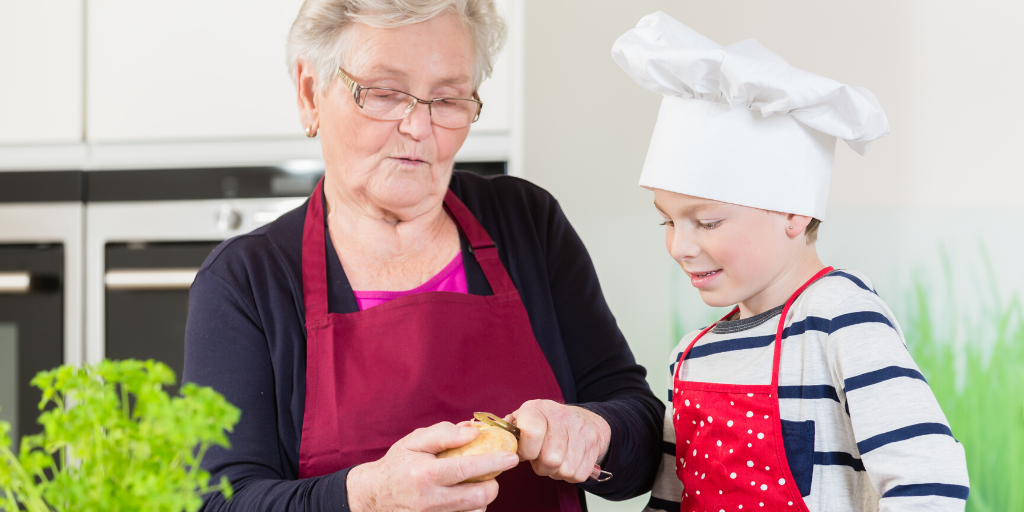 By Steve Toll, care enhancement specialist
I have always loved to cook. I remember as a young boy watching attentively, especially on holidays as my grandmother would cook some of her delicious specialities. She was always so upbeat and I could tell she was having fun and felt proud of her creations. And, when the food was served she always had a big smile and she was confident the family would enjoy her efforts. At that time I had no idea that someday I would be caring and cooking for my grandmother.
While my grandmother was cooking some of my favorite foods, she was also keeping a careful eye on utilizing every scrap of the ingredients that went into the dishes. She grew up during a time when resources were scarce and she learned how to incorporate everything into sumptuous meals. It makes sense anytime to use perfectly good and nutritious food instead of wasting it. And, research reveals a huge food waste problem. According to
Professor Edward Jaenicke and doctoral candidate Yang Yu
from the Department of Agricultural Economics, Sociology, and Education at Pennsylvania State University, U.S. households are wasting nearly one-third of the food that they buy.
As the years passed I began to realize the artistry in what my grandmother had accomplished and that aspect of cooking became fascinating to me. It was almost like a game - how could I use some of these leftovers and convert them into delicious meals for my family. As I developed my abilities I realized how focused I became in the kitchen and I always felt so proud of myself when I presented my creations and heard the, "mmm that's tasty" spoken by my wife and son. It has almost become more fun for me to think about what I will do with the leftovers, than actually cooking the dinner from the original ingredients.
Also, when my grandmother started living with us I had to consider her dietary needs when I was preparing anything for her. Meals for her needed to be easy to chew and swallow, as well as provide well-balanced nutrition. I also needed to consider her food preferences, because enjoying a meal is always a high point of her day.
Here are two examples of simple recipes you can utilize. The first recipe is a simple stew that is very easy for my grandmother to enjoy. It is soft and easy to swallow as well as delicious and nutritious. The second recipe is one of my family's favorite lunch salads. Remember to be creative. When it comes to this kind of cooking the recipe is merely a guide. Feel free to substitute ingredients and come up with your own creations. I will say that not every dish I have concocted with leftovers was a masterpiece, but I'm not afraid to try things. That's part of the fun! Here is my recipe for a delicious and satisfying salad that uses leftovers from last night's dinner which we often have for lunch the next day.
Last Night's Dinner - Roast Chicken topped with Pickled Ginger and Apples, Baked Sweet Potatoes, Fresh Asparagus and Red Cabbage Slaw
Recipe #1 Using leftovers - Chicken and Vegetable Stew with Sweet Potato Biscuits
This is one of my grandmother's favorites. She loves the way it tastes, it's easy to chew and swallow and provides well-balanced nutrition.
Stew Ingredients:
Leftover chicken - about 1 cup removed from bones and diced
Leftover asparagus - about ½ cup cut in bite-size pieces
Frozen peas - about ½ cup (I always have a bag in the freezer)
1 carrot peeled and diced and boiled until soft
2 Tablespoons flour
1 Tablespoon butter
2 cups chicken broth - I always have some chicken bouillon powder in the pantry
Procedure:
Melt butter in a small pot over medium heat
Whisk in flour to make a roux and cook for 2 minutes until well blended
Add chicken broth and whisk until thickened
Add remaining ingredients and cook for about 5-7 minutes
Season with salt and pepper to taste
Serve hot with sweet potato biscuits
Sweet potato biscuit ingredients:
2 cups all-purpose flour
1 teaspoon salt
3 teaspoon baking powder
1 teaspoon baking soda
4 tablespoons cold butter (2 ounces, cut into pieces)
1 cup leftover sweet potato mashed
1/8 – 1/4 cup milk (or more, if needed)
Procedure:
Preheat the oven to 450 degrees F. Line a baking sheet with parchment paper (or spray with cooking spray).
Mix dry ingredients in the food processor. Pulse butter into flour mixture until all butter has been blended into the flour. Process in the sweet potatoes to the flour mixture, just until fully combined with flour.
Add 1/8 cup of milk to the mixture. Add more milk, a tablespoon or two at a time, if necessary until you have a ball of dough in your processor. The dough should be soft and smooth, not dry or too wet. If you end up with dough that is too wet and sticky, add a bit more flour so that it can be handled and rolled. If too dry, add more milk.
Roll dough to about 1/2-inch thick. Cut in 2-inch rounds with a biscuit cutter. Place rounds on the prepared baking sheet. Reroll remaining dough and continue cutting rounds until all dough is used.
Bake about 10 minutes until golden brown and serve with softened butter.
Recipe #2 Using Leftovers - Crunchy Noodle Salad
(Quantities can vary depending on how much is left. And always check your produce on hand to use it before you lose it.)
Ingredients:
Leftover chicken removed from bones and diced
Leftover diced apples and pickled ginger
Leftover red cabbage slaw (you can always add some extra shredded cabbage)
One large carrot diced
Two scallions
Two stalks of celery
One package Ramen noodles
One handful of sunflower seeds or any other seeds or nuts
About a quarter cup of olive oil
About a tablespoon of rice wine vinegar, apple cider vinegar or balsamic vinegar
Fresh spinach, kale or lettuce
Procedure:
Whisk together the seasoning packet from the ramen noodles with the olive oil and vinegar to make a dressing
Slightly break up the ramen noodles and toss with all of the other ingredients, except spinach, kale or lettuce, in a bowl (noodles will soften a bit when tossed with dressing)
Add the dressing to the bowl and toss to coat all ingredients
Taste for seasoning and add salt, a little sugar or soy sauce to your preference
Place bed of spinach, kale or lettuce on plate and top with the crunchy noodle salad