Ten Questions Every Loved One Should Review with a Potential Home Care Provider
Posted: in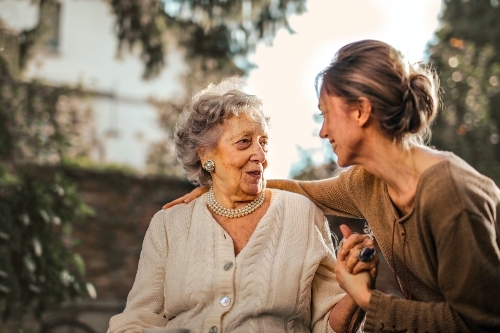 Realizing that an elderly loved one needs assistance can be tough. Whether it's a parent, extended family member, or special guardian, you want to ensure that the person you love is not only cared for but happy. Thankfully, with the right home care provider, you can ensure the highest quality of life for them — and for you.
According to the AARP, over 77% of adults over 50 want to age in place in their own home. To answer that call, 19% of adults in the U.S. are providing unpaid care to seniors, and 1-in-10 parents are also caring for an aging family member. But doing this job on your own can be extremely taxing.
In these cases, home care services are the best way to let seniors age with independence and dignity in the home they have always loved — with safety, companionship, and all-around care. In this guide by ComForCare, we've outlined the essential questions to ask a potential senior care provider to make the selection process easier.
What Qualifications Does Your Home Care Service Have?
Choosing a provider with a stellar reputation for senior care is the first step in protecting your family. Once you're in the process of screening those potential providers, ask for relevant certifications and licensing.
Most states require agencies to be regularly reviewed to gain and keep their license. Ask your agency for their local qualifications and other relevant certifications, including Medicare and other federal requirements.
Are Your Caregivers Licensed and Trained In-House?
Some home care services don't screen caregivers thoroughly. Instead, they use private contractors who are not backed by the company's reputation, training, and support systems.
Before choosing a home care provider, you should ask if caregivers:
Are employed or independent contractors
Are bonded and insured
Are trained and educated continually
Are licensed and accredited
ComForCare not only rigorously screens and trains caregivers but also ensures their workplace satisfaction. We've won several awards as the best workplace for aging services because we empower our employees to provide your loved one the best possible care.
Do You Have References and Testimonials Available?
A great way to learn more about a home care agency is to check their reviews on Google or Trustpilot. However, you can also ask for references and testimonials, or ask to speak to someone already in their care. A reputable provider will be more than happy to provide access to these references. At ComForCare, you can browse our locations to easily access reviews and testimonials near you, and we're glad to provide further information at any time!
Do You Have a Business Office I Can Visit?
Not all home care agencies have physical offices. If there are physical premises, try to arrange a visit to meet the staff and management. Visiting a local office is a great way to meet the home care providers before hiring them and learn more about the company's culture.
ComForCare has over 200 home care locations across the U.S. and Canada to bring high-quality care to seniors almost anywhere.
What Is Your Availability?
When deciding if a home care agency is the right fit for your needs, you can't overlook the importance of scheduling. Ask them about their weekly schedule, their current availability, and when the services can start.
Do You Offer Specialized Services for Each Patient?
Each person is unique — and the home care agency you choose should honor the needs of your aging loved ones. At ComForCare, we offer personalized in-home care services that include:
Matching a caregiver to a patient based on skills and needs
Specialized help for people with health conditions such as dementia
Flexible schedules and locations to meet your family's needs
Will I Be Able To Count on the Same Caregiver?
Counting on the same caregiver has many benefits, from putting your family at ease to building a relationship with a professional you can trust. At ComForCare, our caregivers stay the course to develop trusted relationships with the seniors in their care.
How Can I Contact You or the Home Care Professional?
Communication is crucial when building trust with a home care provider. Ask who your point of contact will be and how you can reach your assigned caregiver. Find out if they have an emergency communication channel that you can use to contact your caregiver in an emergency.
Do You Offer a Free Consultation?
No agency will expect you to hire them without learning more about what they do and how they operate. When you contact a home care provider, you should receive a prompt and thorough response. Make a list of questions and concerns, and use this time to get them all answered.
What Forms of Payment Are Accepted?
When choosing an in-home care service provider, make sure they offer suitable forms of payments for your budgetary needs. They should also be able to guide you to resources that can help you afford quality care.
Ask if they accept Medicare or insurance payments, if there are initial assessment fees, and if they have different fees for late nights or weekends.
Find Home Care Services That You Can Trust at ComForCare
Finding trusted home care services that are a good fit for your family's needs can feel challenging. Here at ComForCare, we are committed to easing the burden of finding care for elderly relatives. That is why we are available 24/7 to answer all of your questions. Even if you're just thinking about home care, start a conversation with us at (800) 866-4066 or contact us online!