Senior Nutrition: Top 5 Healthy Eating Tips for Older Adults
Posted: in
Healthy Living , Activities and Lifestyle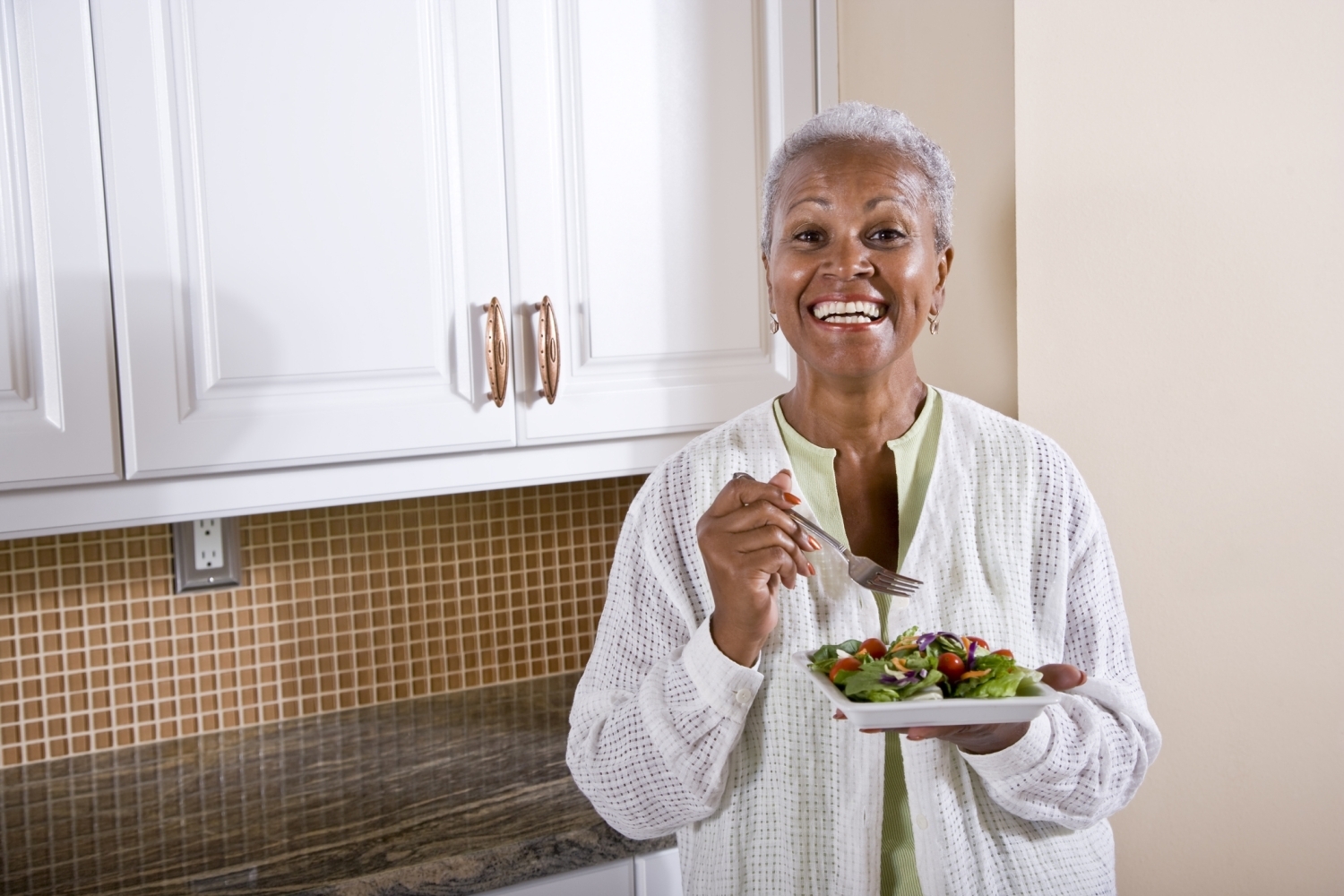 Good nutrition is important, no matter your age. Eating right is how your body gets vital nutrients: substances that our bodies need so they can function and grow, like carbohydrates, fats, proteins, vitamins, minerals, and even water. But as you age, your body and life change, and so does what you need to stay healthy—which is why senior nutrition is such an important topic.
Many people don't realize how big of a role nutrition plays in their long-term health and happiness. They may have a general sense of what "healthy" means, but knowing and doing are, of course, two different things. Let's take a closer look at what special considerations adults over 50 need to know about nutrition that can help them lead longer, healthier lives.
5 Things Everyone Should Know About Senior Nutrition
Older Adults Need Fewer Calories, But More Nutrients
We all know that finding the right balance of calories is crucial for maintaining a healthy weight throughout adulthood. But older adults generally need fewer calories than they used to due to changes in metabolism, physical activity levels, and age-related loss of muscle mass.
However, while you may need fewer calories, you still need the same amount of nutrients, if not more. Nutrients are crucial for energy and weight control. They can also help prevent some diseases, like osteoporosis, high blood pressure, heart disease, type 2 diabetes, and certain cancers.
Foods to Focus On
Over 50, it's more important than ever to cut empty calories like sodas, chips, candies, and alcohol. Instead, focus on calorie-light but nutrient-packed foods, such as:
Fruits and vegetables (choose different types with bright colors)
Whole grains, like oatmeal, whole-wheat bread, and brown rice
Fat-free or low-fat milk and cheese, or soy or rice milk that has added vitamin D and calcium
Seafood, lean meats, poultry, and eggs
Beans, nuts, and seeds

Protein Plays a Role in Fall Prevention
Despite needing fewer calories, older adults actually have higher protein requirements than younger adults—especially if they're dealing with an illness.
Our bodies progressively lose muscle mass, strength, and function over time, beginning as early as our 30s. When people get older, their bodies can't process protein as efficiently, especially in the face of stressful situations like chronic disease, acute illness, or hospitalization. That means seniors need to get more protein from their diet to support and preserve muscle mass.
Why Is Muscle Mass So Important?
Muscle loss and general weakness resulting from inadequate nutrition can lead to falls. Every year, one out of four older adults experience a fall, which can have serious physical and mental health consequences. Fall prevention is a multifaceted but highly important part of overall health and wellness in older age.
Additionally, studies have suggested that older adults who consume more protein are more capable of performing activities of daily living for longer. When muscle mass is preserved, everyday functions like getting out of bed, bathing and dressing, and moving around the house may be, too!
A Good Time to Focus on Good Carbohydrates
Carbs have a bad reputation these days, with the rise in low-carb diets sweeping the nation. But for a balanced diet, the Dietary Guidelines for Americans recommends carbohydrates make up 45%-65% of every adult's diet. Instead of cutting carbs entirely, nutrition is about focusing on the right carbohydrates to support energy and digestion.
There are good and bad carbohydrates, and the bad ones only cause more problems as we age. Bad carbs are simple: they are mostly starches or sugars, stripped of nutrients, and make blood sugar levels spike quickly. Good carbohydrates are complex: they are mostly fibers and other beneficial nutrients, which are slower to digest, helping regulate blood sugar and feelings of fullness.
| | |
| --- | --- |
| Good Carbs (Complex) | Bad Carbs (Simple) |
| Whole-grain bread, pasta, rice, oatmeal, baked goods containing whole-what flour | White bread, white paste, white rice, baked goods containing white flour |
| Nuts and seeds | Processed foods like potato chips, crackers, breakfast cereal |
| Legumes (lentils, beans, etc.) | Soda |
| Fruits and vegetables with edible skins | Sugary desserts and candies |
The Low-Down on Sodium
Sodium (aka salt) is another nutrient that has a bad reputation, though it comes by it honestly. Sodium is necessary for proper body function: it helps maintain fluid balance, conducts nerve impulses, and helps with muscle contraction. However, most American adults get too much sodium, which contributes to high blood pressure and cardiovascular disease.
There are also special considerations for seniors. As we age, our kidney function naturally decreases, which can make it harder to remove excess sodium from the body. That means taking special care to limit sodium intake to less than 2,300mg per day—about the equivalent of one teaspoon of table salt.

Vitamin D & Calcium
We know that the sun helps our bodies produce Vitamin D. But not only is sun exposure risky for our health—our skin also changes as we get older, becoming less adept at producing Vitamin D. That means we need to rely more on food sources and supplements to get it.
Vitamin D helps our bodies absorb calcium, which is why taking both together is so crucial for building and maintaining healthy bones. Research shows that it can prevent and even improve osteoporosis, a condition that leads to weak, brittle bones. Older adults—even those who already struggle with weakness or frailty—can develop stronger muscles and reduce their fall risk with adequate Vitamin D levels.
Your doctor can help you determine the right amount of Vitamin D for your diet and recommend a supplement. You can also focus on eating foods like:
Egg yolks
Fatty fish like salmon, tuna, and sardines
Orange juice
Yogurt
Milk
Mushrooms
Get Online Resources to Support Meal Planning & More!
Prioritizing nutrition can be challenging for seniors, and navigating each consideration can feel a little daunting. If you or your loved one faces challenges with accessing and preparing healthy foods or has other barriers like difficulty chewing or swallowing, help is out there!
At ComForCare, we've prepared a free meal planning guide filled with simple yet nutritious recipes developed with seniors' unique needs in mind. This guide is packed with helpful tips, recipes, and advice for caring for a loved one with dietary barriers.
Plus, you can join us on Facebook every Thursday at 1 pm EST for the latest episode of Care Kitchen, our live cooking program led by chef Steve Toll! We're always exploring new ways to support and inspire creativity in cooking, whether for yourself or for loved ones in your care.
ComForCare: Compassionate, Personalized In-Home Care for Older Adults
If you or your loved one need more help planning and preparing nutritious meals, ComForCare's caregivers can help. Our in-home care services can be personalized to support your needs, including meal prep, personal care, transportation, and more. Learn more about our care services or reach out to your local team today to find your perfect caregiver!