Musician is a Hit With Homebound Seniors
Posted: in
Activities and Lifestyle , Alzheimer's and Dementia , Covid19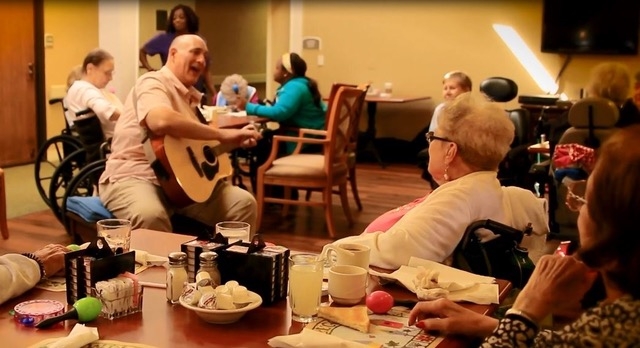 Lately, it takes a lot to get a smile from Tamila Kazimov. The 74-year-old from Lakeway, TX, is suffering from oral cancer and mild dementia. But daughter-in-law Desiree Kazimov knows there is one way to light up Tamila's face and get her toes tapping: a virtual visit from the Music Man.
"She really can't sing because she has trouble talking, but after she sees him, she's in a much better mood the rest of the day," Desiree told McKnight's Home Care Daily.
The Music Man is Steve Toll. The Durham, NC-based musician is the national director of Music & Special Programs for national home care provider ComForCare.
Last year the pandemic disrupted the music programs ComForCare's franchisees used to entertain seniors at centers and in their homes. So, Toll started spreading comfort to homebound seniors through daily Zoom sing-alongs on ComForCare's Facebook page.
Toll's "Tune in Today" concerts have become an enormous hit with seniors.
Innate connection
"Music is kind of hardwired into us. Music has been around forever because it's an expression and it triggers emotions. It's an expression of emotion," Toll told McKnight's Home Care Daily.
Toll has been a musician most of his life. About 25 years ago he started playing concerts at assisted living facilities and long-term care communities. During his one-man concerts, Toll was amazed at what he saw.
Steve Toll, ComForCare, "People with Alzheimers didn't really know where they were or didn't remember what they had for breakfast, but when I played the songs, they really sort of woke up. They were able to sing and they knew all of the lyrics. Some of them even became conversational," Toll said.
Power of music
There's growing evidence that music can retrieve stored memories. Researchers at Beth Israel Deaconess Medical Center in Boston have shown that singing lyrics can help people recovering from strokes or brain injuries. A number of programs helping patients with cognitive issues have been developed in recent years, including the nonprofit Music & Memory and the Music & Memory Project at the University of Wisconsin.
"The musical memory is very complex in terms of not just the song, but remembering people," Toll said. "I connect a song that I know from a past memory. That happens automatically. That is something that stays with us, even for people who are in the later stages of Alzheimer's. That musical memory still can be triggered."
Toll said he plays and sings a lot of old American standards. Songs like "Let Me Call You Sweetheart" and "Embraceable You" are popular with seniors 80 and older. In a few years, though, Toll admits he will need to add some Beatles tunes to his line-up as baby boomers age.
Toll encourages caregivers to connect with patients through music and he encourages everyone to write down the songs that they love and share them with people close to them.
"At some point that might be a useful tool to keep that relationship viable," Toll said.