Using Walkers: Safety Tips for Seniors
Posted: in
Aging , Safety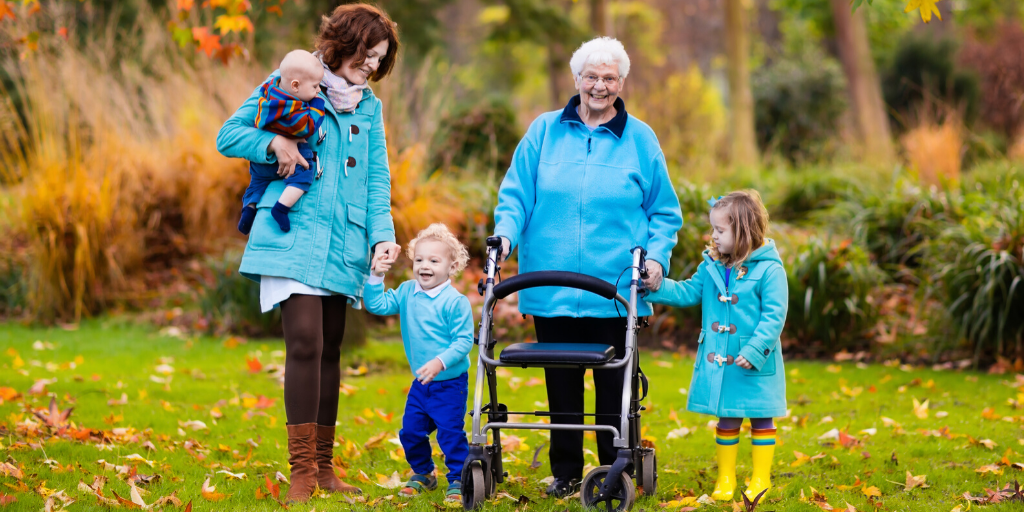 This blog was originally published on January 20, 2020, and updated on June 23, 2022.
As we age, our bones change and weaken. We may also be coping with cognitive decline and balance problems, making fall prevention more and more important. Walkers can help older adults and those with disabilities remain independent and safe by providing extra stability and assurance. However, if they are not used properly, walkers and other assistive walking devices (also called durable medical equipment/DME) can cause the accidents they were meant to prevent. It's crucial to select a walker suited to your needs, learn how to use it correctly, and maintain the equipment's upkeep and integrity.
When an elderly person has limited mobility, they may need extra help from a family member or home care providers, especially when it comes to driving or completing chores. ComForCare's mission is to enable your loved ones to live their best life. We have experience with a variety of mobility aids and the needs of their users, and we're here to share what we've learned.
Below are some important safety tips for new walker users. For more guidance and sensitive senior care solutions, please reach out to a ComForCare advisor.
How to Choose A Walker
Some people prefer canes for added stability, but for many, the right choice is a walker. These mobility aids come in several different varieties, and choosing the right walker is critical to your senior loved one's safety. Let's take a look!
The Right Fit for You
Talk to your doctor or physical therapist about design options available, what's best for your medical condition, and appropriate use. There are numerous styles, including:
Hemi walker

Standard/folding walker

Two-wheel/front-wheel walker

Three-wheel walker/three-wheel rollator

(also known as a rolling walker)

Four-wheel walker/four-wheel rollator
Each walker provides a different level of stability and strength, so measure your needs before purchasing or renting a walker.
A hemi walker is not like a standard walker. Rather, it is used as a cane but offers more support. A hemi walker would benefit cane users who need a wider base for stability, those who have one weaker leg, or have use of one arm exclusively.
The standard walker/folding walker is what most people imagine when they think of a walker. This can bear the weight of the user. Those who can't place weight on their foot or leg would find this desirable. Although it's sturdy, a standard walker is lightweight and portable. Despite that, this walker can be cumbersome because the user has to lift it as they step forward, which can exhaust their arms. To avoid this, some people place tennis balls on the tips so the walker can glide across the floor. Keep in mind that tennis balls won't run smoothly over carpeting, and it can become a trip hazard when moving along uneven floors.
A two-wheel/front-wheel walker has two large wheels in the front and rubber tips on the back. You can purchase "skis" for the back legs that make it easier to slide along, so no lifting is required. It is also foldable and easy to carry. Although the wheels are a definite perk, they may cause falls for those who need to place their whole weight on the walker. Therefore, this walker is best used for additional balance.
A three-wheel walker/three-wheel rollator looks more like a scooter than a walker due to its hand brakes and sportier look. Some are equipped with a basket and/or bag to hold belongings. Some models can fold and the wheels are durable enough for outside use. With three wheel walkers, seniors will find it easier to fit through narrow doorways and turn tight corners in slim hallways.
A four-wheel walker/four-wheel rollator is a walker with a seat and wheels, and is one of the most popular walkers. The four-wheel's differentiator is its bench seat, so when users feel fatigued they can sit and rest or scoot with their legs. Like the three-wheel, it features hand brakes and a basket for essentials. It can be used indoors and outdoors. This type of walker is recommended for those who don't have severe balance issues and can hold their own weight.
*Always check with your doctor first about whether a walker is right for you.
Sizing Your Walker
In order to be effective and safe, walkers must be the correct height. As a guideline, the handle of the walker should be aligned with the user's wrist when the user is standing inside the walker. For the four-wheel walker, make sure the seat is not too high or too low, which can cause strain or discomfort. Always review the weight capacity because all walkers have varying weight limits.
Buying A Walker with Medicare
Medicare Part B can cover 80% of the cost of walkers, rollators, and other "durable medical equipment" if it is deemed medically necessary for treatment, prescribed by a doctor for use in the home (Medicare will not cover power wheelchairs that are only needed for use outside the home.) However, the supplier that provides the adult walkers and the doctor must both be enrolled in Medicare to qualify for coverage. Check out Medicare's supplier directory to begin. Renting a medical walker is also an option.
To learn more about walkers and other medical equipment, visit the medicare.gov site for resources or speak with your healthcare provider about the Medicare process.
Senior Safety Tips
According to the Centers for Disease Control and Prevention, falls are the leading cause of injury and death among adults age 65 and older. Below are tips to prevent falls in the home:
For multistory homes, add a stairlift to stairs.

Install ramps and handrails in the home if needed.

Renovate bathrooms to have walk-in tubs, walk-in showers, and shower seats.

Secure throw rugs with a double-sided adhesive like no-slip rug tape so they do not pose a tripping hazard.

Make sure your elderly loved one has access to a cell phone and knows how to use it to contact family caregivers and emergency services. You may also want to invest in an automatic fall detection device, wristband, or other wearable device for medical alerts and emergencies.
Next up, let's take a look at some pointers for how to use a walker properly.
Quick Tips for Using A Walker Safely
Tape or attach a name tag or luggage tag to your walker, so it isn't accidentally taken.

When accompanying someone who uses a walker, walk beside or behind them. If they lose their balance, strength, or focus, then you are right there to help.

Jazz up your walker with colorful stickers, reflective tape, paint, etc. Just make sure the decorations won't become trip hazards.

Test-run the walker before you purchase it and make sure the hand breaks can engage if it comes with them.

Always inspect the wheels or tips for debris, especially if the walker is used outside or in public places. Anything stuck on the wheels or tips can make the walker wobbly.

Re

place tips, skis, slides, or wheels if they become worn down, which can make them less effective and make it more difficult to move the walker forward.

Choose a comfortable grip. Most walkers come with hard plastic grips; however, you may want to buy a softer or textured grip.

Keep it clean by wiping down grips and wheels/tips to sanitize and remove germs.

Customize your walker with a basket/bag, tray, flashlight or anything else that you may want or need.
Adult walkers provide much-needed stability and extra help navigating the world. They can help seniors feel more independent and safe — which is our goal, too! Our caregivers receive training to assist those with walkers and other medical equipment to perform everyday activities, while still maintaining a high level of self-sufficiency and safety. Contact us today to learn more about ComForCare's in-home care services and get connected with a caregiver near you.
Need Help with Transportation, Chores, or In-Home Care? Choose ComForCare's Personal Care Services
Changing mobility needs don't have to force you into a nursing home or assisted living facility. The compassionate professionals at ComForCare can provide home health care and support for as little as a few hours a week or all the way up to 24 hours a day, seven days a week.
Our quality personal care services include assistance with meal preparation, hygiene, and light housekeeping so seniors can continue to enjoy the comfort of their own home. In addition, we help out with medication reminders, transportation to medical appointments and errands, management of chronic conditions, first aid, and much more. We can also help you explore the full range of Medicare benefits and mobility aid options available to you and your family.
If you or someone you know could benefit from in-home care services, companion care, or other caregiving services, contact your local ComForCare Home Care office for detailed information and get a free in-home consultation ASAP.