Understanding Brain Function with Dementia Care
Posted: in
Aging , Home Care Planning , Alzheimer's and Dementia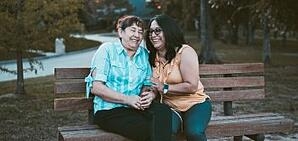 At ComForCare, we're deeply dedicated to helping dementia care patients thrive. People with dementia have many abilities and functions preserved for a long time – even through the end of life. When we take time to understand all that people with dementia can still do, we are taking the first steps in creating better days for them.
Below we cover how dementia impacts brain functions and how memory care services can help.
How Dementia Impacts Brain Functions
How brains function with dementia will depend on the specific patient, but a few commonalities can help families and patients set their expectations.
Dementia is caused when brain cells are damaged and can no longer send signals to each other properly. As a result, a person's thinking, behavior, and feelings can all be affected. Like Alzheimer's disease, dementia also affects memory. Variations include frontotemporal dementia, which refers to degeneration caused by progressive nerve cell loss in the brain's frontal or temporal lobes, and dementia with Lewy bodies, which causes lumps of protein to build up in the gray matter of the cerebrum. This can damage nerve cells, resulting in hallucinations, personality changes, and lapses in consciousness.
People with dementia may feel confused or repeat the same question over and over. They may not recognize people, have difficulty remembering names, be unable to concentrate on a task, mix up words or definitions, and exhibit poor impulse control.
Aside from one's age and genetics, there are numerous other risk factors for Alzheimer's and related dementias in older adults:
High blood pressure
Poor diet
Smoking
Drinking
Diabetes
Obesity
Depression
Social isolation
Lack of physical activity
Low levels of cognitive engagement
Traumatic brain injury (TBI)
Hearing loss
Brain function preservation in dementia patients is important. With an early diagnosis and development of a treatment plan for preserving cognitive function, one's quality of life can be maintained.
How Home Care and Memory Care Keeps Minds Sharp
Most dementias are progressive, meaning they get worse as time passes. In the early stages, sticking to a daily routine is another way to offer reassurance and predictability. As the disease progresses, it is important to find ways to continue incorporating that reassurance and predictability. A person with dementia can also maintain neural connections and preserve brain function by watching old home videos or favorite classic movies, visiting familiar places, or being shown familiar objects. Participating in music therapy can also be tremendously helpful, as rhythm and melody are the language skills that are retained longest with dementia.
ComForCare can assist families and seniors in exploring available options as well as understanding dementia care limitations and benefits. A personal caregiver may be a good option for a dementia patient. In addition to helping with everyday tasks and transportation to medical appointments, a professionally trained caregiver can also address safety concerns, provide supervision, prevent falls, and add more safety features to the home or other environment.
Understanding and working with what people with dementia can still do is a core principle of our DementiaWise program. With this program, ComForCare Home Care can help your loved one maintain dignity, capability, and self-respect. They also experience more fun and enjoyment in life.
Here are two personal examples of how focusing on what is still possible can make a difference when coping with memory loss. (All identifying information has been changed for privacy reasons.)
Samantha
Samantha had been living in a memory unit for three years. One of our caregivers engaged Samantha in conversation using special communication skills she had learned in DementiaWise®, our dementia care training program. To the surprise of the memory unit's staff, Samantha and the caregiver easily chatted back and forth. Later, our caregiver discovered that, until that moment, Samantha had not uttered a word for at least half a year!
Social conversation with individuals with dementia may still be possible when we take the time to speak and listen in a caring, gentle manner. People with dementia continue to want to socialize and communicate and may be able to chitchat once someone engages them in conversation about the things they love and/or uses simple words.
Gerry
Gerry sat quietly in his bedroom, silent and rarely moving. With fairly advanced dementia, he seemed bored and emotionally low. He was a new client, and he and his caregiver were still getting to know one another. The caregiver played some music she thought Gerry would like, and one of his feet very slightly tapped out a rhythm with the music. His wife told the caregiver that her husband used to play drums. Later that week, his wife brought out his snare drum and drumsticks. Using one hand, Gerry played the drum along with the music. This delighted and energized him in a way his wife had not seen for a long time.
This is an example of how people with dementia understand and enjoy music and rhythm throughout life. Singing, playing, or listening to familiar and favorite music is more likely to elicit a positive response from someone with dementia.
As Alzheimer's Disease or Dementia Progresses, ComForCare Supports Seniors and Family Members with Quality Memory Care Services
ComForCare is committed to helping seniors with dementia lead fulfilling lives. Skilled home care, specialized memory care, and other therapy can assist with helping to keep existing cognitive skills working and intact.
We understand that home safety is one of the greatest challenges when it comes to caring for a family member with dementia. Whether you are interested in in-home health care, temporary respite care, nursing homes, assisted living, or other senior care communities, ComForCare helps you find the highest quality caregivers.
If you are a family caregiver for someone with Alzheimer's disease or related dementia, contact your local ComForCare office to learn more about dementia care services near you. We're here to connect you with practical strategies, local resources, and support groups that can make a difference in the lives of you and your loved ones.