Santa's Secrets for a Joyful, Long Life
Posted: in
Aging , Activities and Lifestyle , Holidays , Fall Risk Management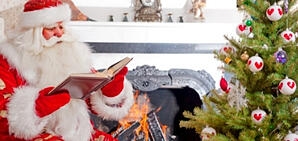 You've heard about Santa's list – the one with names of children, their behavior, where they live and what they want for Christmas. However, you might not be aware Santa has a list for himself of seven ways to age well and enjoy his best life possible. Here is a peek at his list:
Write it down. It's no surprise Santa advocates the use of lists. He knows lists can help jog an aging memory, prioritize tasks and organize a course of action.
Laugh often. Nick understands the power of laughter to improve a mood, connect with others and relieve stress. Ho, ho, ho are three of his favorite words.
Be sociable. Isolation is associated with depression in older adults. That's why good old Santa allocates so much time every fall to interact with children at malls, festivals and parades. The energy and excitement of young children are contagious.
Avoid falls. Santa remembers to wear his boots in ice and snow to help keep him on his feet through the wintry days and nights.
Do what you love. Santa's important work motivates him and brings life satisfaction. Doing Meaningful Activities each day brings joy and helps older adults maintain their zest for living.
Inspire others. Santa encourages the best behavior in everyone. His example of generosity, kind words, hard work and making dreams come true touches the hearts of every generation.
Ask for help when you need it. Santa surrounds himself with elves, reindeer and family who can assist him with errands, meal preparation and transportation during his busiest time of year. He relies on others to make toys of all kinds, fill his thermos with cocoa, load the sleigh and find the way on foggy nights.
Growing old is more fun when you follow Santa's list. If you or someone you know needs help at home, put ComForCare Home Care on your list of Christmas wishes.
Similar to Santa's helpers, our compassionate caregivers can assist with whatever help you need: personal care, meal preparation, transportation or medication reminders. Enjoy the holidays and every day of the new year with ComForCare. Contact your local ComForCare offices to learn more.