Minimizing Frightening Hallucinations and Delusions for People With Dementia
Posted: in
Caregiving , Activities and Lifestyle , Alzheimer's and Dementia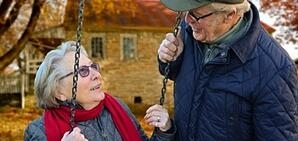 People with dementia frequently make mistakes in judgment and understanding. They begin to have communication problems as use of language becomes more difficult. People with dementia also have high levels of confusion about the world we live in. Combine all these factors, and situations are ripe for misinterpretation. Besides hallucinations and delusions, there can be alternate interpretations for the situations below:
"I just saw an old woman looking in my bedroom window." The woman with dementia may have seen her own reflection in a mirror or a window. Since she doesn't realize she is now elderly, she mistook her own reflection for someone else.
There's a man with a gun in my living room!" People from mid-stage dementia onward have trouble understanding what is real and what is not. If the television is turned to a crime show or the news, this gentleman with dementia may think the man holding a gun on TV is actually in his living room.
"My sister just gave me this scarf." People with dementia remember their younger years much more vividly than recent events. They may not recall that a loved one, such as a parent or sibling, is now deceased. As a result, they may confuse their children with their siblings. Shared family resemblance also lends to this confusion.
If you find yourself in a situation like the ones above, stay calm, so you can think things through. Your calm and reassuring manner will go a long way in helping your loved one remain calm as well. Take time to observe and listen to discover all the facts.
It may be time for an appointment with your loved one's physician to determine whether those types of statements are due to hallucinations, delusions or simply confusion. Review all medications with the physician for possible adverse side effects. Be aware that antipsychotic medications used to address hallucinations and delusions may have potentially serious effects in people with dementia and should be used with caution.
If you need help caring for someone with Alzheimer's disease or another form of dementia, ComForCare Home Care can help. Our DementiaWise® program take a behavioral approach to dementia care -- focusing on the person and using research-based behavioral interventions to create better days. Contact your local ComForCare office to learn more about our dementia care services.