Making the Grade: The Link Between Elementary School Performance and Dementia
Posted: in
Alzheimer's and Dementia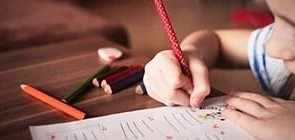 The new school year is well underway and the first report cards will be out soon. Most children started off to elementary school with new backpacks, shiny three-ring binders and pencils sharpened in hopes of academic success. Parents also work to promote good learning, with the understanding that their children's school performance can influence future co-curricular activities, college choices and vocation.

It turns out that those elementary grades may carry more weight than most parents realize. Some recent research suggests that how well kids do in school may be an indication of how their brains will function as they grow old.
Two long-term studies in Sweden followed adults over the course of many years. The results found those who had higher grades in elementary school (at age 10) were less likely than those who had low grades to develop dementia. The children who had the lowest grades in elementary school were at the highest risk for dementia.

According to the researchers, early academic performance may be a foundation for successful cognitive aging. Better elementary school grades may indicate cognitive reserve, which is the brain's capacity to cope with injury and disease. Cognitive reserve helps protect the brain from the effects of aging and stress by helping the brain work in more efficient ways.

Cognitive reserve includes factors such as education, occupation, leisure activities and lifestyle. A life rich in complex thinking experiences helps develop multiple pathways of neural connections in the brain. These important connections begin early in life and strengthen and grow in the academic
environment.

Who would have thought a good report card could be so important to later life? The academic success that parents expect and encourage in their children can support independence and self-sufficiency throughout their lives.

High expectations are also important when you consider home care. While cognitive reserve can help many older adults delay or prevent cognitive losses, sometimes a little extra help may become necessary.
ComForCare Home Care provides in-home care that allows you and your loved ones to live your best life possible. Our caregivers go through a rigorous hiring process. We strive to provide care that engages our clients' attention, interests and abilities. We are available when you need us and provide around the clock care. Our care helps older adults maintain their dignity and independence.
To learn more about our in-home care services in your area, contact your local ComForCare office.