Making Holidays More Enjoyable for Those Living With Dementia
Posted: in
Aging , Holidays , Alzheimer's and Dementia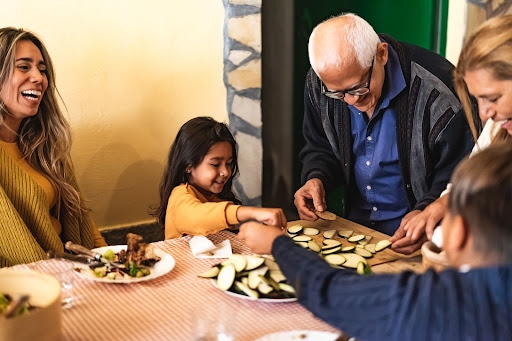 For most, the holiday season is chock full of fond memories and anticipation. We look forward to quality time spent reminiscing and bonding with loved ones. For people living with dementia, the hustle and bustle of the holiday season can be a challenge. While they may not be able to participate in traditional rituals like complex cooking or storytelling, they can still find meaning and connection with slight modifications. Follow along to learn more about how you can create a more joyous experience for all.
What is Dementia?
Before covering solutions, it's important to understand the challenge. What is dementia? Dementia is a loss of cognitive function caused by damage to or changes in the brain. It's a progressive disorder. As brain cells die, different symptoms will present themselves.
Most think of dementia as memory loss, but that's not the full story. There are 14 cognitive functions lost and an equal number preserved. Those lost include the understanding of time and place, the ability to communicate verbally and the ability to understand what others say. These fluctuate often making it difficult to anticipate what to expect from one moment to the next.
Just know that your loved one's choices are often a result of their disease. They can't help repeating the same questions or struggling to complete a once-easy task. Family conversations may be difficult to process. Even short visits to relatives' homes can be hard as new environments come with new challenges.
This doesn't mean you should skip fun holiday activities and traditions. You just need to adjust your approach to meet your loved one's abilities. Doing so can lead to a positive experience for all.
Adaptations to Consider
Visiting With Your Loved One
There is a great deal of research that shows that people age better with more social contact. Those living with dementia still need and enjoy social contact. When visiting, the easiest way to communicate is by chit-chat. This low-stakes form of communication is often preserved and allows a person with dementia to still engage verbally.
Ask questions about their favorite sport, the weather or their favorite dish. Using effective two-way communication can engage your loved one in feeling personally connected to others. When an individual with dementia is upset or frustrated and lacks the words they're searching for, make empathic statements. Start with, "It looks like…" or "It sounds like…". Point out feelings, not facts.
Keeping up with a conversation or "who is who" can lead to confusion. Try not to make statements like, "I told you – this is your sister, not your friend." Be patient, and try to limit the number of conversations happening around your loved one so that they can follow along.
When taking your loved one to a relative's home, make sure you don't leave them alone. Hold their hand, walk with them to the restroom to orient them and periodically check in to see how they're doing emotionally.
Additional Tips:
Take time to visit – don't rush it.
Go with the flow.
Realize that facts won't be 100% accurate, and details may be invented.
Focus on emotional memories and old memories that are easier to recall.
Sing or read scripture. Just hearing another person can be positive.
Keeping Family Recipes Alive
Cooking daily meals is often an essential part of a person's independence. Unfortunately, many of those living with dementia struggle with cooking in the way they once did. Preparing even a simple, well-known side dish can be challenging as the cognitive changes that occur in dementia affect one's ability to sequence, multitask and recall steps.
This does not mean that someone with dementia has to stop cooking! With modifications, you can engage with your loved one and set them up for success. Have them participate in a small aspect of preparing a recipe, like stirring ingredients once you've mixed them together or placing green beans into a pot or dish. Involving your loved one will help them feel like an active participant and will help reduce boredom.
Reducing Agitation
The human brain needs sensory stimulation, however, a brain impacted by dementia affects how information from the senses is processed. We need to ensure the right amount of sensory stimulation is provided. A noisy environment may cause your loved one to become confused or distracted. Because of this, we suggest the following:
Keep your tone friendly.
If your loved one is getting upset, redirect the conversation or activity. For example, you can request that they help you in the kitchen as you could gladly use their support in getting things cleaned up.
Give simple choices
Break down the activity into steps, and provide instructions one at a time.
If your loved one is getting agitated, try changing the environment. Sit down together in a familiar place. You could also play a familiar song and sing together.
Overall, if the situation isn't working, it's time to modify.