How to Talk With Your Aging Parents About Their Long-Term Care
Posted: in
Aging , Caregiving , Home Care Planning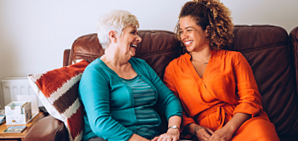 Maybe you've noticed Mom forgetting to turn off the faucet after washing dishes or Dad having difficulty using stairs. You think it might be time to talk to them about finding some additional help, but you don't know the best communication techniques to use.
If your aging parents are accustomed to living independently or are tenacious (to say it nicely), it can be challenging to convince them to get some help at home.
You and your parents have common goals: aging comfortably and maintaining their independence. The following tips can make communicating with parents easier and more effective.
Look Through Their Eyes: They are learning to accept and work with their changing, and often diminishing, physical and mental conditions. They could be afraid, sad or trying to assert their authority when all you see is stubbornness.
Be Proactive: If you see concerning behavior from your aging parents, don't wait to say something. If you wait for the "perfect" moment, a serious accident or illness could happen in the meantime. Then, finding long-term care becomes an emergency. This stressful situation can be avoided by exploring the choices available before a crisis occurs.
Give Choices: By giving older adults the chance to make decisions regarding long-term care for themselves, they maintain independence and dignity. Try not to overwhelm them with an abundance of decisions as that can create tension and anxiety.
Be Open: Express your feelings or worries in a clear, calm manner. By showing concern, you are showing your love and appreciation.
Share in Decision-Making: Ask them how they would like to handle things. Decide together if they want to hire in-home care services, move to an assisted living community, or live with you or other relatives.
Be Considerate: No one likes to be pestered. If your family is stymied, pause the discussion for the present. You can offer assistance at a later time.
Be Humble: Share your views with kindness. If it seems your parents may be willing to consider extra care or agree with your views, simply offer thanks.
By improving communication skills and learning new communication techniques, you are taking an important first step in talking to and caring for your elderly parents.
At ComForCare Home Care, we understand it can be challenging to know what to say and how to approach your loved one about the sensitive topic of their long-term care.
We are here to help you with whatever challenges you may face. Our mission is to improve the quality of life and level of independence for every client and family receiving our services. We provide in-home care for as little as a few hours a week to 24/7 in any setting you call home. Call 800-886-4044 or find a location near you for a no obligation in-home consultation.
---
Editor's note: This article was originally published July 21, 2016. It has been revamped and updated for accuracy and comprehensiveness.