How to Not Become Your Parents' Parent
Posted: in
Aging , Caregiving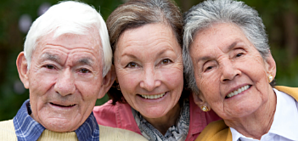 When someone who has raised you (whether a parent, grandparent, aunt, uncle, etc.) begins to decline mentally and physically, it can be frightening and troubling. The person who guided you through all the unfamiliar stages in life now needs you to guide them; your hero needs a hero. This role reversal is becoming extremely common as seniors are living longer. About 30% of middle-aged adults with at least one parent age 65 or older said a parent needs help handling their affairs or caring for themselves. Many adult children will need to prepare to assume a new role in their parents' lives.
Don't Parent Your Parent
Your new position in your parent's lives is to be their advocate and helper. It might be difficult for those in the sandwich generation (adults sandwiched between aging parents who need care and their own children) to turn off parental thinking when caring for their parents.
For example, you could say to your child, "Timmy, you have to eat your broccoli," or "No, you can't take the car tonight, Chloe." You couldn't say to your parent, "Mom, you have to eat your broccoli," or "No, you can't take the car tonight, Dad." Your parents would probably have a few choice words for you. No one wants to have someone tell them what to do; your parents may feel especially sensitive if they are losing independence - the ability to use the bathroom on their own, drive a car, work, etc. Even though your parents may need help, they are still adults and should be treated as such.
Do Team Up With Your Parent
You and your parents have common goals: aging comfortably and maintaining their independence. How you reach those goals is dependent on good teamwork and compromise. The following four tips can help avoid bickering and arguments between you and your parents.
Look Through Their Eyes: Aging parents are learning to accept and work with their physical and mental conditions. They could be afraid, sad or trying to assert their authority when all you see is stubbornness.
Give Choices: By giving them the chance to decide for themselves, they maintain a sense of independence.
Share in Decision-Making: Instead of telling your parents that they must do this or they have to do that, ask them how they would like to handle things.
Make Time: Set aside an hour or more to do something fun with your parents, such as going out to eat or looking at family albums. This is especially important for those with Alzheimer's disease or another form of dementia, as chatting and listening to music can still be thoroughly enjoyed.
Most importantly, accept that you might not be able to come to an agreement with your parents on some issues. For example, your mom might not want to get rid of an expensive rug even though it's become a fall hazard. Share your concerns and offer gracious ways for your parents to back down or change their minds. However, your parents are adults, so allow them to make their own decisions. Sometimes, all you can do is stand by and be prepared to help when they need you.
ComForCare Home Care offers in-home care solutions that can help you and your loved ones live your best life possible. Contact us to for a no obligation in-home assessment.
---
Editor's note: This article was originally published May 5, 2016. It has been revamped and updated for accuracy and comprehensiveness.