Helping Older Adults Stay Safe in Their Own Homes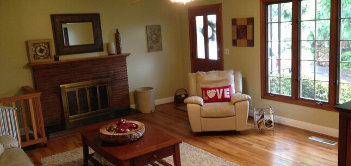 As they say, home is where the heart is, and it should also be a place of comfort and safety. However, older adults can become overly comfortable in those familiar surroundings and may not recognize emerging safety concerns and red flags. For example, the railing becomes wobbly, so they learn to not lean on it. For many, they live with their home's "quirks," but that can become risky behavior for older adults.
Moreover, with increasing age, vision and hearing become less acute, balance is less steady and reaction time slows. Household and personal tasks that were once easy and safe to complete can turn into difficult and dangerous activities.
Make Necessary Household Repairs
Make it a priority to look around your older loved one's home for potential safety hazards, including:
Stuck windows

Jammed or loose doorknobs

Full dryer vents

Leaky pipes or faucets
If necessary, make repairs and replacements. It's important to personally assess the situation. Your loved one may be reluctant to bring any household problems to your attention due to concerns about costs, maintaining personal independence or simply not wanting to make extra work for you.
Look for Fall Hazards
You will also want to look in and around the home for possible fall risks. Make sure that stairways, both inside and out, have sturdy railings. All entrances, halls and stairs should have good lighting and carpets and rugs should be tacked down. Ensure the driveway, pathway or stairs leading inside doesn't have large cracks. And, always remove clutter and debris from walkways inside and out.
Pay Special Attention to the Bathroom
The bathroom is another place you should inspect for safety issues. According to the Centers for Disease Control and Prevention, the bathroom is "believed to be a particularly hazardous location."
Here are some bathroom safety tips adapted from the National Institute on Aging:
Mount grab bars near toilets and on both the inside and outside of your bathtub and shower.

Place non-skid mats, strips or rugs on all surfaces that may get wet.

Remember to install automated night lights.
If your older loved one wants to age in their own home, ComForCare Home Care can help. We offer safety supervision and personal care as well as light housekeeping and meal preparation. We can help you and your loved one live your best lives possible!