Healthy Aging With an Apple a Day
Posted: in
Healthy Living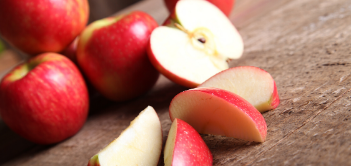 We have all heard the famous expression - "An apple a day keeps the doctor away" Sounds great, but could this actually have any basis in science? And, where does this expression come from?
An apple is a healthy nutritious food. Apples are high in fiber, vitamin C, and various antioxidants. They are also very filling, considering their low-calorie count.
In addition, apples come in a wide variety with distinct flavor profiles and textures. According to the U.S. Apple organization, more than 100 apple varieties are grown commercially in the United States, but a total of 15 popular varieties account for almost 90% of production. Some are great to eat right off the tree and some are great for your favorite pie, turnover or cake. They are also great baked with a tasty filling inside (see recipe at the end of the article).
Apples have been a diet staple for many cultures leading to the origin of the expression, "An apple a day keeps the doctor away." First recorded in the 1860s, the proverb originated in Wales, and was particularly prevalent in Pembrokeshire. The original wording of the saying was "Eat an apple on going to bed, and you'll keep the doctor from earning his bread."
Recent studies have discovered the following:
This seems like a "win-win" - a delicious food that's good for you too! So go ahead and enjoy eating an apple a day.
Recipe: Baked Apples With Brown Sugar and Cream Cheese
Ingredients:
2 apples - (we like to use Pink Ladies, but any variety will do)
¼ cup light brown sugar
1 Tbs. ground cinnamon
¼ cup softened cream cheese
Directions:
Preheat oven to 375. Remove the apple cores with an apple coring tool or paring knife. Mix together the sugar, cinnamon and cream cheese. Spoon mixture into the apple where you have removed the core. Place in baking dish and bake for 45 minutes. Serve warm and spoon the juice which remains in the baking dish over the apples.