Cooking Up a Great Relationship
Posted: in
Caregiving , Activities and Lifestyle , Alzheimer's and Dementia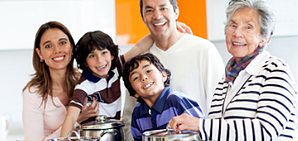 By Steve Toll, care enhancement specialist
There is nothing more satisfying than a home-cooked meal with friends and family. I have some fond memories of watching my mother prepare the family meal and smelling the delightful aromas that made my mouth water. I could not help sneaking a taste when Mom wasn't looking. Of course, Mom knew exactly what I was doing, and she started to encourage my tasting behavior. She also started to ask me to help her with meal preparations and as I became more involved, asking questions, tasting and making flavor adjustments, I was learning to cook and having a lot of fun.
I didn't know it at the time, but that relationship with my mother facilitated by cooking was creating beautiful memories that would bring me great happiness and help me connect with people I met as I journeyed through life.
I certainly had my favorite dishes but my stand out was meatloaf. My mother showed me her recipe secrets that were given to her by her mother. The funny thing is that after all these years, I still yearn for the way that meatloaf tasted and looked. The feeling I get when I start thinking about my relationship with my mother all those years ago brings me great joy.
Over the years, I have prepared that memorable meatloaf for my friends and family and have shared the knowledge with my son. I remember the first time my son and I started cooking together. Those fond memories and the relationship with my son always makes me feel happy and connected on a deep emotional level. The love I feel is the greatest joy.
The feelings we have around cooking and being with loved ones can easily be applied to any caregiving opportunity and has been the subject of scientific studies, which concluded that sharing and preparing food is a strong non-verbal indicator of friendship and love.
The greatest gift of cooking and sharing our creations with others is that we are building a treasure trove of memories that we can easily recall, especially when we are encouraged and reminded. It is a fact that we need to eat, and sound nourishment from the food we eat is extremely important to our health and quality of life. And, this human need provides many opportunities to build strong relationships through the process.
As we provide care for others we can use this knowledge to socially engage through the enjoyment of cooking their favorite dishes by promoting conversations about past family meals with friends and family and sharing some of our own stories. We can ask the person:
Did you cook this dish for your family?
Was this your favorite dish when you were a kid?
Did one of your family members show you this recipe?
Through this engagement, we create the bonds that make challenging care situations easier and more successful.
Whenever possible those in our care should be encouraged to help with:
Planning the meal
Creating a shopping list
Shopping for ingredients
Preparing the food
As the meal cooks, we can smell the delightful aromas and have a taste. When we serve the meal, we can relish in its beauty and take pride in serving food prepared with love.