ComForCare Goes Beyond Just Home Care
Posted: in
Aging , Technology , Safety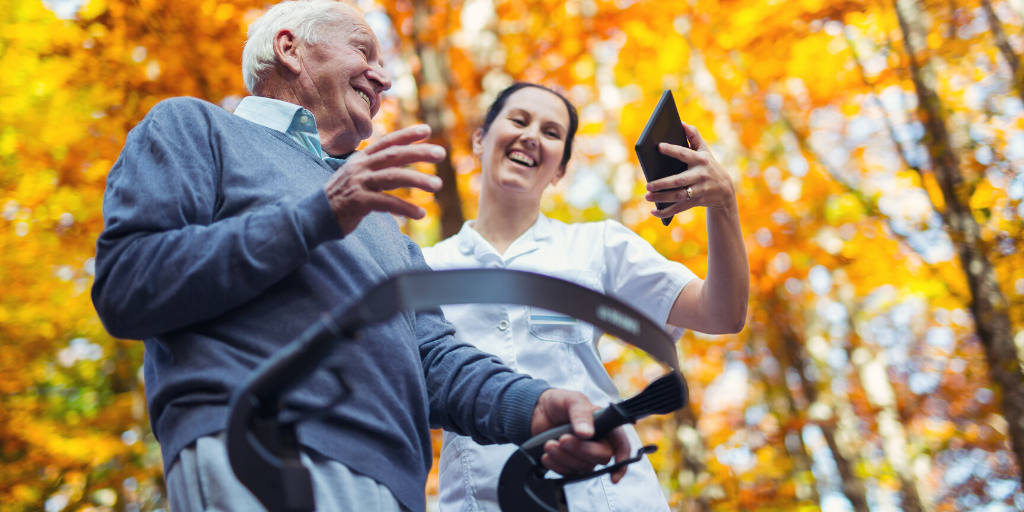 ComForCare Home Care provides a variety of in-home care services such as bathing, grooming, meal preparation and light housekeeping. But, we like to go beyond basic care needs and make sure that each client is receiving specialized services that help them go from just living to living their best life possible. We have many partnerships in place to enhance our services: Total Brain Health to build better brains, Philips Lifeline to alert others when falls occur, and Lyft to arrange transportation services.
Total Brain Health
Total Brain Health's TOOLBOX365
aids with cognitive fitness and was developed under the guidance of Cynthia R. Green, Ph.D., a nationally recognized expert and author on memory fitness and brain health. With TOOLBOX365, ComForCare caregivers can care for the client's mental and social needs as well as their personal care needs.
TOOLBOX365 is a small box that contains cards, a die with colors and a timer. To start, the client rolls the die and selects a card. The cards are divided into subjects: body, mind, spirit and social. Each card has an activity related to the subject. Next, the caregiver turns over the timer and the client performs the activity on the card. For example, the activities could be mirroring your caregiver's movements or naming famous people named Ben.
Philips Lifeline
The
Phililps Lifeline
medical alert services help older adults remain independent and confident while staying safe in their own home. Over 7 million people have used Philips Lifeline to feel safer at home or on the go.
Older adults receive a pendant to wear around their neck. On the pendant is a button that when pushed notifies one of Philips Lifeline's associates who will contact a family member, neighbor, caregiver or emergency services based on their preference. There is also an optional AutoAlert feature that automatically calls for help if a fall is detected and the wearer is unable to press the button.
Lyft
We offer transportation to and from appointments and errands as a part of our in-home care services. Clients oftentimes have large walkers, wheelchairs, oxygen tanks and other medical equipment that just won't fit into cars, which is why ComForCare partnered with
Lyft
.
ComForCare franchise owners can hire Lyft vans, minivans and SUVs for caregivers and their clients to make transportation and getting in and out of the vehicle hassle-free.
These are just three of the many partnerships we offer to help our clients receive the best care. Keep in mind services vary by office.
Contact your local office
for more information.