A Helping Hand for the Holidays: In-Home Respite Care 101
Posted: in
Caregiving , Holidays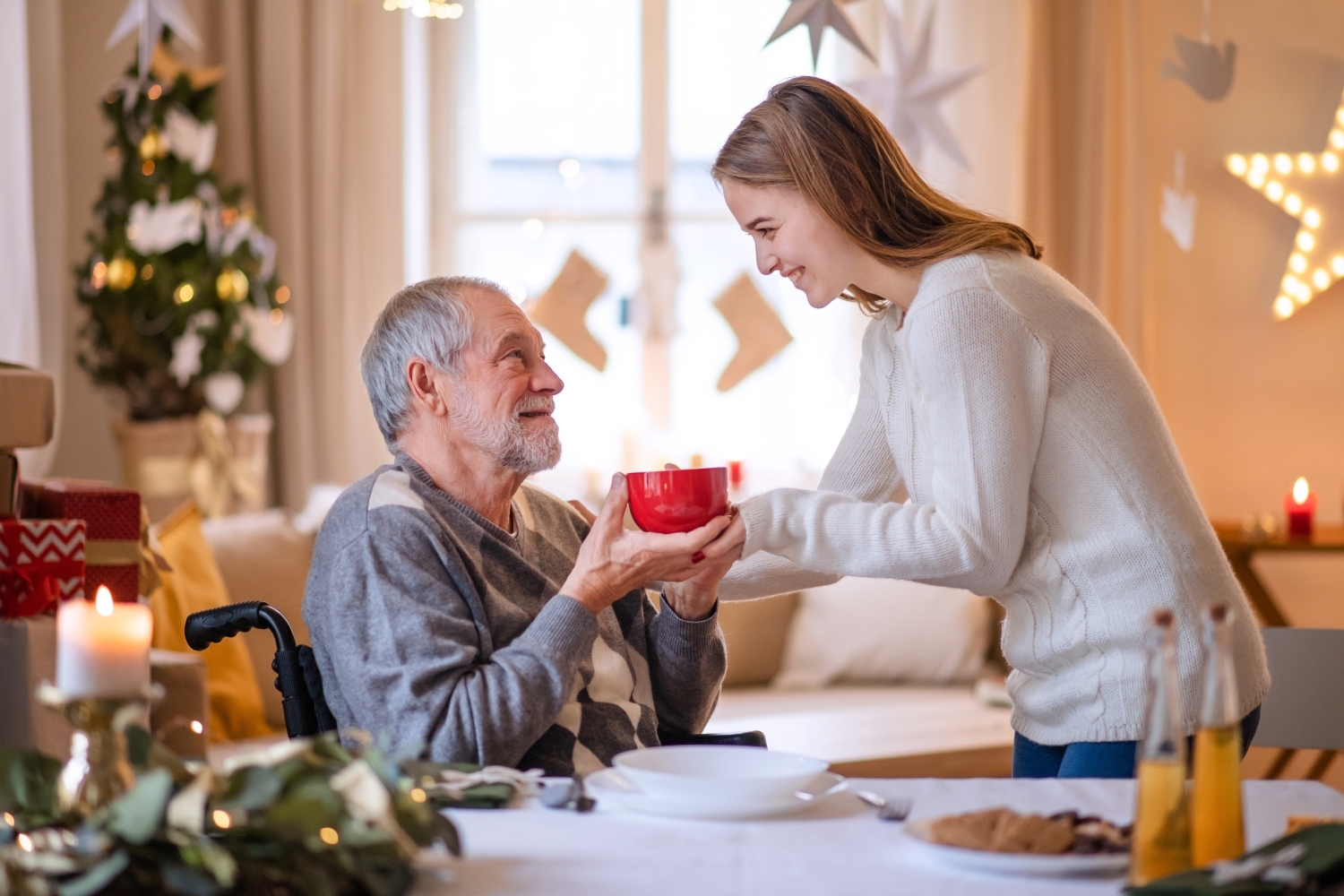 There are plenty of reasons for family members to take care of aging or disabled loved ones. The role can be rewarding, bringing people closer to the people they love and allowing them to tailor care to their personal needs and preferences. But even the most dedicated family caregivers need a break to focus on their own well-being, especially around the busy holiday season. That's where respite care comes in.
Despite the fact that 1 out of every 5 Americans acts as a caregiver to a loved one, only 15% take advantage of respite care services available to them. Respite care can create better outcomes for caregivers and their loved ones alike. It gives family members time to rest and recharge so they can come back to the role with fresh eyes and renewed spirit.
But what is respite care, and is it right for you? Let's take a look at the many benefits of hiring a home care agency to give you a helping hand when you need it.
What is In-Home Respite Care?
In-home respite care is a form of temporary relief from the responsibilities of caretaking. You get to set the terms—it could mean hiring a professional aide for an afternoon, for several weeks, or anything in between. At ComForCare, our highly trained staff can come to your loved one's home to perform many of the duties you provide on a daily basis, including:
Preparing meals and helping them eat
Helping them groom, bathe, and dress
Providing medication reminders
Grocery shopping, picking up medications, and related errands
Coordinating care and transporting them to and from doctor appointments
Light housekeeping
Unlike adult day-care centers or respite care facilities, in-home care reduces the stress on your loved one by bringing care to them. They get to stay in their familiar environment with minimal disruption to their routine—and you get a break to focus on your needs.
Benefits of Respite Care
Manage Stress & Ward Off Burnout
Over half of family caregivers in an AARP survey reported that they experience moderate to high levels of stress related to their role's responsibilities. Combined with the added pressures of the holiday season, the winter months can quickly lead to burnout for those taking care of loved ones.
Respite care gives you room to breathe, just like taking time off work. After all, though it can be deeply rewarding, caretaking is a form of labor. Working so hard without rest can take a serious toll on your mental health, which in turn can affect your ability to care for your loved one.
Reduce Health Risks for Your Loved One
When we're burnt out, busy, or bustling around more than usual, we can overlook important signs of illness or disease progression. We're only human, and can only focus on so many things at once. ComForCare's home aides are specially trained to watch for warning signs that your loved one needs medical intervention or additional help. They can also provide you with a fresh perspective after months or even years of seeing your loved one every day.
This is especially true if your loved one has recently suffered an injury or had a medical procedure. Temporary respite care during their recovery can reduce the risk of infection and rehospitalization. It's a way to optimize their healing process while taking some time to focus on your health, too.
Find Support & a Social Network
Between 40% and 70% of family caregivers struggle with feelings of depression, often compounded or caused by isolation and loneliness. During this time of the year when we're supposed to be celebrating togetherness, that struggle can begin to feel unmanageable. Not enough caregivers realize that there are support groups for people just like them, where they can come together, socialize, and share their experiences. Home care agencies like ComForCare can connect you with those resources.
We do everything in our power to take care of our clients—and that means helping family caregivers just as much as it means assisting their loved ones with their daily needs. We have a wealth of knowledge about mental health resources and support systems, and we're glad to share those with you while we give you a helping hand.
Respite Care Isn't Selfish—It's a Gift
One of the biggest hurdles to self-care can be feelings of guilt. It's easy to see taking time for yourself as a selfish act. But the reality is, taking a break is a gift to your loved one, too. Whether all you need is a day alone to catch up on errands or a week to take your first vacation in years, you'll return as a more resilient, more compassionate, and more capable caregiver.
At ComForCare, all of our employees are background checked, highly trained, and vetted for a passion for treating all their clients with dignity and respect. Whether they meet your loved one only once or on a regular basis, they'll provide the highest level of care so you can rest easy. To learn more about our work and find a schedule that will fit into your life and your budget, get in touch with us today!
ComForCare: Short-Term & Respite Care in the Comfort of Home
With over 200 locations in North America, ComForCare is your solution for reliable in-home care. We're here to help with a range of flexible care options, including DementiaWise®, a nationally recognized training program that allows our caregivers to provide world-class respite care to adults with Alzheimer's disease and other forms of dementia. Give yourself the gift of rest this holiday season with help from ComForCare.