Staying Engaged With Humor and Heart
Posted: in
Stories from the Home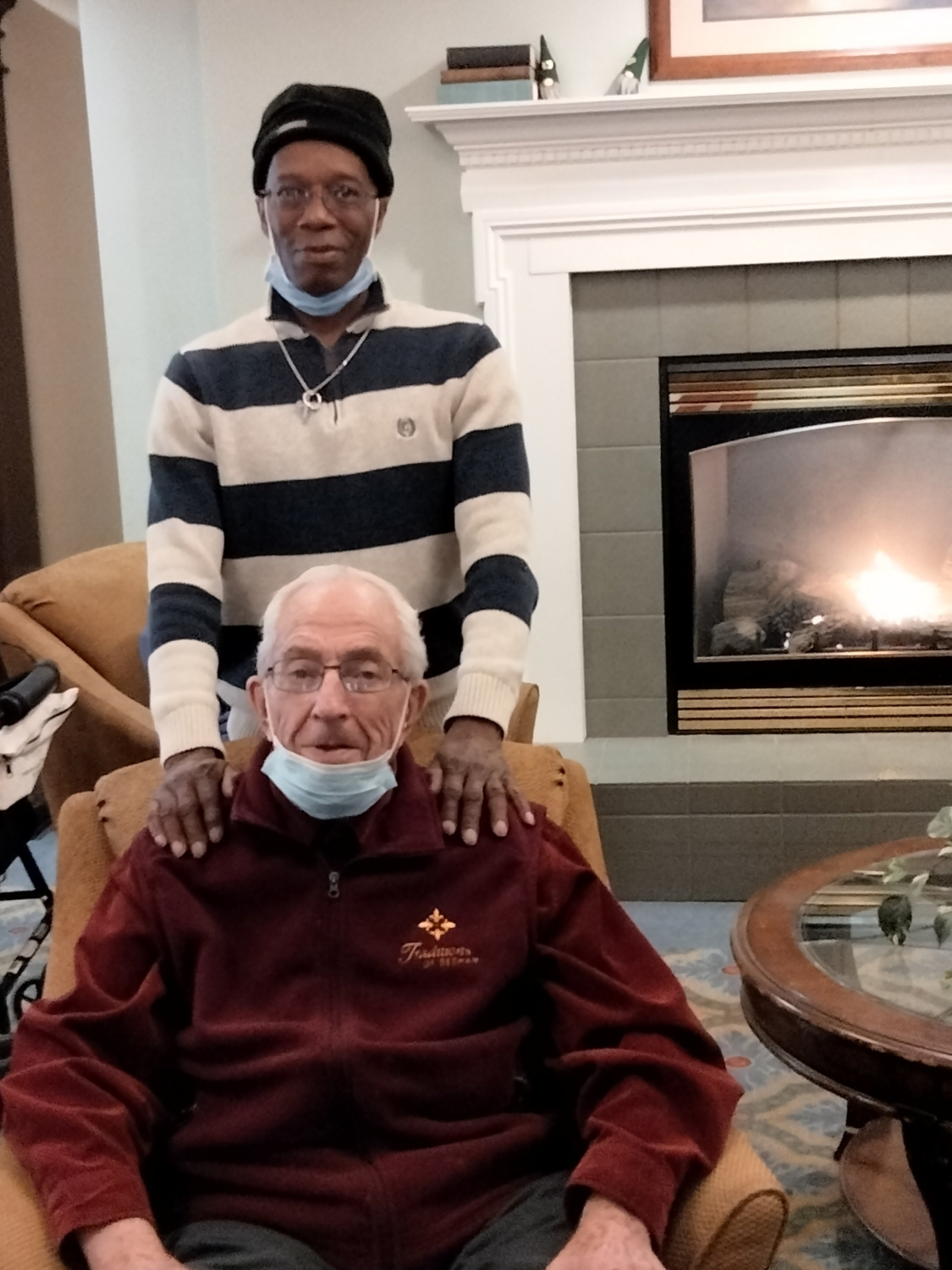 Two years ago, Percell began caring for Russel despite his initial hesitancy to accept constant company. Russel needed the help of a ComForCare caregiver, but it was difficult for him to accept that he needed support and that his health was declining. Just like Percell's own father, Russel always wants to do everything he can to protect and provide for his family. Percell has committed to being a vigilant companion in every way possible.
Although Russel is a fairly happy person, he often feels like a burden to those around him. He was a PE teacher and coached baseball and basketball while raising four children alongside his wife until she passed. Being a father figure is important to Russel, and Percell strives to help him feel like he can still support himself even though he is working with him. By allowing him to feel independent, Percell noticed a positive change in Russel's overall well-being and motivation to remain active.
With some time, patience, a generous smile and good jokes, Percell gained Russel's trust.
"We found out that we had jokes in common. He loves to joke, as do I. I was able to use that as a segway by picking up a joke book and starting to tell jokes which really allowed us to get to know each other personally and build trust. He has a great sense of humor."
We love joking, but I can't tell you our favorite because it wouldn't be appropriate.
Russel is just as concerned about Percell's wellbeing, as he is his own. When he eats, he wants to make sure Percell eats too, so they eat together. Percell is actively engaged in their mutually beneficial relationship, allowing them to bond through humor as well as thoughtfulness.
Percell also helped Russel heal from a hip surgery, making sure that he recovered with the best level of mobility possible. Percell makes a continuous effort to elicit the ComForCare core value of being present and engaged. He allows Russel to enjoy his time without feeling like he is hindering someone else's. They go on walks together and have attended baseball games at the school where Russel used to coach and play.
Russel has dementia, and when Percell first arrived he had a severe problem with scratching that was leaving open wounds. He wasn't bathing or receiving proper care and was cautious and reluctant to allow anyone to help him. But after a few months, Percell and the RN identified what he needed, and now he doesn't have scratches and is doing much better.
To Percell, caregiving requires providing clients with space in order to build trust until they allow the support. It involves working at their pace and providing empathy given their situation.
Caregiving is paying it forward. As a previous family caregiver it was others who helped me throught that journey and the knowledge I gained is something I knew I wanted to pass on to others. There are older adults out there that are really struggling and if we all give a little bit, it wouldn't be so bad.
Percell learned to provide empathic and customized care to each client when caregiving for his own mother who had dementia. He cared for her because he didn't want her to go into a nursing home and wanted to ensure she had proper care. It was a positive and impactful experience for him.
"Honestly, I couldn't have been her caregiver if it weren't for others showing me the ropes and educating me so my job as her caregiver (not son) would be more impactful."
That experience changed Percell and now he wants to pay it forward by helping others and sharing what he learned through that experience. Percell knows what it is like for a person with dementia to continue to need that connection with others, and he is happy to be that person for Russel.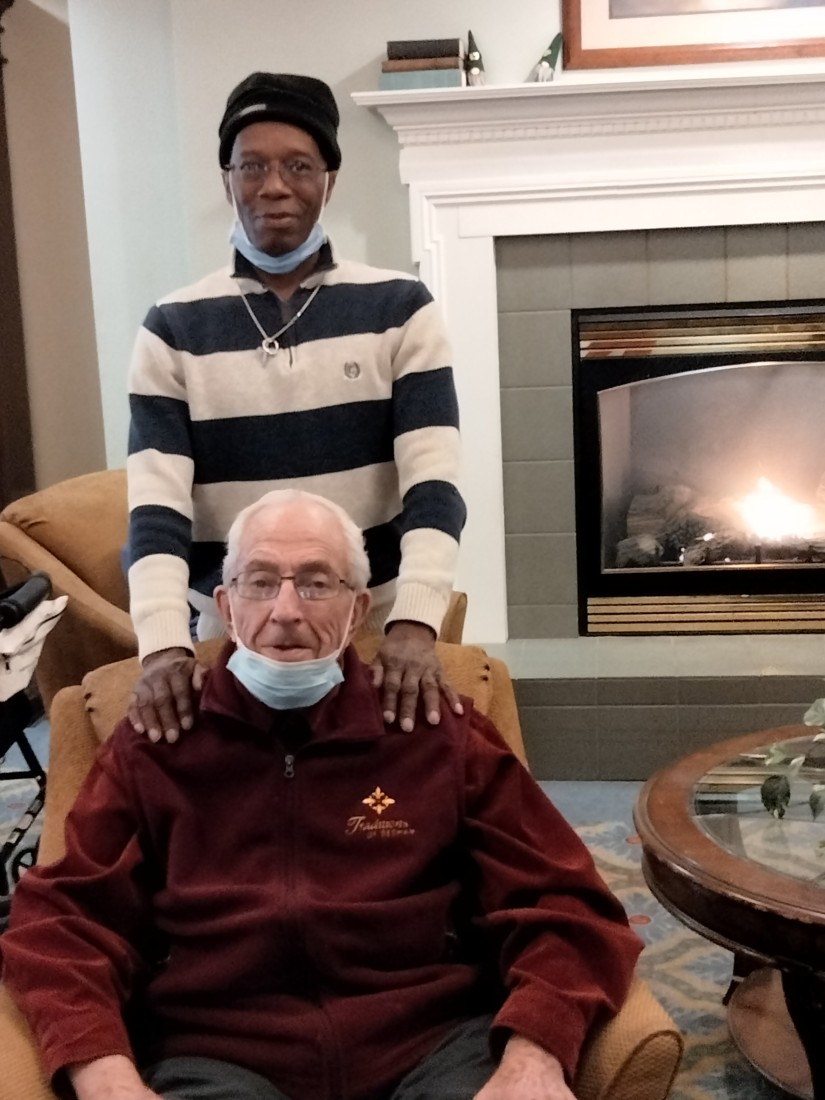 Being a Caregiver allows me to share my life and compassion for elderly people. It is not a job, it is a calling. - Percell R.
Making new memories and trusting new people can be hard for people living with dementia, unless you take the right approach. For Percell, it wasn't hard to find the right method because he leads with his heart and recognizes that caregiving starts with love. Older adults are truly aware of how genuine their care is. When they can feel that love, it makes it easier for them to accept support and care. Plus, many ComForCare clients are alone and when they don't see anyone on a consistent basis, they need that love that caregivers can provide.
Percell believes people are reluctant to join the caregiving field because it reminds them of their own mortality, but they shouldn't let their reservations stand in the way. He hopes to continue sharing his life and compassion with seniors, and he's starting by being involved and perceptive in his relationship with Russel.
All ComForCare caregivers are empowered to be present and engaged with their clients through patient-centered care and meaningful activities. Curated questions with accompanying software allow us to use personal insights to create a daily agenda reflective of each clients' hobbies, skills and preferences. Percell embodies the jubilant care that can turn clients' lives around. His approach to ComForCare's DementiaWise® program is just one of many examples of how our caregivers provide encouragement, support and activities to stimulate clients' remaining skills.