Establishing Dignity During Unexpected Circumstances
Posted: in
Stories from the Home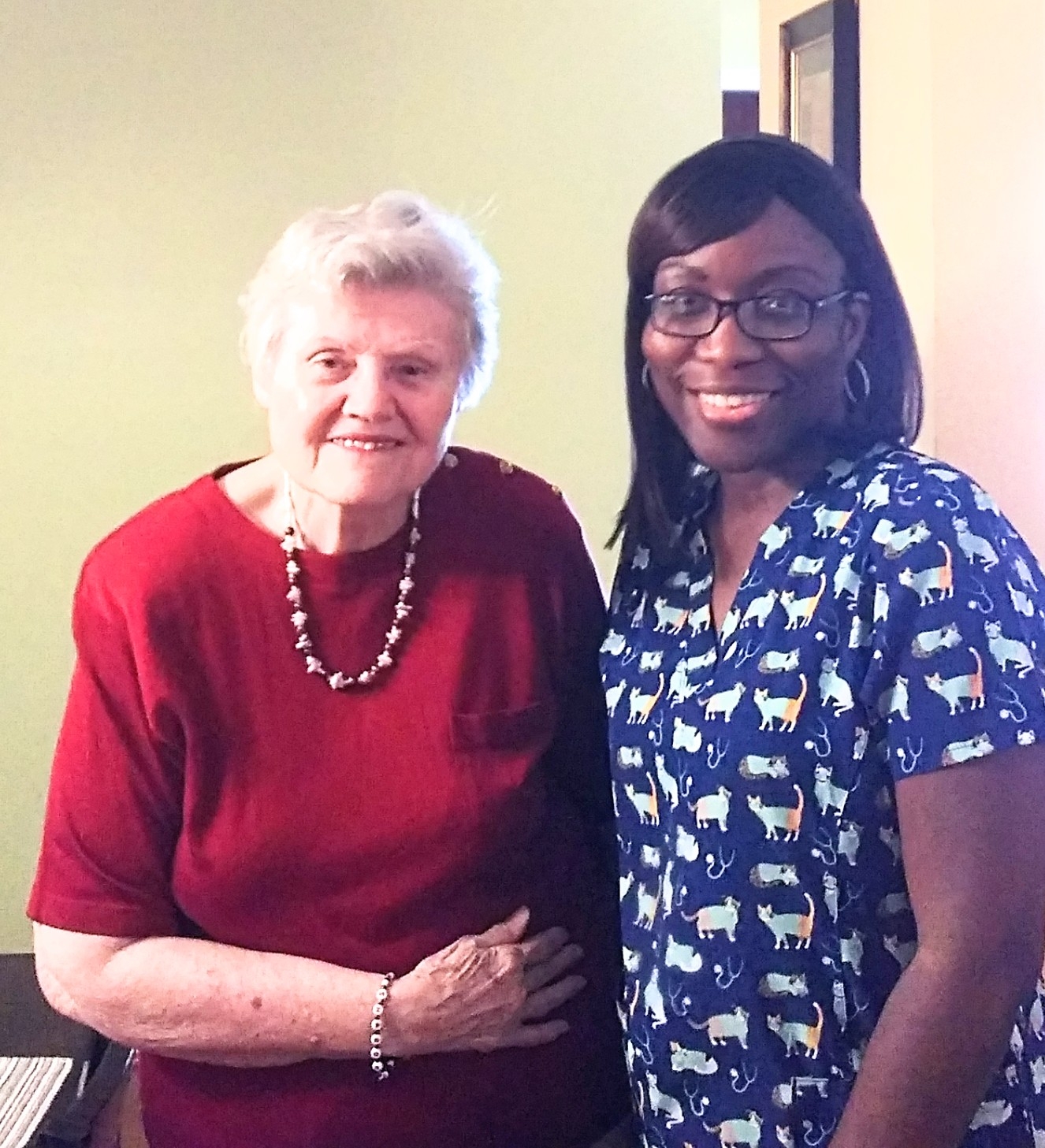 When Sharon was forced into a new reality, her caregiver Dania provided relief to her and her family. Dania has built up Sharon's self-confidence and sense of purpose, showing just how much dignity matters to the ComForCare team.
What started as a routine trip with her husband to visit their daughter in Florida, ultimately led Sharon to a long-term living arrangement that she never could have anticipated. Her husband fell ill on their vacation. His health quickly declined, leading them to find Dania—a local ComForCare caregiver. After he passed, Sharon's dementia quickly progressed and going home was no longer a viable option. Dania transferred her attention to Sharon, making her a priority as Sharon's daughter could no longer care for her full-time while raising her children.
Having to move and adapt would be difficult for anyone, although it was best for Sharon's well-being and safety. The change was hard for Sharon to grasp due to her dementia, but ComForCare services allowed her to find new meaning and purpose.
Dania picked up on her struggles and knew it was important to quickly find something in common as Sharon's emotional health was Dania's first priority. Together, they explored unique ways to fill their shared time with activities that elevated Sharon's quality of life and helped her pull through a tough situation. Her dignity was restored by creating a space in her daughter's home that she could call her own.
"We do meaningful activities all the time. We play cards, go for a stroll around the block; we read the bible together, do puzzles and play games," Dania said.
There is rarely any down time. Dania also found ways to still have Sharon help out around the house like folding laundry and doing light vacuuming. Sharon went from feeling like a visitor to knowing that she plays a crucial role in her family. After seeing first-hand the profound, positive changes in Sharon, her daughter had Dania come more often than when they first connected.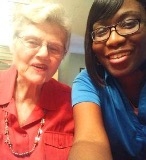 Finding joy through new hobbies has brought meaning and purpose into Sharon's life.
Dania has recognized that keeping Sharon busy is not only important for her spirit, but also due to ulcers on her legs that she tends to scratch when provided too much idle time. Because she has dementia, she can't recall why she has them and she often forgets that they need to heal.
Meaningful activities help Sharon cope with reminders of her condition, and keeping her hands preoccupied prevents her from making her physical symptoms worse.
Playing cards and doing simple chores were a great way to engage with Sharon, but Dania knew she needed more. One day, she decided to bring a jewelry making kit—and it was a hit! Sharon now focuses on expanding her collection of dazzling accessories with confidence and a smile.
"Sharon and I design and make eye-catching jewelry," shared Dania. "Wearing finished creations is one of Sharon's focal motivations. Initially, we discovered that her right ear piercing was sealed, and this inspired her daughter to get Sharon's ears re-pierced to support her newly found beauty enhancing hobby."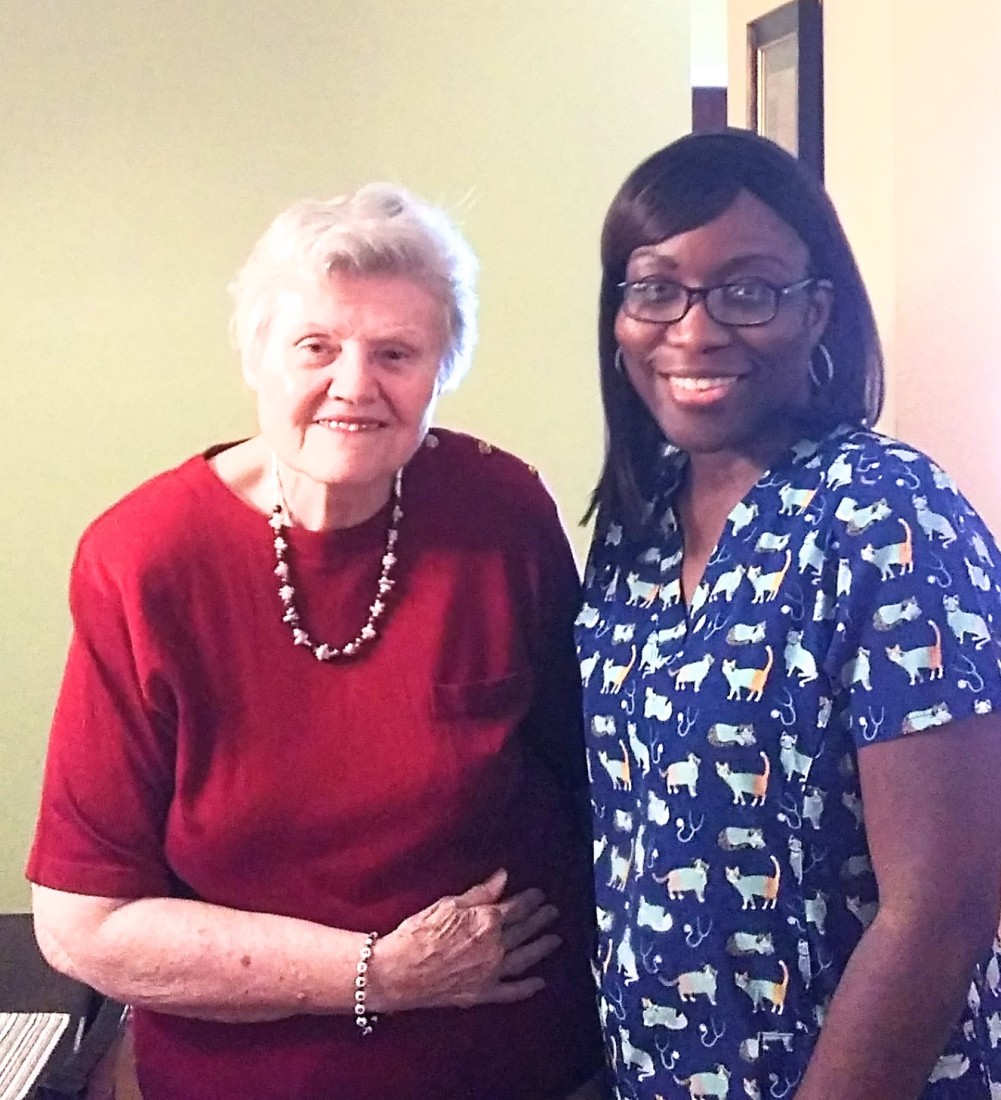 Being a caregiver is a commitment to loving older adults and making an impact. - Dania M.
Dania passionately believes life should never feel over at a certain age.
"Culturally, people perceive it that way. I can only touch a few of our elderly at a time, but whomever I can give my compassion and heart/energy to—I'm happy I'm able to do it. We all have a purpose, and my purpose is to help support older adults. I've always been the type of person to listen to them talk and help them out. All older adults were independent at a certain point in their life and maybe gained dementia or another condition; it's not their fault. I don't want older adults to feel like they're annoying, nor do I want them to become obsolete. Sometimes they might feel that way, and I want to try to keep them balanced."
This grounding approach has allowed Sharon to live her best life with dignity as Dania shows her respect and truly goes out of her way to ensure they have a meaningful connection each and every day. Having a consistent, caring support system has allowed Sharon to remain true to herself and not feel the effects of aging that can sometimes be burdensome.
Dania finds caregiving to be a rewarding career and lifestyle.
"I feel naturally drawn to the demographic of people I care for. Caring for others is vital… This type of work is necessary in society. Being a caregiver is the one place I find I'm at peace."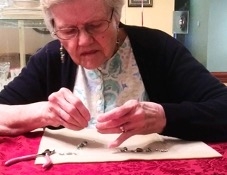 She believes that being a caregiver is a "commitment to loving older adults and making an impact." Dania's altruistic demeanor is evident in the way she cares for and loves Sharon every day. Without a caregiver's attentiveness, Sharon likely wouldn't have the dignity she needs to live wholeheartedly and happily.
At ComForCare, we pride ourselves on implementing our proprietary program DementiaWise, which provides specialized memory care training to our caregivers. In addition, social history assessments are completed to assist each caregiver with developing beneficial activities for clients living with dementia. Dania is a true home care hero. She exemplifies the ComForCare value of preserving dignity and is helping to revolutionize caregiver-client relationships.