Managing Chronic Conditions at Home: The Role of Smart Tech for Seniors
Posted: in
Aging , Technology , Fall Risk Management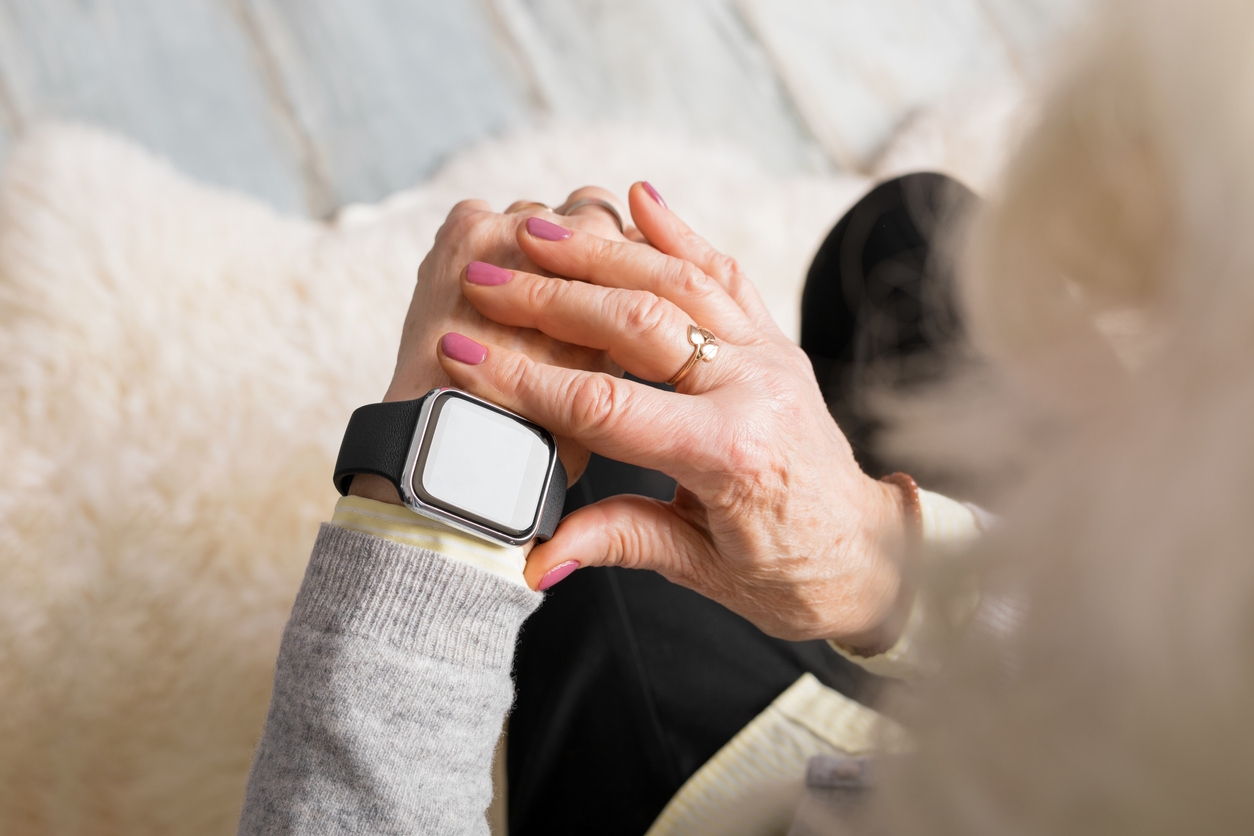 Chronic diseases—like arthritis, diabetes, dementia, and heart disease—affect seniors at an increasingly high rate. According to the National Council on Aging, almost 95% of adults over 65 are living with at least one chronic health condition. Nearly 80% live with two or more. Because these illnesses each come with their own special safety and wellness concerns, many people worry that their loved ones won't be able to continue living at home in old age.
But if your loved one has a chronic condition, new technologies are making it easier and safer than ever before for them to age in place while managing—and even optimizing—their health. Whether used alone or as an integral part of an in-home care service, smart technology is shaping the future of elder care for the better.
5 Ways Smart Technology Can Help Seniors Manage Chronic Conditions at Home
Adaptive Smart Home Equipment
Smart home technology isn't only good for asking a virtual assistant how many ounces are in a cup (although that is a handy feature!). Smart devices can make homes safer for older people in a wide variety of ways, from home security to controlling the comfort of their environments.
Voice Assistants
Voice assistants can help seniors stay current with the news, make shopping lists, order groceries, and more. They can also be paired with other devices, making it easy for seniors to open doors, operate the lights, and do other tasks with a simple voice command. This is especially helpful for those with arthritis, limited mobility, or vision impairments!
For example, voice assistants can be programmed to automatically keep the thermostat at the ideal temperature to manage arthritis. They can also automatically turn lights on when visibility is low, mitigating trip and fall hazards.

Elderly Safety Devices
Technology like video doorbells and smart locks can protect seniors and enhance their sense of safety at home. They allow older adults living alone to speak to unknown visitors before opening the door, monitor packages and delivery services, and more. They can even automatically lock doors at night.
Devices like smart smoke alarms can also defend seniors against fire hazards, which are a significant threat to people over 65. Beyond sounding the usual fire alarm, these devices can automatically call first responders and send alerts to your phone or tablet when the batteries are running low. These features give seniors with physical limitations plenty of time to get help.
Medication Assistance
Depending on the level of assistance your loved one needs, there are plenty of options available for keeping track of medications. Seniors can easily set up daily medication reminders using a virtual assistant. Smart pill dispensers can even be programmed to dispense the correct dosage of medicine at the same time of day for ultimate peace of mind.
Remote Patient Monitoring
Remote patient monitoring (RPM) has been gaining attention recently as a way for health care providers to monitor and manage chronic conditions with fewer hospital visits. But did you know it can also be used to help in-home caregivers promote security, stability, and independence for seniors who live at home?
Using advanced, non-intrusive sensors and Bluetooth-enabled health devices, caregivers can record and track a person's vital signs remotely and in real time. These devices may include:
Wearable smartwatches
Pulse oximeters
Blood pressure monitors
Weight scales
Glucometers for blood sugar
More
More seniors can stay at home for longer with this kind of proactive approach, which ensures that chronic conditions aren't progressing. And if anything does change, the person's entire care team will know to make interventions early on.

Fall Detection and Prevention
The CDC estimates that one out of every four adults over 65 fall each year, and that of those, less than half report the incident to their doctors. Even small falls can have major health consequences, which is why preventing falls—and reporting the ones that do happen—is so crucial for seniors living at home.
Today's smart home systems can track a person's usual movement patterns and alert trusted caregivers if they stray from baseline. Artificial intelligence has given us the power to predict when a person's fall risk increases. Then, caregivers can make safety adjustments to the home environment as soon as possible.
In the event of a fall, these detection systems can alert loved ones, caregivers, and/or emergency services, if necessary, to make a wellness check. The earlier a person gets help after a fall, the better their chances of making a full recovery.
Virtual Telehealth & Caregiver Check-Ins
Sometimes, older adults with chronic health conditions don't need a great deal of assistance with personal care and daily tasks. However, they could still benefit from regular check-ins with their medical team and qualified caregivers. Telehealth makes it easier for these seniors to remain independent while still receiving the care, attention, and social support they need.
With daily virtual calls, seniors can build real relationships with knowledgeable and understanding caregivers. They know they'll always have a partner in their ongoing wellness and someone to talk to when they need it. Research suggests that this kind of social engagement can prevent chronic conditions from worsening, which can translate to more years spent independently at home.
How Connected Care from ComForCare Can Help
Connected Care is ComForCare's remote patient monitoring program, which offers proactive, preventative care interventions through tools just like these. Perfect for a range of diverse needs, our unique and robust support fosters engagement, empowerment, and connectivity that allows people to embrace and extend their independence.
As a next-generation senior care service, Connected Care can help seniors even when a caregiver isn't physically in the home. Whether it's used as a standalone service or as part of an in-person care plan, Connected Care can support seniors with:
Fall detection
Wellness monitoring
Daily virtual calls
Chronic disease management
Learn more about Connected Care here and contact our team to find out if this service is available near you!
Make Home a Safe Place to Age Gracefully
Most older people want to continue living at home for as long as possible. And as technology advances, it becomes increasingly safe for them to do so. Smart devices, AI, and other advancements can be powerful tools for caregivers as they seek to empower the people in their care to feel dignified and independent in their golden years.
Still, technology is no replacement for skilled, dedicated, and compassionate care. If you're interested in learning more about how ComForCare can help you make your loved one's home environment a safe and healthy place to age, check out our comprehensive in-home care services. And if you have questions, help is always available online or over the phone!
ComForCare: Trusted In-Home Care Solutions for Seniors in the U.S.
With over 200 locations in North America, ComForCare is here to help your loved one live their best life. Whether you need occasional respite care, specialized in-home dementia care, or 24/7 assistance, each local branch offers flexible, compassionate services that fit your schedule. To learn more about in-home care, contact our team today!