Transitions of Care in St Paul, MN and Surrounding Areas
---
Our Services are Flexible: One Time, Short Term and Long Term Care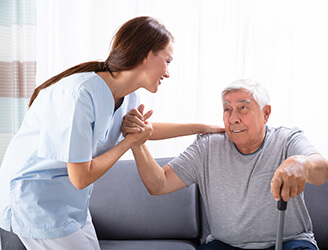 When an individual is discharged from the hospital after an illness, injury, or medical procedure, it is important for them to receive proper care when making the transition home. At ComForCare St. Paul, our hospital-to-home transition care services are available to help make the move from a hospital or medical facility back to home as smooth as possible.
Our caregivers are available 24/7, including holidays, and can provide as much or as little support as needed to help individuals in the St. Paul, Minnesota area safely transition home.
---
One-Time Care
The Transitions of Care Program through ComForCare provides individuals in St. Paul with one-time care services, so they can safely return to the comfort of their homes. We can help transfer your loved one from a medical facility, such as a hospital, to an assisted living community or to their home. Our caregiver will meet the discharge nurse at the hospital and follow the release plan, pick up medications and groceries as needed, and get your loved one settled.
Our one-time care services can also include our nurse's assessment and a care plan based on the evaluation. In addition, our agency can perform fall-risk assessments in your loved one's home and can provide fall prevention tips.
---
Short-Term Care
For older adults, continuing to monitor care after release from a facility is important in ensuring a full recovery. If one of our clients require supervision and assistance 24 hours a day following a hospital discharge, ComForCare is happy to help. With short term care, we can provide transportation as well as meal preparation, running errands, following discharge plans, light housekeeping, and personal hygiene. We will stay as long as you need us, for a few hours or a few days.
---
Long-Term Care
We understand, sometimes, the reason for a hospital stay is due to something that affects the individual's ability to perform daily activities during their recovery period. In this situation, ComForCare is able to develop an in home care plan so that returning home isn't delayed. It can be updated as conditions change. At ComForCare St. Paul, we truly care about helping our clients receive the care they need, so they are able to live at home and get back to doing all of the activities they enjoy.
For individuals in St. Paul, Minneapolis and the surrounding areas, our transitions of care services are available to assist individuals who need one-time, short-term, or continual care. When choosing in-home care services through ComForCare, you'll rest assured knowing your loved one will receive personalized attention from experienced caregivers.
---
Whether your loved one needs assistance only a few hours a week or around-the-clock, our team is happy to help! Call (651) 237-7727 to learn more about the transition care services offered through ComForCare Home Care (St. Paul, MN).