Providing Care for Military Caregivers
Posted: in
Caregiving , Home Care Planning , Holidays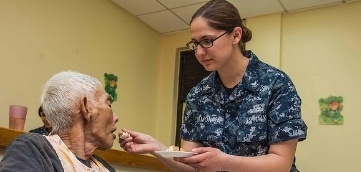 In the U.S., millions of injured, ill and disabled veterans depend on friends and family for care. In fact, according to the RAND Corporation, there are 5.5 million unpaid military caregivers in the United States.
Of that group, nearly 20 percent are caring for someone who served after 9/11. This new era of caregivers is facing unique challenges.
In a video released by the RAND Military Caregivers Study, Rajeev Ramchand, senior behavioral and social scientist, said: "Pre-9/11 caregivers look really similar to civilian caregivers; they're caring for an aging spouse or an elderly parent. The conditions are associated with aging. On the other hand, the post-9/11 caregivers, they're caring for people who are younger. They tend to be younger themselves, and the conditions they're caring for are much different as well."
The study found post-9/11 caregivers are more likely to care for someone with a traumatic brain injury, mobility-limiting disability or a mental health/substance abuse condition. In addition, post-9/11 caregivers spend more time than civilian caregivers helping care recipients cope with stressful situations.
All family caregivers spend a significant amount of time caring for a loved one – often while juggling other family and work duties. Research has found the devotion can take a toll on the caregiver's mental and physical health as well as their career. This is especially true for military caregivers. The RAND study found post-9/11 caregivers miss an average of four days of work per month (compared to one day per month for civilian caregivers). In addition, nearly 40 percent of post-9/11 caregivers meet the criteria for a probable depression diagnosis – that's four times higher than the national average.
While there are several programs in place to train military caregivers and offer social support, the RAND Corporation found there are few programs that provide respite care. Respite care gives family caregivers time away from their caregiving responsibilities to rest and recharge.
"The consequences for not caring for these military caregivers are quite profound," Ramchand said. "We may expect an increase in the number of veterans who become homeless. We may experience an increase in the number of veterans who die prematurely. So supporting these caregivers remains of critical importance."
One organization dedicated to supporting military caregivers is Hidden Heroes. It's part of the Elizabeth Dole Foundation, which was established after the former U.S. senator saw firsthand the challenges military families face when her husband, Bob Dole, (a veteran and former presidential nominee) was hospitalized for nearly a year at Walter Reed Army Medical Center. Hidden Heroes raises awareness about the issues military caregivers face and champions for policy changes. It also connects military caregivers with much-needed resources, such as respite services, workplace support and financial/legal guidance.
In addition, those receiving income through the Veterans Pension may be eligible for a home care allowance through what's known as Aid and Attendance and Housebound benefits.
If you or someone you know could benefit from home care or respite services, contact your local ComForCare Home Care office for an in-home consultation. We can provide support for as little as a few hours a week up to 24 hours a day, seven days a week.