Problem Gambling and Older Adults
Posted: in
Caregiving , Activities and Lifestyle , Finances , Alzheimer's and Dementia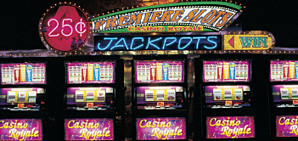 When I would visit my grandma at her retirement community, I would watch the parade of little white busses shuttling residents from one day-trip to the next.
My parents joined her for one of the casino outings.
The ride back to the community was quiet, to say the least. Some unlucky gamblers had "lost their shirts" at the casino. In a whisper, my grandma confided in my parents that some of the riders had already spent their Social Security check or their rent money at the casino, but somehow they were always back again for the next casino trip.
Why Do Seniors Gamble?
The flashing lights, meal comps, free drinks, chiming bells and complimentary hotel rooms can lure almost anyone to test their luck. However, casinos implement senior-friendly additions that seal the deal, such as wheelchair rentals, complimentary shuttles to and from senior living communities, , insulin needle disposal bins and rewards based on age. With all of the excitement and conveniences, it is easy to see why older adults would be eager to go.
"Older adults are an especially desirable demographic for the gaming industry because they fill the floors during off-peak hours, and casinos market to them aggressively, offering discounts on breakfast and lunch, free drinks and guarantees to "instantly win up to $1,000 Free Slot Play!," according to AARP.
In addition, gambling-industry marketers seem to have their eye on older adults, according to AARP.
"Gambling-industry marketers also know that advancing age, and the declining cognition that sometimes goes with it, can reduce a person's aversion to risk," said another AARP article.
Lowering of cognitive functions and mental health concerns also increases the potential harm of gambling among older adults. Poorer short-term memory and conditions such as depression and dementia make it more challenging for older adults to control their gambling behaviors, according to the Journal of Geriatric Psychiatry and Neurology.Moreover, casinos may become an escape for seniors from emotional strain, such as losing a spouse, and physical pain, such as a chronic illness.
Signs of Problem Gambling
Not all gambling or gaming is unhealthy; however, if you are unsure if your loved one has a gambling problem, review the list below. The American Psychiatric Association requires at least four of the following during the past year:
Need to gamble with increasing amount of money to achieve the desired excitement.
Restless or irritable when trying to cut down or stop gambling.
Repeated unsuccessful efforts to control, cut back on or stop gambling.
Frequent thoughts about gambling (such as reliving past gambling experiences, planning the next gambling venture, thinking of ways to get money to gamble).
Often gambling when feeling distressed.
After losing money gambling, often returning to get even (referred to as "chasing" one's losses).
Lying to conceal gambling activity.
Jeopardizing or losing a significant relationship, job or educational/career opportunity because of gambling.
Relying on others to help with money problems caused by gambling.
If you suspect your loved one has a gambling problem, please call or text the National Council on Problem Gambling hotline at 1-800-522-4700 or chat at ncpgambling.org/chat.
---
Editor's note: This article was originally published March 16, 2016. It has been revamped and updated for accuracy and comprehensiveness.