Need Help Coordinating Health Care? Turn to a Case Manager
Posted: in
Aging , Healthy Living , Home Care Planning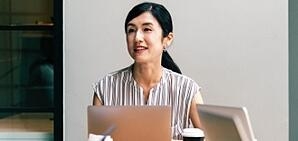 Case managers play a critical role in the health care system, but many do not know they exist. Case managers help individuals and their families understand a person's illness or injury and then work with them and other health care professionals to develop a treatment plan.
"Our forte is knowing all the various services that a patient can utilize," said Kathleen Fraser, executive director, Case Management Society of America (CMSA). "Whether it be equipment, medication, therapies, transportation – whatever patients or their caregivers need, we can help coordinate these aspects to increase the success of the doctor's orders and to have more positive outcomes for that patient."
Who are case managers?
Case managers are licensed health care professionals who typically have a background in nursing, social work or vocational counseling. In addition, most employers require a case manager to have a nationally recognized certification in case management. Case managers work across health care settings including hospitals, physician practices, insurance companies and long-term care communities.
"We're the center cog of the wheel," Fraser said. "We're usually the only person in the health care continuum that talks with everyone. We keep everyone on the same page; we're talking to the physical therapist, the doctor, the pharmacist, the dietician – we keep things moving."
What type of services do case managers provide?
According to CMSA, case managers typically work in five areas:
Assessment – Case managers work with someone to identify their condition, needs and preferences.
Care planning – Together, the case manager and patient develop a care plan that defines the patient's health care goals as well as strategies to achieve desired outcomes.
Alignment – Case managers work closely with the patient and other health care professionals to make sure the plan is being followed, and there are no missing or duplicated services.
Evaluation – Throughout the process, the case manager checks in with the patient to see what is/isn't working and, if needed, makes adjustments.
Patient self-determination – Case managers want to empower people to take an active part in their health care. This includes being able to identify when something is wrong and what to do about it. Helping patients understand the value of good self-management is key.
It's important to note, case managers do not provide direct care nor can they authorize medical procedures or adjust insurance claims.
"We're not there to direct care or to tell the physician what to do or not to do," Fraser said. "We make sure the doctor's orders are carried through."
How can someone utilize a case manager?
Case managers are an essential, but often overlooked or misunderstood, resource. "Patients don't always understand case management and think we're being intrusive," Fraser said. "They [patients] may resist our help because they don't understand our role and that we're here to help."
If you or a loved one is hospitalized, or it's a workers' compensation situation, you may be automatically assigned a case manager. If you're unsure – ask. Your primary care physician, employee assistance program or local social services organization will likely be able to refer you. In addition, there are online directories such as the CMSA Care Management Industry Directory or the Aging Life Care Association Expert Search. Remember, case managers are advocates who are there to answer your questions and coordinate appropriate resources.
When it comes to paying for a case manager, look at your options. Some insurance companies pay for care management services (it's more likely to be covered when someone is in a hospital, rehabilitation center or long-term care setting); be sure to check your policy. Many geriatric case managers are private pay, however, government or nonprofit agencies may offer discounted or free services.
At ComForCare Home Care, we value the case manager's role in helping our clients live their best life possible. They not only educate, evaluate and empower individuals to achieve positive health outcomes but also align services within the health care continuum. Care managers are a true ally. To learn more about case managers, check out one of their professional organizations, such as CMSA, the American Case Management Association or the National Association of Case Management.
In addition, if you need assistance coordinating care at home, contact ComForCare Home Care. We're available around the clock to answer your questions.
---
Editor's note: This article was originally published Oct. 10, 2016. It has been revamped and updated for accuracy and comprehensiveness.