Brain Functions Preserved the Longest With Dementia
Posted: in
Aging , Home Care Planning , Alzheimer's and Dementia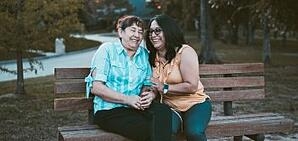 People with dementia have many abilities and functions preserved for a long time – even through the end of life. When we take time to understand what people with dementia can still do, we are taking the first steps in creating better days for them.
Here are two examples of how focusing on what is still possible can make a difference (all identifying information has been changed for privacy reasons).
Samantha
Samantha had been living in a memory unit for three years. One of our caregivers engaged Samantha in conversation using skills she had learned in DementiaWise®, our dementia care training program. To the surprise of the memory unit's staff, Samantha and the caregiver easily chatted back and forth. Later, our caregiver discovered that, until that moment, Samantha had not uttered a word for at least half a year!
Social conversation with individuals with dementia may still be possible when we take the time to speak and listen in a caring, gentle manner. People with dementia continue to want to socialize and communicate and may be able to chitchat once someone engages them in conversation.
Gerry
Gerry sat quietly in his bedroom, silent and rarely moving. With fairly advanced dementia, he seemed bored and emotionally low. He was a new client, and he and his caregiver were still getting to know one another. The caregiver played some music she thought Gerry would like, and one of his feet very slightly tapped out a rhythm with the music. His wife told the caregiver that her husband used to play drums. Later that week, his wife brought out his snare drum and drumsticks. Using one hand, Gerry played the drum along with the music. This delighted and energized him in a way his wife had not seen for a long time.
This is an example of how people with dementia understand and enjoy music and rhythm throughout life. Singing, playing or listening to familiar and favorite music is more likely to elicit a positive response from someone with dementia.
Understanding and working with what people with dementia can still do is a core principle of DementiaWise. With this program, ComForCare Home Care can help your loved one maintain dignity, capability and self-respect. They also experience more fun and enjoyment in life.
Contact your local ComForCare office to learn more about dementia care services near you.