Testimonials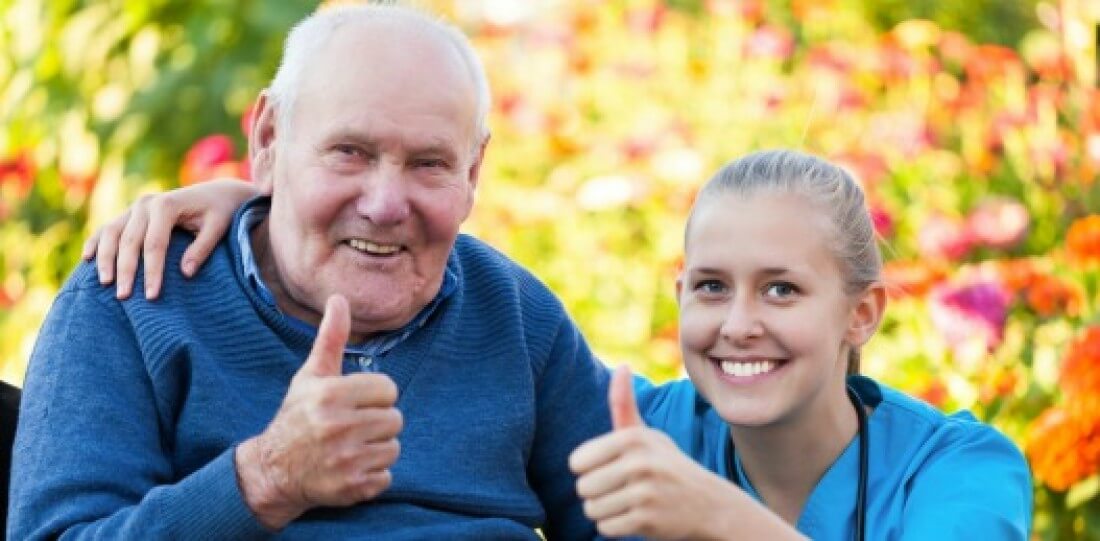 "They are very caring and professional, personable and you soon look forward to seeing them." - Debbi H.
ComForCare is an amazing agency to work for! Flexible scheduling, PTO, sick time, nurse delegation training, continued education credits to renew license, family oriented, opportunity to grow and learn new things.
They bring on amazing clients and it doesn't take very long to make meaningful connections with them. Variety of conditions including working with dementia, Alzheimer's, hospice, physical disability, ADLs assist, but most important to all of us, companionship/meaningful activities!!! All fellow coworkers and office staff/supervisors are open to suggestions to help our clients stay at home and live their best life possible! Office doors are always open for questions and concerns regarding anything. Come join us!! - Brianne H.
"The staff in the Vancouver office was quick, professional, and helped answer a lot of questions. They were extremely responsive to a difficult situation." - Andrew M.
"The staff and the coworkers. Their ability to make you feel like a human and not just another person to fill a hole in the schedule." - LeaAnn T.
"They truly care about their clients and caregivers." - Eleanor H.
"It is truly My Work Family!! The Admin and Care staff are all Team Mates working toward the same goal! Providing Quality Care for clients allowing them to continue living at home with Dignity!!" - Greta C.
"My schedule is often what i ask for. That's nice for me because I have many other things going on in my personal life. The caregivers and owners of the company are kind and generous. Good people to work with for sure. I hope to stay with them for a while." - Rosalie D.
"Great family operated company. Offers flexibility scheduling that works great for students. Incentivizes staff weekly/monthly/yearly." - Darcie B.
I REALLY ENJOY WORKING HERE. THIS IS NOT JUST A JOB WE ARE A TEAM AND FAMILY THAT WORKS TOGETHER TO PROVIDE THE BEST CARE TO OUR CLIENTS AND THEIR FAMILIES. - Tanisha. S.
Supportive admin, 24hr on call assistance if needed. Work usually shifts/days you put in for. Have enjoyed working for the company for the past 2 years. Learned a lot. - Tina B.
"ComforCare is an amazing agency to work for! The office is family friendly and very flexible and willing to work with you for your every need! I enjoy working with all my clients and have met some very neat people. I value assisting the elderly, whether it be just assisting with laundry or sitting and listening to them because they need companionship. I became nurse delegated, have blossomed a lot during my employment, and gained lots of experience and knowledge through it! ComForCare offers PTO, sick time, flexible scheduling, Teladoc services for medical advice/appts. at no cost and as mentioned nurse delegation! You will not regret working for them, even if you happen to have a rough day, the office staff are always there for you." - Brianne H.
"I want to thank you both for your extraordinary kindness and affection for my brother. He was very attached to you and treasured the time you spent with him." -- Donna
"Very reliable company with dedicated owners. Staff is professional, friendly, and knowledgeable. They notice things and follow through with their commitments." -- Gail H.
I am new to the company but so far all the girls are very experienced and sweet and patient. - Carla P.
Friendly people who engage my mother in conversation about topics that interest her. Dependable scheduling, organized management who get back to me quickly if I need to communicate with them. - Waunita H
"The entire team at ComForcare is professional and caring. We have worked with numerous caregivers through ComForcare and each one has been warm and highly competent. Having ComForcare caregivers in our home has been a great experience." - Nikki C.
"All caregivers, we have had 4 of them, have been friendly, caring and patient with my husband." - Shirley S.
"Caregivers are well trained and prompt. Flexible scheduling and good communication with office staff. Everyone is friendly, respectful and knowledgeable." - Nancy H.
"Easy to access, very helpful when I call. Employee who comes to my home is very professional and easy to talk to." - Steven H.
"Our caregiver is awesome. She comes in & knows exactly what to do . We could not ask for anything better." - Ken S.
"Thank you so much for the picture of Dad with his new walker carrier. It was great to get a picture of him and he is really pleased with the carrier. I don't think he realized he was crashing your office party, but he did have a wonderful time. There were cookies, "lots of cookies"! I so wish all of you could have known him before. at the risk of being redundant, I so appreciate all that ComForCare has done and is doing to help Dad stay in his home..." -- Joyce
"My sister and I just used ComForCare for nearly a year with my Dad. Debi and Randy, the owners, were fabulous. - Elyssa R.
"Alicia left me the nicest note (a personal note) thanking me for allowing her to take care of Bill. She said he is one of her favorites. In her ComForCare notes she mentioned she brought in cookies to share with him. What a sweetie. Also Rebecca was there this morning. I did not go in yesterday as I usually do. She shaved Bill so that was done when I arrived. That was a pleasant surprise. The ComForCare team is great. I really rely on them ...." -- Mitzi
"I just want to take a few minutes to commend Cindy. First of all, not only did she take Dad to Starbucks tonight and purchase him a drink out of her own pocket, but she also took the time to communicate a concern to me. She had observed some potential health concerns during her walk with Dad tonight; heavy breathing and perspiring. Instead of just leaving when she was off the clock, she chose to clock out, and then stay behind and and make sure he was ok after settling back into his apartment. In addition, she then chose to communicate her observations to me. What an outstanding caregiver you have in Cindy." -- Andrew
"We hired ComForCare after our 84 year old mother became ill and had a serious fall. After a recovery period at a convalescent home, she returned home. ComForCare was at her house and ready to help as she walked in the door. The management and caregivers at ComForCare are professional, prompt, eager to help and compassionate, always. They are with her 14 hours a day and keep detailed notes about her care in a binder that is available for our review. The owners, Randy and Debi Kyle, are always patient, kind and thorough with every concern we have. They are proactive and trustworthy. They have also assisted my family with information and insight as to the "normal" process of aging and other specific concerns. We recommend and give ComForCare 5 stars in every category. Thank you." -- Cindy H.
"Kathee is always on time, competent and cheerful. I find ComForCare to be extremely easy to work with and uniquely proactive in assisting when schedule changes are required." -- Gene S.
"We are so happy and pleased that we were fortunate enough to have such an excellent Home Care lovely person to help, show love and sincere care and interests in my every need. She is a God Send. Thank you!!" -- Betty S.
"I have been using ComForCare as my home care provider for the past two months, and I have found their employees to be pleasant, punctual and knowledgeable. I would highly recommend this Company to anyone that needs home care." -- Donald O.
"I am recommending you chat with these people regarding some home and respite care options to help you care for your three aging parents. There are many people to choose from, but I personally know of an example of their level of caring that speaks to me about how they approach the level of care for their clients. I was enrolling a couple in a 2012 Medicare Advantage solution last week and they told me this story. They live in an independent retirement property, but need assistance from time to time. They had one home care company that could not accommodate their need to have the husband's compression socks put on first thing in the morning. When the caregiver who was providing the care was not able to see this first thing in the morning before they need to walk to breakfast, Randy started coming every day to get those socks on their client himself. It made all the difference in the world to this couple and made their quality of life better." -- Steve C.
"ComForCare Home Care provides daily assistance to many Vancouver residents. We share a community with many ComForCare clients, interacting with them every day. In our experience, our residents are completely satisfied with the assistance provided by the ComForCare manager, Randy Kyle, and his staff. They are kind, professional and punctual. We often recommend their services; and will continue to do so. As live-in co-managers at Kamlu Retirement Inn, we are always available to answer your questions. Please contact us at any time. -- Jerry and Liz J.
"I am pleased to recommend the services of ComForCare Home Care. They have been providing excellent care to my Mother for a couple of months now. The two caregivers are professional, experience and very compassionate towards the care they are providing to my parents. The patience they have shown my 93 year old father is unbelievable. I sincerely recommend the services of ComForCare Home Care to anyone who is in need to home care services." -- Sharon M.
"Thank you Randy. Your and Debbie's quick response, attention to detail, follow up and ethics are the reason I/we will always be glad to recommend ComForCare first and foremost when we can." -- Matthew
"... thank you so much. I am truly appreciative and know I will call you back soon to resume care. Your service is wonderful!" -- J. Lepisto RN
"Special thanks to ComForCare staff for the amazing care they provided for Mom while she was at home." -- Steve, Carole and Kathleen
"I'm very grateful for the care my husband gets from all the caregivers. So fortunate to have the help they give him. Attentive and loving care." -- Shirley S.
Contact us at 360-718-8276
Whether your loved one needs assistance only a few hours a week or around-the-clock, our team is happy to help! Call (360) 718-8276 to learn more about the transition care services offered through ComForCare Home Care (Vancouver, WA).