Science Proves the Effectiveness of Music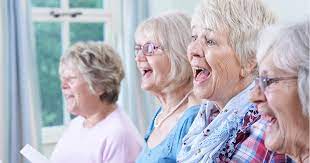 Music is primal to life and expressed by each of us every day whether through dancing to a favorite tune, keeping rhythm with a pencil or remembering a special time when hearing a forgotten melody. It is central to our lives and is embedded in our culture defining how we acknowledge milestones, rites of passage and celebrations as well as providing comfort, transformation and inspiration. Music links us to our world and provides a pathway back to our past. A number of research studies have looked at the therapeutic use of music as an important adjunct to medical treatment and have found the following:
Music promotes trust and safety
Music promotes healing
Music alleviates pain
Music helps manage stress and anxiety
Music helps relieve some symptoms of Neurological Impairments
Music promotes socialization
Music helps us communicate
Regarding music and dementia, according to the Alzheimer's Foundation of America, music has power - especially for individuals with Alzheimer's disease and related dementias. And it can spark compelling outcomes even in the very late stages of the disease. When used appropriately, music can shift mood, manage stress-induced agitation, stimulate positive interactions, facilitate cognitive function, and coordinate motor movements. A person's ability to engage in music, particularly rhythm playing and singing, remains intact late into the disease process because, again, these activities do not mandate cognitive functioning for success.
ComForCare Home Care provides more than highly qualified caregivers. Our home care services go above and beyond the usual with our Joyful Memories® program. Joyful Memories One-on-One is an interactive program our caregivers use to engage with clients, especially those who have become withdrawn. Our Joyful Memories program uses familiar songs as reminiscence tools to help bring joy and allow for better days for those with dementia.
Other resources:

Tune in at 1pm EST every weekday for live music (hits from the 30s to 60s) on our Facebook page www.facebook.com/comforcarefairfield.
Access Joyful Memories playlists on SoundCloud
If you are a rehabilitation center, assisted living facility, adult day center, or senior center, contact the ComForCare office at (203) 612-8966 to request a FREE live music program that your residents can enjoy.
Whether your loved one needs assistance only a few hours a week or around-the-clock, our team is happy to help! Call (203) 612-8966 to learn more about the transition care services offered through ComForCare Home Care (Fairfield, CT).