Professional Dementia Care in Tri-Valley Livermore, CA and Surrounding Areas
---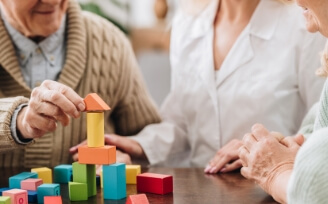 With the rate of dementia on the rise around the world, research efforts are discovering new insights into dementia care every day. ComForCare understands that seniors with dementia need special individualized care, so we make sure to stay up to date on the latest news and information. And that is why ComForCare created its own program called DementiaWise®.
DementiaWise® is the proprietary dementia curriculum for ComForCare. It has been reviewed and approved by the Alzheimer's Association® because it meets the Alzheimer's Association Dementia Care Practice Recommendations in certain topics as per a report issued on March 9, 2017, and renewed in December 2019. See report results.
ComForCare of Tri-Valley Livermore, CA is a DementiaWise®-certified office, which means we have met the corporate high standards for dementia education and caregiving excellence.
---
Devoted to providing the best dementia care services:
Assistance with daily hygiene, grooming, and bathing
Meal planning and preparation
Transportation and help running errands
Games, activities, and discussions for cognitive stimulation
Oversight of safety and well-being around the home
Assistance with light housekeeping and maintenance chores
---
DementiaWise® Teaches Behavioral Strategies
The DementiaWise® program teaches a person-centered approach to care that uses behavioral interventions to help people with dementia continue to live at home, where they are most comfortable and content. Our caregivers learn what kind of triggers to watch for. By getting to know their clients, they can use techniques to diffuse behaviors and emotions before they start. The program emphasizes compassionate, practical strategies to support clients at all stages of dementia through the end of life.
---
DementiaWise® Teaches Meaningful Activities
Activities of daily living, such as eating, dressing and bathing, are essential for good health. However, Meaningful Activities such as board games or playing cards, community outings, and music can bring people joy and purpose. Studies have shown that music connects to the part of the brain where memories live. Our caregivers use Meaningful Activities to provide positive sensory, intellectual, cognitive, and social stimulation. Activities like these can prompt past memories, enhance relationships, add enjoyment to life, and so much more. We enjoy getting to know our clients, and helping them to keep doing what they love to do.
Whether your loved one has Alzheimer's Disease, or another form of dementia, our specially-trained caregivers can help your loved one live as independently as possible, for as long as possible.
We are dedicated to serving persons in the Tri-Valley Livermore Area, including Dublin, Pleasanton, Mountain House, San Ramon, and the surrounding areas. If you have questions we are here and available to answer 24 hours a day, 7 days a week.
---
Whether your loved one needs assistance only a few hours a week or around-the-clock, our team is happy to help! Call (925) 243-7373 to learn more about the transition care services offered through ComForCare Home Care (Tri-Valley Livermore, CA).