Father-daughter team Curt & Carol-Lauren Reilly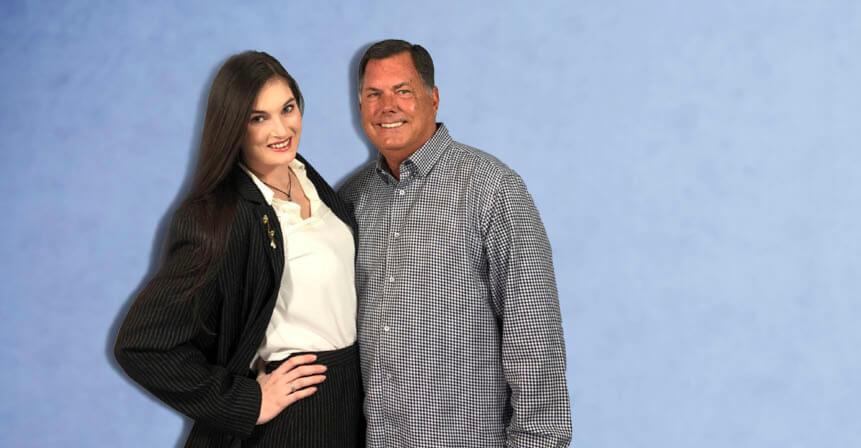 Curt's Story
Our home care experience began when our own family needed assistance. I was living in Tallahassee, Florida, two hours from my family in Jacksonville, when first my father and then my mother became ill and required home care. A short time later, two of my brothers-in-law also required hands-on care.
At the time, we did not know what services were available, and much of what we learned was through trial and error during our research. Because of our experiences, I understand the challenges faced by families, and the struggle to find balance in your own life, while trying to find the best care for your loved one. We discovered what a benefit high-quality home care could be, and we wanted to provide that for others. It was then I knew it was the path I would take for the next phase of my professional life.
I'm committed to being a resource for our clients and their families, and I am honored to contribute every day to their well-being.
---
Carol-Lauren's Story
A few years ago, I was working part-time and going to school when my grandparents became ill. At that point, much of my life was put on hold so that I could help them. Family has always been the highest priority for me, so it was only natural that I set aside my own agenda to care for my grandparents. It wasn't easy, but with the support of the rest of the family, we worked together to serve the best interest of us all. I was able to help my grandparents through a challenging transition in their lives, and the comfort I gave them is a source of satisfaction and pride for me.
Soon after these experiences, my dad suggested we go into the home care business together. I knew it was a perfect match for us. Our company incorporates all the things that truly matter to us: family values, helping others, and bringing comfort during difficult times.
The work we do can make a huge difference in the lives of our clients and their families, and that's why this business is so important to me. Empowering and helping our clients to remain in their homes and live life on their own terms is beyond rewarding.
---
Two Generations of Dedicated Care
Our journey with our family revealed the aspects of home care to us from all perspectives: clients, family members, caregivers, and home care providers. We learned that communication between clients, family, and caregivers is essential. We are committed to fostering open and active communication through every phase of care, and engaging the client in those discussions, too. Keeping the client involved when it comes to decisions and choices helps them maintain a sense of dignity and control. We also want them to know what is expected of the caregivers who come to their homes.
My father and I bring to the table two different generations of experience, energy, and business savvy. We understand firsthand the challenges and stress of caring for an ill or elderly loved one and how it can take a toll on the family. It is an honor to assist and treat families as if they were our own.
Our pledge to our clients and their loved ones is to be open and compassionate and continue to look for opportunities to help them live their best lives.
---
Office Qualifications
DementiaWise®-certified
Florida State Guardianship Association
Certified Senior Advisor®
Home Care Plus Provider of Choice (2018) and Employer of Choice (2018)
Certified Dementia Practitioners®
Trained assisted-living facility administrator
Registered nurse on staff
---
Whether your loved one needs assistance only a few hours a week or around-the-clock, our team is happy to help! Call (904) 232-4407 to learn more about the transition care services offered through ComForCare Home Care (Jacksonville, FL).