Father-daughter team Curt & Carol-Lauren Reilly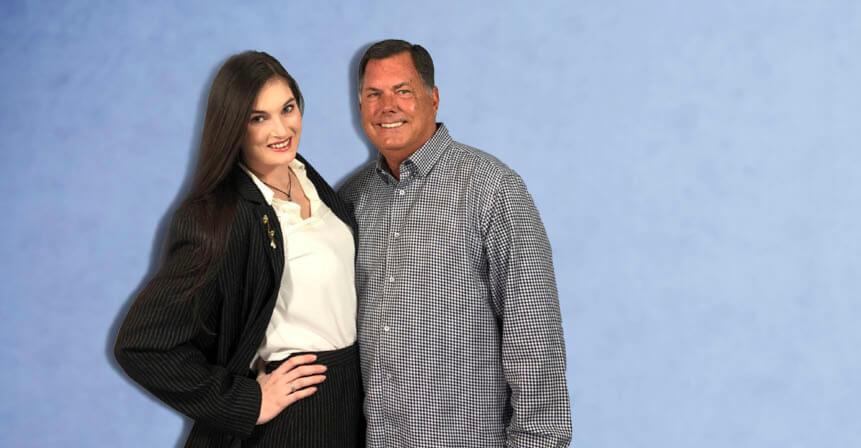 Curt's Story
Our experience with home care began with our own family. I was living in Tallahassee, Florida, two hours away from my family in Jacksonville, Florida when first my father and then my mother fell ill and required assistance at home. Not long after, my brother's in-laws also began to require in-depth care.
Since I have experienced the challenges of taking care of a parent, I understand what families are going through and know the importance of a helping hand for one's mental well-being. We didn't know what resources were out there at the time, and much of what we learned was through trial and error. Later on, we discovered what a benefit and a resource home care could be, and that's when I knew this was what I wanted to do with the next phase of my life.
I'm committed to being a resource for all my clients and their families, and I'm looking forward to helping all of them achieve their best life possible.
Carol-Lauren's Story
I was going to college and working part time when my grandparents fell ill a few years ago. When something like that happens, so many things go on hold. Family has always been important to me, so it was only natural that I set the extra things aside to care for my grandparents. It wasn't easy, but I always had the help and support of the rest of my family, and I had to adjust my priorities to include their best interest. I was able to help my grandparents through a challenging transition in their lives, and the comfort I gave them is a source of satisfaction and pride for me.
That's why when my dad suggested we go into the home care business together, I knew it was the perfect work for us. Our business incorporates all the things that truly matter: helping others, making a difference and family.
I know the work we do makes a huge difference in our clients' lives, and that's what makes this business so great. If I can empower my clients by helping them to stay in their homes and live life on their terms, then that's truly what matters.
Two Generations of Dedicated Care
Our home care journey has shown us several different sides of the equation: as family members, caregivers and home care providers. As a result, we know that communication between clients, family and caregivers is essential. We are committed to fostering open and active communication at every step of the care process. While the client is still engaged, we are committed to keeping them a part of the conversation, so they are always confident that they know what is going on in their care plan.
We bring to the table two generations of experience and energy to the business of helping our clients' families as if they were our family. We understand firsthand the pressure and stress of caring for an ill loved one, and how it can take a toll on the caregiver as well. Our pledge to our clients and their loved ones is that we will always be open, always be compassionate and always be looking for ways to make sure they and their family are able to live their best lives possible.
Office Qualifications
DementiaWise®-certified
Florida State Guardianship Association
Certified Senior Advisor®
Home Care Plus Provider of Choice (2018) and Employer of Choice (2018)
Certified Dementia Practitioners®
Trained assisted-living facility administrator
Registered nurse on staff
Whether your loved one needs assistance only a few hours a week or around-the-clock, our team is happy to help! Call (904) 232-4407 to learn more about the transition care services offered through ComForCare Home Care (Jacksonville, FL).