A Team Dedicated to Making Everyday Meaningful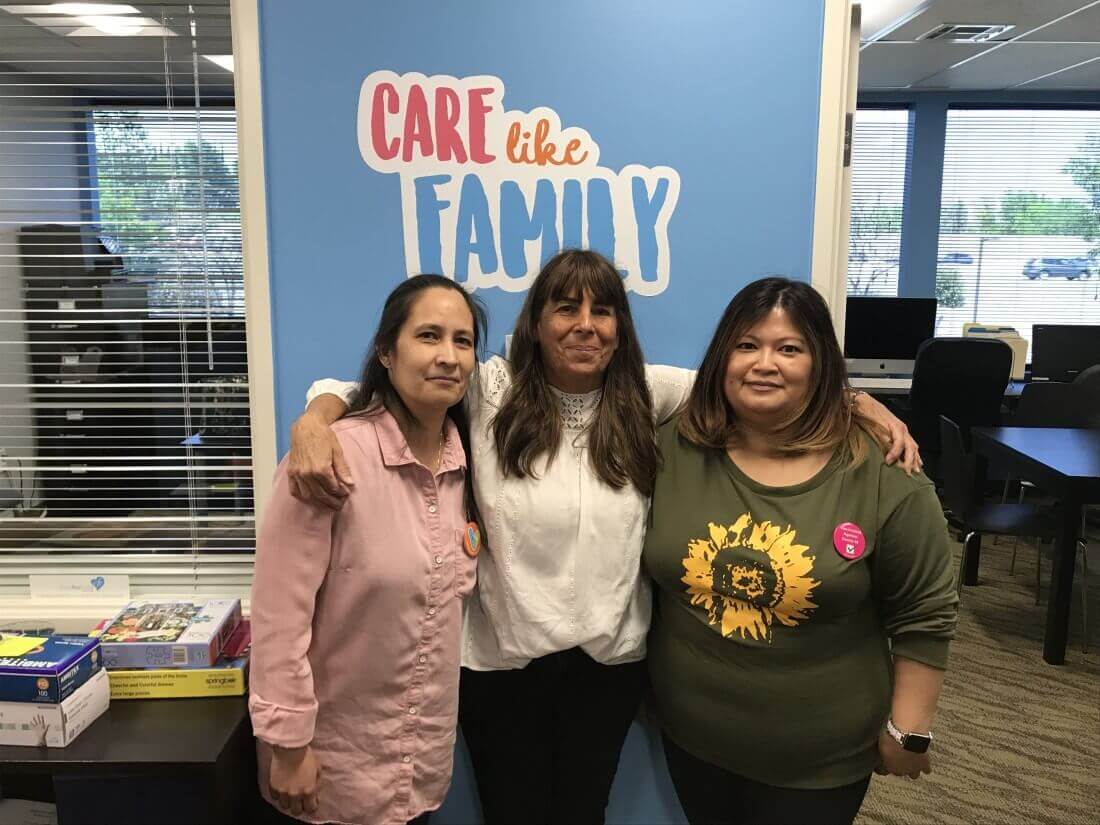 When we opened our ComForCare location, we knew we wanted to do something that connected with the community in a positive, meaningful way. We enjoy taking the stress away from people and being advocates for the wellbeing of clients and clients' families alike. This is a transitional phase that comes with many questions and challenges. When you have someone who is committed to solving problems, helping with decisions and guiding your choices, everyone's quality of life increases. We want to be those people in your corner, helping you navigate this new phase of your life.
Whether you want us one day a week or seven, we dedicate ourselves to creating a care plan customized to your needs. If we aren't your solution, we are going to find you the people who are. It's that simple for us.
"If someone needs us, we will be there."
We are proud of our staff! Together, and bring more than 75 years of Home Care and Health Care experience to our families in the San Fernando Valley.
Meet Our Team
Consuelo "Connie" Velasco, Scheduling Coordinator
Connie comes to ComForCare with over 25 years of experience in the Healthcare Industry, 15 years specifically in Home Care. Her primary responsibility is to provide excellent customer service to our clients by matching them with compatible, experienced, and caring Caregivers. As well as making sure the day-to-day operations run smoothly. She started as a CNA/Caregiver and understands our clients' needs, and appreciates each and every caregiver. Connie grew up in the Santa Clarita Valley, where she resides with her husband and daughter. Connie enjoys the beach and spending time with her family. She proudly volunteers her time as a troop leader with GSGLA.
Cathy Carpenter, Social Worker, Recruiting and Marketing Manager
Cathy brings more than 35 years of Health Care experience to ComForCare. Her background includes Special Education, Program Directing Non-Profit Senior Care, Memory Care Assisted Living experience, in addition to her six years with ComForCare. Cathy serves on the Vendor Advisory Council for the North Los Angeles Regional Center, a non-profit that provides community-based services to individuals with disabilities. She serves on ONEGeneration's Fund Development Committee as well. OneGeneration is a San Fernando Valley-based non-profit organization that embraces healthy aging for Los Angeles Seniors and child development programs for Los Angeles children of families in need. This experience is invaluable to us to ensure continuity of care for those that we serve.
Mia Hugo, RN, Director of Scheduling and Client Care
Mia started her professional career as an RN and gravitated to Home Care more than 20 years ago. Mia is responsible for training, scheduling, and expertly matching caregivers with clients. Before joining ComForCare Home Care, Mia worked within the non-medical home care industry, working closely with clients and caregivers, overseeing client relationship management, caregiver development, and retention while also performing billing and payroll and client acquisition functions. Mia also brings several years as an RN working in hospitals and skilled nursing facilities. Mia received her B.S. in Nursing from California State University. Mia also holds her Senior Professional in Human Resource (SPHR) certification and Gerontology Certification.
In her free time, Mia's interests include: crafting, eating out, and frequenting casinos.
Our Owners
Joel's Story
Much of my career up until now was in the entertainment business. For 30 years, I worked for Sony Pictures in their home entertainment sector. By 2011, though, I was tired of the atmosphere and was looking to get into a business where I could feel I was making a difference. My wife and I liked the idea of starting our own business together from scratch, but even more than that, we wanted it to be community-oriented, close to home and allowed us to engage with the sorts of causes that matter to us. Home care was, in all ways, the perfect choice.
Lynn's Story
I've been a dental hygienist for over 30 years, so caring for others has always been a huge part of my life. When Joel left Sony in 2011, we knew it was the perfect time to start a business that would make perfect use of our combined skills while also being true to our values and philosophy. As Philadelphia natives living in California, we know what it's like to trust the care of our parents back home to someone else, and we work hard for each of our clients to provide the same high level of care that we want for our families, for their families.
Why Our Location is Unique
We are hands-on owners who are accessible. We personally know each and every client because we want to, not because we have to. That connection is what keeps us moving forward. When we hear you're feeling better, that excites us. We want to help you meet the goals you and your family have for your future, so we can help you live your best life possible.
Credentials and Education
DementiaWise®-certified office
Proud supporter and financial contributor to the Alzheimer's Association
Proud supporter and financial contributor to Mission to Assist and Provide for Seniors in Los Angeles County
Joel's Education
Certified Red Cross CPR instructor
Bachelor's in marketing from Temple University
Master's in business administration from Temple University
Lynn's Education
Bachelor's in dental hygiene from Thomas Jefferson University
30-plus years as a dental hygienist (still practicing)
Are You a Caregiver Looking to Help Those in Need?
ComForCare of San Fernando Valley, CA, seeks talented and compassionate certified caregivers to help our growing list of clients live better and healthier lives. We provide a healthy work environment where you can grow in your career while receiving the best training our industry offers. Contact us today.
Whether your loved one needs assistance only a few hours a week or around-the-clock, our team is happy to help! Call (818) 714-2299 to learn more about the transition care services offered through ComForCare Home Care (San Fernando Valley, CA).