In-Home Transitions of Care
Transitions of Care in San Fernando Valley, CA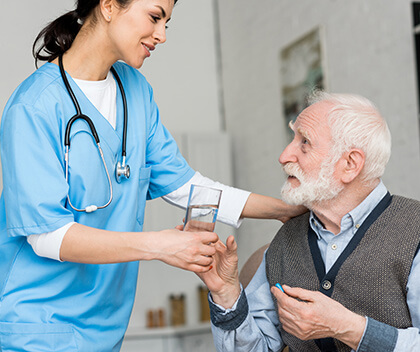 Let our qualified home care professionals help your loved one transition back into life at home after a hospital stay.
The time after a hospital stay can be hectic while you and your loved one get used to a new routine. ComForCare is here to help during this time with our transition of care options. If your loved one is being discharged from the hospital anywhere in the Sherman Oaks, Woodland Hills, Encino, or Northridge areas, have some peace of mind by having one of ComForCare's licensed caregivers there to meet them and take them home.
Because hospitals sometimes release patients with very little notice to the families, they can be left struggling to find someone to help their loved one home. Not only does your loved one need a ride home, but he or she may also need help once inside their home when they arrive. They may need assistance using the restroom, getting in and out of bed, or medication reminders. ComForCare's home care specialists can help shoulder some of that responsibility with our flexible Transition of Care (TOC) programs. We can help your loved one on a short-term basis or around the clock. Whatever your loved one needs for care, we can provide.
---
Hospital to Home Package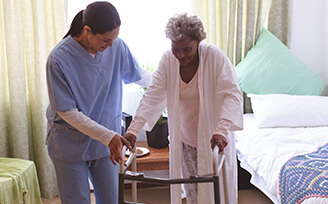 The popular Hospital to Home package eases your loved one's transition from the hospital to their home. Our skilled home care professionals can pick up your loved one from the hospital, receive discharge paperwork and instructions, drive them home, and stop to pick up prescriptions. Once they arrive at your loved one's home, the ComForCare caregiver can do light housekeeping and meal prep and safely get your loved one into bed. Our caregivers even call to update the family on the client's status and discharge instructions. You and your family can rest easy knowing that your loved one is in the most capable hands.
---
Options for Continued Care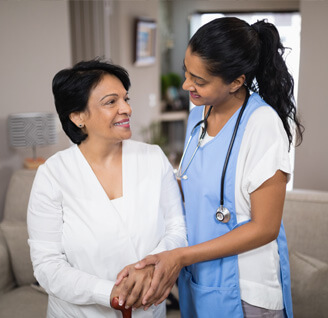 Depending on the cause of hospitalization, your loved one may need more extended home care with their day-to-day routine after being released. At ComForCare, we understand that even familial caregivers have obligations aside from taking care of their loved one, which is why we create customized care plans for each client. Whether the client needs care for one week or one year, or more, we can establish an individualized home care plan with the services that will best help your loved one. Some of the services we provide in the Sherman Oaks, Woodland Hills, Encino, and Northridge areas are medication reminders, hygiene needs, incontinence care, transportation, errands, and various other tasks. An added benefit of these personal care plans is that they take some of the burdens of care from the family members, leaving you with more time to enjoy quality time with your loved one.
---
Twenty-Four Hour Care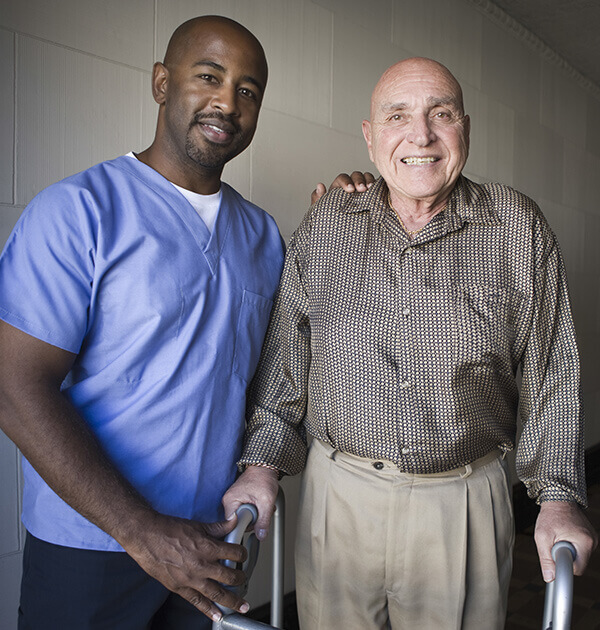 If your loved one needs more extensive care, ComForCare's industry-leading home care professionals can help. Round-the-clock home care can be beneficial for your loved ones with dementia or other conditions that affect their mobility. When your loved one can stay in his or her own home, their quality of life is vastly improved than if they were to go to a nursing home. At ComForCare, our priority is taking the best possible care of our clients.
Let us help you and your loved one transition back into life at home after staying at the hospital. If you are anywhere in the Sherman Oaks, Woodland Hills, Encino, or Northridge, ComForCare is the home care provider for you.
---
Are You a Caregiver Looking to Help Those in Need?
ComForCare of San Fernando Valley, CA, seeks talented and compassionate certified caregivers to help our growing list of clients live better and healthier lives. We provide a healthy work environment where you can grow in your career while receiving the best training our industry offers. Contact us today.
Whether your loved one needs assistance only a few hours a week or around-the-clock, our team is happy to help! Call (818) 714-2299 to learn more about the transition care services offered through ComForCare Home Care (San Fernando Valley, CA).