Comprehensive Care in Portland West, OR
---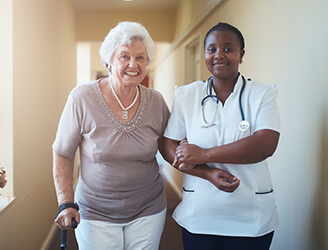 ComForCare (Portland West, OR) knows that everyone requires a personalized approach to in-home care. That's why we focus on providing unique care plans tailored to your loved one's individual needs. We strive to make deep connections with our clients by building life-long relationships with them. When our clients require specialized medical care, our trained and certified staff are here to help and can handle all age groups and situations.
Our comprehensive care plans include a nurse's evaluation of needs, a personalized schedule and routine based on the assessment, and fall prevention and home safety checks. For individuals with physical restrictions or who require around-the-clock care, our caregivers can help with 24/7 availability to perform comprehensive care services as needed.
---
Some of our comprehensive care services include:
Diabetes care
Traumatic brain injury care
Medication and insulin administration
Wound care
Hospice care
Tube feedings
Tracheotomy care
Catastrophic injury care
Pulmonary injury care
Ventilator care
Spinal cord injury care
Seizure disorder care
---
We also know that, while maintaining independence is vital to our clients, they sometimes need a helping hand. Our in-home care specialists can also assist day to day activities such as:
Monitoring status changes
Cooking
Cleaning
Laundry
and more
Whether your loved one needs assistance only a few hours a week or around-the-clock, our team is happy to help! Call (971) 801-7606 to learn more about the transition care services offered through ComForCare Home Care (Portland West, OR).