Dervent Wiltshire
Father, Husband, Musician, Committed to the Community
"It's not just a job: It's as important as family."
---
My Home Care Journey
My home care journey began with my own family. A few years ago, my mother became ill, and, in the years before her passing, my dad was her primary caregiver. Not long after her passing, my dad was diagnosed with dementia. My siblings and I were not aware of in-home care then, and as his dementia progressed, he soon required 24-hour care. Considering this, we made the decision to move him into a nursing home.
I learned firsthand how challenging it could be to find the right care for an aging parent. It can be a difficult time, especially emotionally. If I had known then what I know now about in-home care, I believe we would have taken that route. The home environment is a healing and healthy environment, rich with memories and familiar faces. I believe this environment would have helped to preserve more of my father's memories, even as his dementia progressed. It was this experience that really impressed upon me the difference in-home care can have on the life of an older adult.
After working in the IT sector at the World Bank for over 20 years, I was offered early retirement. I saw this as an ideal opportunity to pursue my dream of giving back to the community in a tangible and meaningful way. I researched several options but quickly fell in love with the idea of providing in-home care for members of the community. This concept resonated with me because of the years I spent volunteering with the Red Cross and local nursing homes. I recall how humbling and rewarding those experiences were, and this reassured me that my passion was and forever will be to serve others.
---
My Home Care Pledge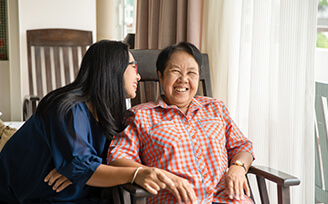 Empowering and uplifting others has always been my philosophy and my life's mission. And so, it is not by chance that I spent several years volunteering with the homeless and teaching part-time at the University of Maryland. I have always found it rewarding to engage with others in ways that allowed them to excel beyond their current situation. I believe all people are deserving of dignity, care, and respect. If I find myself in a position to help someone better their life on their own terms, it is an honor I cannot ignore.
My ComForCare Pledge is to always work with my clients' best interests at heart. The care I would want for my own parents is exactly the care I bring to each of my clients. This begins with hiring highly trained and dedicated caregivers and maintaining open communication with my clients and their families. I am committed to going the extra mile in order to ensure that my clients, and their families, can all live their best lives possible.
---
Dervent's Qualifications:
Bachelor's Degree in Information Systems and Management from the University of Maryland
Master's Degree in Organizational Leadership from Nyack College
Doctorate Degree in Applied Management and Decision Sciences from Walden University
---
Whether your loved one needs assistance only a few hours a week or around-the-clock, our team is happy to help! Call (240) 651-3485 to learn more about the transition care services offered through ComForCare Home Care (Frederick County, MD).